Prince Harry, the Duke of Sussex, teased a new project with iconic rock singer Jon Bon Jovi on Instagram.
The Duke and Duchess of Sussex's official Instagram account posted the video on Friday. It shows the two in a recording studio, and Bon Jovi gives Harry advice on performing.
Before counting him into the song, the "Livin' on a Prayer" singer told Harry to sing without reservation. "It's going to be really easy," the Bon Jovi said. "Pretend you're singing in your bedroom, okay? That's easy. Breathe. Shout it out."
Universal Music Group, who own Bon Jovi's label Island Def Jam, did not immediately respond to Newsweek's request for comment.
The post also told followers to stay tuned for more later and used the hashtag #WeAreInvictus. In stories, the royal's account also posted videos of the Invictus Games Choir in studio and accompanying Harry and Bon Jovi to recreate The Beatles' famous Abbey Road cover photo.
The post's caption referenced the pre-chorus to Bon Jovi's 1986 hit "Livin' on a Prayer" from Slippery When Wet, but it's unclear what exactly the song Bon Jovi had teamed up with the Duke of Sussex for was.
The inclusion of the Invictus Games Choir and the #WeAreInvictus hashtag indicate that it was a promo or benefit for Harry's Invictus Games. Beginning in 2014, the Invictus Games allow wounded, injured and sick armed service members participate in nine events including wheelchair basketball, indoor rowing, and more.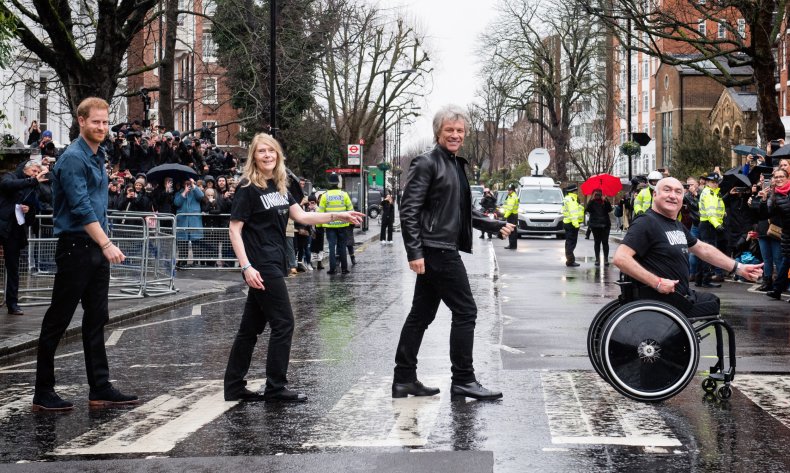 In only a month Meghan Markle and Harry will begin a new chapter of their lives outside of the royal family. The couple will step down as working members of the royal family on March 31, and their royal office will close. On Wednesday, Harry asked for the "prince" to be dropped from his name, while being introduced at a tourism conference in Scotland. The couple intend to split their time between the U.K. and North America, while also setting up a new non-profit.
"The Duke and Duchess will be spending their time in both the United Kingdom and North America. In addition to continuing to work closely with their existing patronages as they build a plan for engagements in the U.K. and the Commonwealth throughout the year," a spokesperson said. "The Duke and Duchess have also been undertaking meetings as part of their ongoing work to establish a new non-profit organization. The details of this new organization will be shared later in the year."