Prince Harry's Book Gifts Kiss-and-Tell Stories to Tabloids He Sued
Prince Harry's first lover told two U.K. tabloids how she took his virginity in front page stories that could, under normal circumstances, have landed up in court.
The Duke of Sussex's book Spare went into extraordinary detail about his private life, including trivial details relating to his frostbitten penis and, separately, his first sexual encounter in a field behind a pub.
Some have observed the memoir marks something of an about turn after years protesting his privacy, including as recently as court papers filed in September 2022 proclaiming the royal was a "very private person."
In a further twist, Harry's book appears to have handed two of his most hated British newspapers a legal justification for filling their pages with exclusive interviews about his sex life before he met Meghan Markle.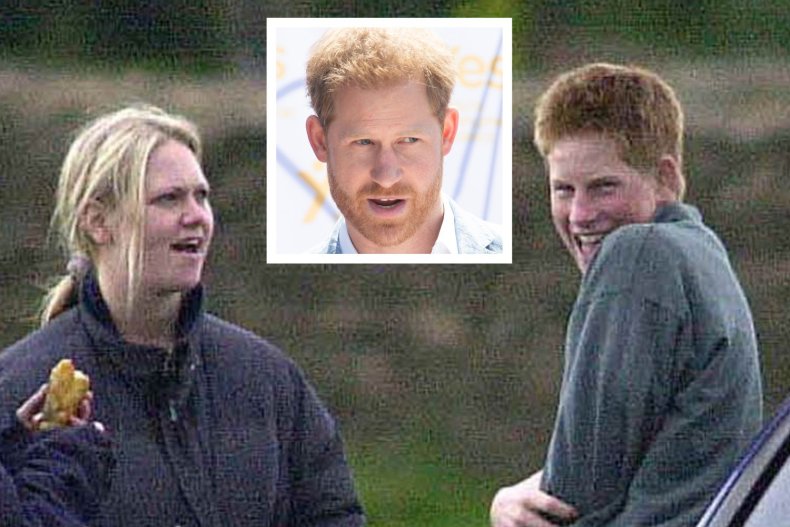 Prince Harry's 'Wham-Bam' First Sexual Encounter With Groom
Harry's book described how an unnamed woman took his virginity in a field behind a pub when he was 17 then slapped him on the bum and sent him on his way. He described it as an "inglorious episode, with an older woman."
Sasha Walpole, 40, a former groom working at King Charles III's Highgrove estate, says she is the woman he had a fling with back in July 2001.
Now a digger driver, she told The Sun: "I am the woman who took Harry's virginity. It was ­literally wham-bam between two friends. The sex was passionate and sparky because we shouldn't have been doing it. One thing just quickly led to another. We ended up on the floor."
Walpole said she had been feeling jealous after seeing an ex-boyfriend in the pub with his new girlfriend so Harry bought them both a tray of shots to lift her spirits.
"We went outside and both climbed a three-bar fence to the field," she said. "We were quite drunk at this point. I gave Harry a cigarette. I lit mine and then his.
"We finished our cigarettes—Marlboro Lights—and it just happened. He started to kiss me. He was wearing boxers. There was no chatting, no words.
"It was exciting that it was happening. It was exciting that it was happening like the way it was. We were away for 15 minutes but the sex was about five ­minutes."
However, there is more going on than a simple tale of drunken exploration between two teenagers as Harry has been accused of invading Walpole's privacy with his own account in his book.
Sasha Walpole Says She Felt 'Her World' Getting 'a Little Bit Smaller'
Walpole was not named in Spare but said there were people who knew about her fling with Harry and texts from friends started rolling in after the book's release, leading her to fear she would be outed if she did not come forward first.
"I kept this a secret for 21 years," she told The Mail on Sunday. "I did it because Harry was a friend, regardless of whether he's a prince or not. I didn't invite any of this attention, but I know the hunt would have kept going until people found me.
"I don't understand why he went into such detail. He could have said he lost his virginity and left it at that. But he described how it happened—in a field behind a pub.
"That's fine if you're not the other person involved. But if you're me, then you suddenly feel as if your world is getting a little bit smaller."
Not only that, but she had to tell her dad for the first time, though she does acknowledge she believed she had told him at the time and he may simply not have been listening.
Not everyone appeared convinced by Walpole's justification for telling her story. Historian Tessa Dunlop wrote on Twitter: "Just catching up on Prince Harry news Given the '1st time' for most of us is a source of regret Ms Walpole and her Prince have done pretty well. 22 years later they're both cashing in on a first shag."
Scottish comedian Janey Godley posted: "The woman saying Prince Harry invaded her privacy but by HER revealing herself as the person who had sex with him, hasn't quite understood how discretion works—we didn't know who it was until she said 'it was ME, how dare he talk about it without mentioning my name.'"
Meanwhile, biographer Robert Jobson, author of William at 40, wrote: "Loving the interviews with Harry's 'older woman' in @TheSun & @mailplus—She seems down to earth telling 'her truth' for cash. Not sure Meg will like #SashaWalpole telling @piersmorgan @TalkTV that the Harry she knew seems under a spell. But 'H' started it by writing about her."
However, there is another interesting dimension to the way privacy operates in relation to Prince Harry's story about his virginity.
British Tabloids and Celebrity Sex Scandals
Kiss-and-tell stories about the private lives of celebrities in the Sunday papers used to be so common in Britain that the now defunct tabloid The News of World was nicknamed "The News of the Screws."
That all but ended when European and U.K. privacy laws gave stars the right to obtain court injunctions banning news organizations from spilling their secrets unless there was a public interest justification for doing so.
As a result, newspapers have focused on celebrities who cheat on their spouses and even then have been required to demonstrate that their targets had been trading off their image as wholesome and family orientated, inviting magazines into their homes to photograph them alongside their spouses and children for example.
Needless to say, old fashioned kiss-and-tell Sunday exclusives are now vanishingly rare in Britain.
Harry was single at the time he lost his virginity and both were above the legal age of consent in Britain—meaning that under ordinary circumstances, there would be no public interest justification for running the story and he would have been entitled to an injunction.
The prince, though, had already revealed the key details in his own book, paving the way for the tabloids to make money out of his virginity story.
It comes around 15 years after a British High Court judge in a landmark 2008 case brought by Formula 1 magnate Max Mosley ruled that the sex lives of celebrities are no one else's business.
The saga, in other words, marks a further role reversal for a royal who previously fiercely defended his own privacy but has now made money not only from an extensive trawl of his own private life but also that of other people.
Harry may have no objection to Walpole's story being told—he told it himself first after all—but given everything he said about the media, it is hard to believe he will welcome his sex life being used to sell British tabloid newspapers.
Not least of all, Walpole spoke to The Mail on Sunday who Harry and Meghan have sued four times between them and The Sun, who Harry has accused of phone hacking.