Prince Harry was defended from an online critic by a member of his mother's family on Wednesday evening after the royal finished giving evidence in his phone-hacking lawsuit against a British newspaper publisher.
Harry spent a day and a half in the witness box of London's Royal Courts of Justice, providing personal testimony on the effects of tabloid reports—that he claims were obtained illegally—on his mental health and personal life.
The prince is suing Mirror Group Newspapers (MGN), publishers of The Daily Mirror and Sunday People titles, over stories written between 1996 and 2011 alleged to have been sourced through phone hacking or other illegal activity.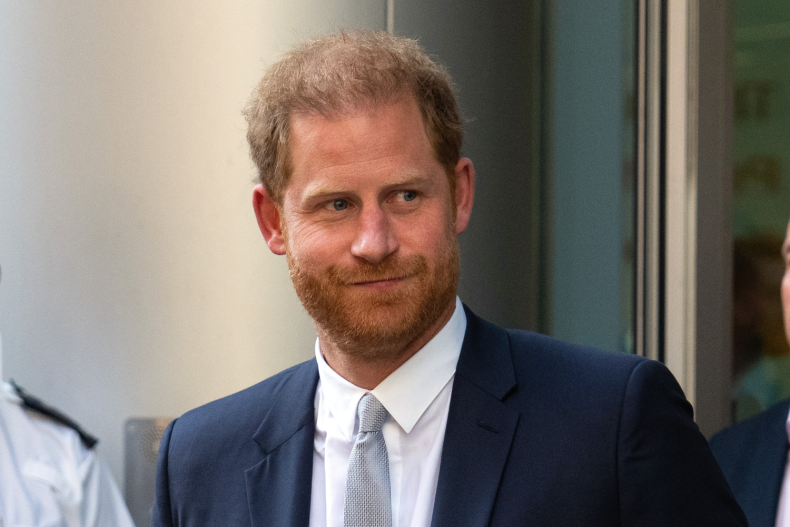 Harry was challenged by MGN lawyer Andrew Green, KC (King's Counsel), about his claims, with a number of the prince's critics dissecting his responses on social media.
One aspect of his personal life that the prince said was negatively impacted by press intrusion was his relationship with his former girlfriend, Chelsy Davy. Harry and Davy dated on and off between 2004 and 2011. After separating they remained friends and in 2018 the Zimbabwean-born jewelry designer was invited to the prince's wedding to Meghan Markle.
On Wednesday morning, Daily Mail contributor Amanda Platell took to Twitter to question his concern over stories written about Davy.
"Is Harry still obsessed with former love Chelsy Davy?" she wrote. "Harry mentions her 118 times in court evidence, Meghan just five times. No wonder Meg's didn't show up!"
Harry's lawsuit concerns stories written by MGN titles between 1996 and 2011. The prince met his future wife Markle in 2016, therefore it is not unusual that she is not extensively mentioned as the stories alleged to have been illegally sourced do not concern her.
Harry found himself defended from Platell's comment—which has been viewed over 1 million times so far—by a member of his family, his uncle, Charles, Earl Spencer.
Spencer, who is Princess Diana's younger brother, took to his Twitter account to call out Platell for her criticism of his nephew, writing:
"Pathetic,@amandajplatell—you have no shame, and even less credibility. Last time I heard from you, you were guilty of libeling me, as your employer at @DailyMailUK agreed. Now you're put up (by them?) to misrepresent significant legal evidence as if it was something trivial."
Though Earl Spencer has previously challenged the media in a courtroom environment, it is rare for him to voice such direct criticism at a journalist on social media, making him an unexpected, but no doubt welcome, voice of support for his nephew
Spencer has faced a number of his own media battles over the course of his life in the public eye. In 2018 he was awarded damages by a London court after it was judged that Associated Newspapers Limited had libeled him in an article published in the Daily Mail. The article claimed he had acted in an unbrotherly and callous way towards Princess Diana by refusing her any accommodation on his estate when she was reportedly seeking refuge from the press.
Before her death, Spencer had rescinded an offer to his sister of the use of Garden House on the Althorp Estate where she was raised, however, the Daily Mail article failed to tell readers that the earl had offered his sister the use of a number of alternative properties which she had rejected.
The tabloid publisher was ordered to pay the earl damages and his legal costs.
Harry is known to be particularly close to his mother's siblings. Diana was one of four children. Her elder sisters, Lady Jane Fellowes and Lady Sarah McCorquodale were photographed at the christening of Prince Harry's son Archie in 2019. In 2021, Earl Spencer joined his sisters with Harry and Prince William at the unveiling of the memorial statue to Princess Diana in the gardens of Kensington Palace in London.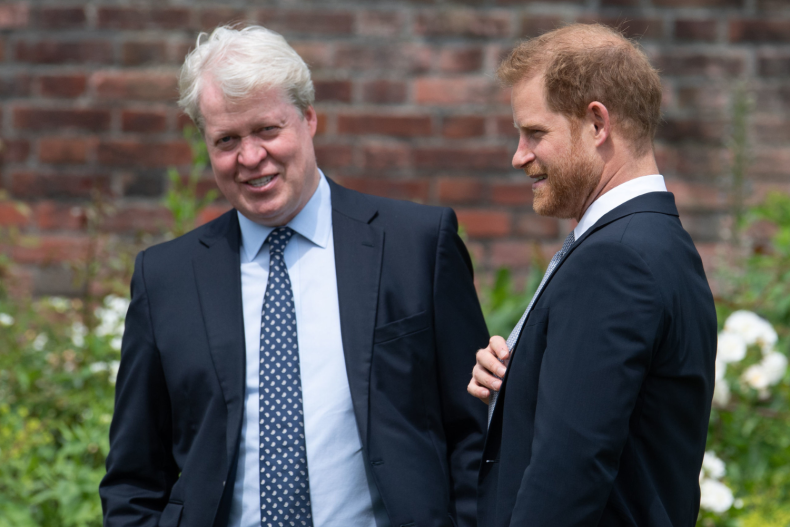 Harry paid special tribute to his Spencer relatives in his memoir Spare, which was published in January 2023, writing: "Stand out thanks to my mother's siblings for their love, support, time, and perspective."
Spencer's special mention was noted at the time, as the prince did not thank any of his royal family members in the book.
Harry's lawsuit against Mirror Group Newspapers is ongoing. He is also currently suing Associated Newspapers Limited (publishers of The Daily Mail) and News Group Newspapers (publishers of The Sun) over similar allegations of unlawful information gathering.
Newsweek approached representatives of Earl Spencer via email and Amanda Platell via the Daily Mail press office for comment.
James Crawford-Smith is Newsweek's royal reporter based in London. You can find him on Twitter at @jrcrawfordsmith and read his stories on Newsweek's The Royals Facebook page.
Do you have a question about King Charles III, William and Kate, Meghan and Harry, or their family that you would like our experienced royal correspondents to answer? Email royals@newsweek.com. We'd love to hear from you.