Harry's Court Setback Shows Libel Case Against Old Enemy Is 'Ill-Advised'
Prince Harry's libel lawsuit against old enemy The Mail on Sunday is nearing its first major showdown and a lawyer told Newsweek early signs suggest the duke should not have brought the case.
Harry is suing over an article the U.K. tabloid published about another one of his lawsuits against the U.K. government for removing his police bodyguards.
However, the duke's lawyers asked the judge for an early ruling on whether his allegations pass a key test needed to win the case—whether or not they amount to serious harm to his reputation.
Mark Stephens, of U.K. law firm Howard Kennedy, told Newsweek: "What I would read into that is Harry's lawyers are concerned that they may not reach the substantial harm test and therefore that's why they want to have it early. It's ill-advised to take a case that isn't clear cut."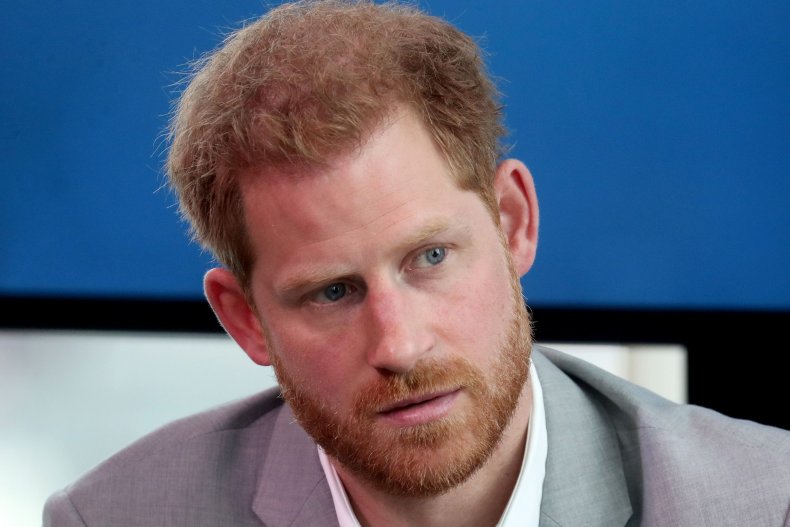 The newspaper's story in February 2022 carried the headline: "REVEALED: How Harry tried to keep his legal fight over bodyguards secret....then minutes after MoS [Mail on Sunday] broke story his PR machine tried to put positive spin on the dispute."
It accused the Duke of Sussex of misleading the public about the nature of an offer to pay for his police protection in the context of his Home Office judicial review.
A past court filing by Harry's lawyers suggested the article amounted to a claim that he "lied in his initial public statements to the effect that he had always been
willing to pay for police protection in the UK, when the true position, as
revealed by High Court documents, was that he had only made such an offer
recently, after his dispute with the Home Office had started."
The document added: "It must have been plain to [The Mail on Sunday] that by giving these serious allegations such huge publicity in the terms and manner that it did, leading to inevitable repetition and the feeding frenzy of hostile comments it could not but cause [Prince Harry's] reputation substantial damage and cause considerable distress and hurt to [Prince Harry], as has been the case."
However, his lawyers asked the High Court in London for an early judgment on whether his allegations constitute "serious harm."
Judge Matthew Nicklin stated in a court filing, dated April 26 and seen by Newsweek: "I have refused to direct trial of the issue of serious harm.
"I appreciate that [Prince Harry's] case is one based (at this stage) solely upon inference, but ultimately this is an issue of fact."
The serious harm test was introduced in 2013 and designed to bar frivolous cases that did not cause meaningful reputational injury to claimants.
The fact that Harry's legal team has asked for an early ruling on the issue suggests his lawyers may be worried he will lose on that point.
There will, however, be a preliminary trial on several other points, including the meaning of the phrases Harry complained of, whether the Mail's article constituted fact or opinion and whether the statements were "defamatory at common law."
The showdown has been scheduled for a date to be fixed between June 7 and July 1, in the weeks immediately after Queen Elizabeth II's Platinum Jubilee celebrations.
Stephens told Newsweek: "If there is an argument about whether it is defamatory in the first place or, even if defamatory, whether it would have caused serious harm, then the question is why are you bringing the proceedings?
"Normally, legal proceedings are obviously serious harm. Libel is about eradicating a blot on the family escutcheon. If it's not clear whether there is a stain on the family escutcheon, or it's arguable, why are you bringing the case in the first place?
"If you're a celebrity or a royal and you're dealing with cases it's important that the public see with absolute clarity that your case is a good one and justly found. Is the case worth the candle?"
The pressure over his libel lawsuit against The Mail on Sunday adds to the existing reputational burden of the separate court case it is based on.
Harry is suing the British government over the decision to remove his police protection during visits to the U.K.
A legal representative stated in January that the Duke of Sussex does not consider it safe to return home with his family unless Metropolitan Police bodyguards are made available to him.
However, he has faced criticism in Britain for going after Her Majesty's Government during the queen's Platinum Jubilee year.
Amber Melville-Brown, global head of reputation at international law firm Withers, previously told Newsweek: "While the prodigal son is welcome in his home country, asking for the British police and security services to be served up to him as the fatted calf, even if he foots the bill, is not a great brand-building move.
"This legal action may give detractors yet further opportunity to attack Prince Harry for actions which draw negative media attention when the royal family least needs it.
"Conversely it serves as some unexpected free advertising and positive publicity for the British police force and security services which on the Prince's own argument are so stellar as to be incapable of replication for love nor money."
For more royal news and commentary check out Newsweek's The Royal Report podcast: