Prince Harry is "back in his element" visiting the Invictus Games in Germany, coming as a "boost" to the royal after his popularity took a major hit earlier this year, according to a new episode of Newsweek's The Royal Report podcast.
Harry kicked off this year's event in the German city of Düsseldorf where veterans from around the world have gathered to take part in the games which were founded by Harry in 2014.
When the prince stepped down from his royal duties in Britain and moved to the U.S. in 2020 with Meghan Markle he kept his crucial link with the Invictus Games and Invictus Games foundation as the founding patron.
While the royal saw his popularity on both sides of the Atlantic plummet in the wake of his royal bombshells in his Netflix and memoir projects, the response to him from the Invictus community has remained overwhelmingly positive.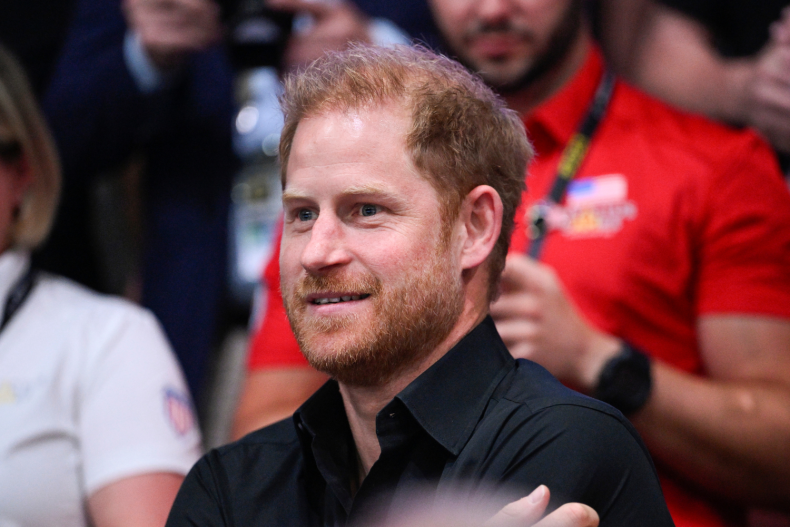 "He looked pretty happy," Newsweek's chief royal correspondent, Jack Royston, said of Harry's debut appearances during the 2023 games, including the opening ceremony and range of sports events at the Merkur Spiel-Arena.
"I think that is probably the main take home, that at the Invictus Games he looked like he was back in his element. Back loving the job that he does and that will no doubt, I think, be a psychological boost for him."
"He actually talks in his book, Spare, about how of all the things he tried to help his mental health, actually work was really good for doing that, having a sense of purpose and a sense of focus," Royston added.
Harry's Spare memoir was published in January and became the fastest selling non-fiction book of all time upon release.
In the book Harry discussed not only his work with mental health projects and charities but his own journey with understanding his grief, the mental impact of serving in active combat in Afghanistan, and his relationships with family members.
The prince was praised for his candid account of processing his emotions and seeking help to further understand them. However, the book's release was largely overshadowed by its inclusion of royal bombshells, personal details of his own anatomy and the controversial inclusion of his kill count while in the armed forces.
This had a negative impact on his popularity in Britain and the U.S., though he has recently seen the tide change among Americans as he regains some lost ground, according to polling.
As he emerges from this slump in popularity, Harry's appearance at the Invictus Games not only showcases his positive impact on the lives of veterans, but, accompanied by wife Meghan Markle, he returns to a form of public engagement which had been typical during his time as a working royal.
"He would have been building for months to the Invictus Games," Royston said of the prince. "And to now be there in Germany, surrounded by this group of people who absolutely adore him, will be a massive boost to him."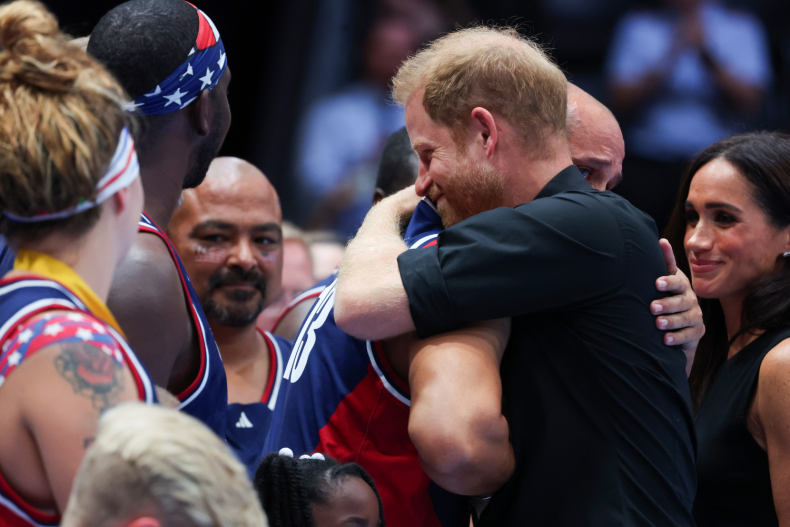 Harry and Meghan are expected to attend a number of Invictus events over the coming days, including the tournament's largescale closing ceremony on September 16.
The ceremony will include performances from pop star Rita Ora as well as Britain's 2022 Eurovision star, Sam Ryder, who also performed at the Platinum Jubilee celebrations for the late Queen Elizabeth II.
Harry is expected to make a speech at the closing ceremony, reflecting on the games, and if the event follows the precedent set in previous years, he could be introduced on-stage by Meghan.
James Crawford-Smith is Newsweek's royal reporter, based in London. You can find him on Twitter at @jrcrawfordsmith and read his stories on Newsweek's The Royals Facebook page.
Do you have a question about King Charles III, William and Kate, Meghan and Harry, or their family that you would like our experienced royal correspondents to answer? Email royals@newsweek.com. We'd love to hear from you.