How Prince Harry Became A Late Night Target After 'Spare' Release
Prince Harry's media blitz publicizing the release of his record-breaking memoir Spare, has seen the royal face a degree of public roasting he may not have bargained for in the U.S.
Since the royal's 400-page book came out on January 10, along with the broadcast of a number of TV interviews promoting it, he has served as the comic relief in the opening monologues of American late-night hosts.
The promotional interviews saw him make a number of startling claims, including that he doesn't believe the comments—allegedly made by an unnamed royal family member—about his future son's skin color were racist.
The prince makes a number of bold claims in his book itself, which include serious allegations, like Prince William physically attacking him during a 2019 argument, to humorous anecdotes like the time he had frostbite on his penis.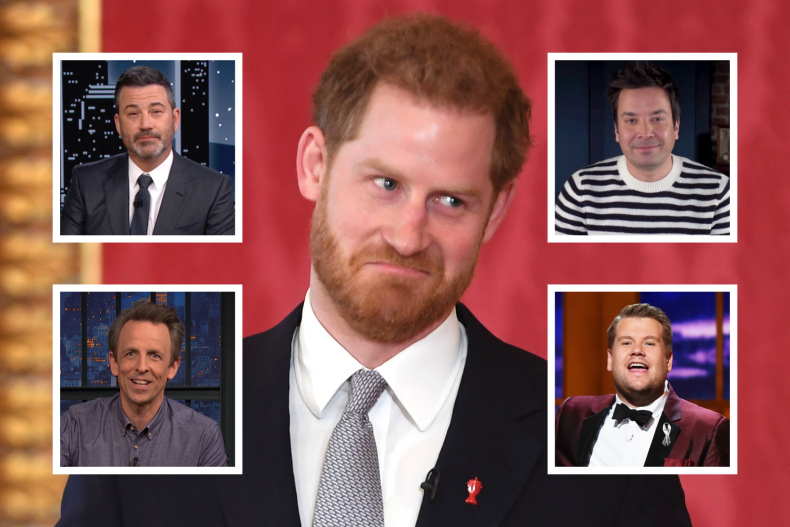 The penis story became a widely used point of reference in late-night comedy skits across networks with ABC's Jimmy Kimmel taking it to the most extreme degree.
The prince has not publicly responded to any of the jokes told at his expense. On January 10, he made his own late-night debut, sitting down with Stephen Colbert in a pre-recorded interview about the book.
Here, Newsweek looks at how late-night reacted to Prince Harry's Spare:
Jimmy Kimmel, ABC
Jimmy Kimmel is the comedian show host who has taken Prince Harry's jokes to the farthest extreme on his late-night show Jimmy Kimmel Live!
In a skit broadcast on January 5, after the contents of Spare were leaked to the press, two actors dressed as the pop icon, Prince, re-enacted a scene detailing a physical attack on Harry by his older brother Prince William.
The comedic scene saw the actors recreate Harry's fall onto a "dog bowl" at Nottingham Cottage on the grounds of Kensington Palace, which he claims left him with scrapes and bruises. Social media commenters praised the skit as "comedy gold."
On January 10, the day of the book's release, Kimmel broadcast another skit at the royal's expense, this time taking aim at his audiobook. In a spoof passage, a voice actor, reading in the style of Harry, recounted: "My primary perception of Pa's teddy was one of grudging, resentment. It was widely understood that frizzy bobble was third in line for the crown. I detested that woolly little w*****."
A third and perhaps more extreme skit was broadcast on January 16, focussing on Harry's account of his frostbitten penis after trekking to the North Pole in 2011 and how he used Princess Diana's favorite lip cream as a home remedy.
In an imagined children's book retelling the anecdote, Kimmel doesn't just take aim at Harry but also Diana, reading the made-up dialogue: "'Oh mommy, oh mommy,' he cried with a scream, and then upon high, she appeared with some cream.
"'My poor little prince, put this cream on your willy. It will lessen the ache and make it less chilly.'
"'But mommy, did you not put this on your lips?'
"'Oh yes, my dear boy, and also my nips. But do not delay or your knob be destroyed.'
"'But mommy, have you heard about Sir Sigmund Freud?
Jimmy Fallon, NBC
Jimmy Fallon took less explicit aim at the royal on The Tonight Show though still included some light-hearted digs at the prince's expense.
In a "Google Autofails" skit on Monday night, the show host included a Harry sideswipe to the laughter of the studio audience.
Giving examples of humorous auto-filled google answers, Fallon gave the top responses to the half question: "How to return..."
One of the answers prompted was "How to return...Prince Harry to England."
Seth Meyers, NBC
Seth Meyers joined late-night show hosts ribbing Harry and Meghan Markle on January 10, the day of Spare's release.
In a section of his recurring "Back in my day" skit on Late Night With Seth Meyers, in which he lists topical news items from the perspective of a conservative elder, the comedian joked about Harry's repeated breaking of his "silence."
"Back in my day, Prince Harry wasn't breaking his silence with a bombshell book about the royal family," he said.
"Fiddlesticks! Back in my day, Prince Harry was breaking his silence with an Oprah interview, and then he broke his silence with a multi-part Netflix documentary, and the other day he broke his silence on 60 Minutes. In fact, as far back as anyone can remember, Prince Harry has been out there somewhere breaking his silence. I personally wish him the best. I hope he continues to live a long healthy life with his wife Meghan, living in privacy except to come out and break their silence one or two times a month until the end of time."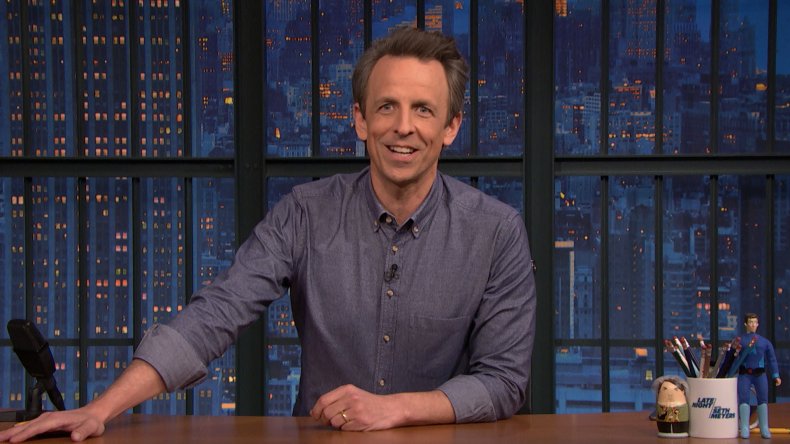 James Corden, CBS
James Corden is known to be a close friend of Prince Harry's, even being given special thanks for his support in the acknowledgments section of Spare. This did not prevent the comedian from taking a few gentle pokes at the royal on The Late Late Show, however.
Speaking after the book's release, Corden locked onto the story of the prince's losing his virginity at the age of 17 in a field behind a pub to an older woman.
The royal told ITV interviewer Tom Bradby that the section was only "four lines," and not worth elaborating on in his British promotional appearance for the book.
"Only four lines!" Corden joked. "That's OK, it happens to a lot of guys the first time."
"In a field behind a pub?" he continued. "That's one of those things that's worse than the sum of its parts. You lose your virginity in a field or in a pub, alright? Not great either way but in a field behind a pub, that's terrible."
Stephen Colbert, CBS
Stephen Colbert is the late-night host who landed an exclusive sit-down interview with Prince Harry on the day of Spare's global release so his commentary on the book was noticeably reduced.
In a promotional segway for the interview, Colbert told audiences: "Prince Harry will be right there on this show, so stock up on corgis and steal a priceless cultural treasure from one of your colonies because the late show is going imperial."
Newsweek approached representatives of Prince Harry for comment.
James Crawford-Smith is Newsweek's royal reporter based in London. You can find him on Twitter at @jrcrawfordsmith and read his stories on Newsweek's The Royals Facebook page.
Do you have a question about King Charles III, William and Kate, Meghan and Harry, or their family that you would like our experienced royal correspondents to answer? Email royals@newsweek.com. We'd love to hear from you.