Prince Harry Fixing Meghan's Hair in Resurfaced Video Goes Viral: 'So Cute'
A compilation of clips showing Prince Harry attentively arranging Meghan Markle's hair while at events together has gone viral after being uploaded to social media platform TikTok.
The video has been viewed over four million times since being uploaded to the social media platform by user "proudofmeghan" with the caption "HE IS SO CUTE" and has gained in excess of 950,000 likes.
The video was uploaded as Harry and Meghan returned to the U.S. following their stay in Britain for the ceremonies marking the death of Queen Elizabeth II.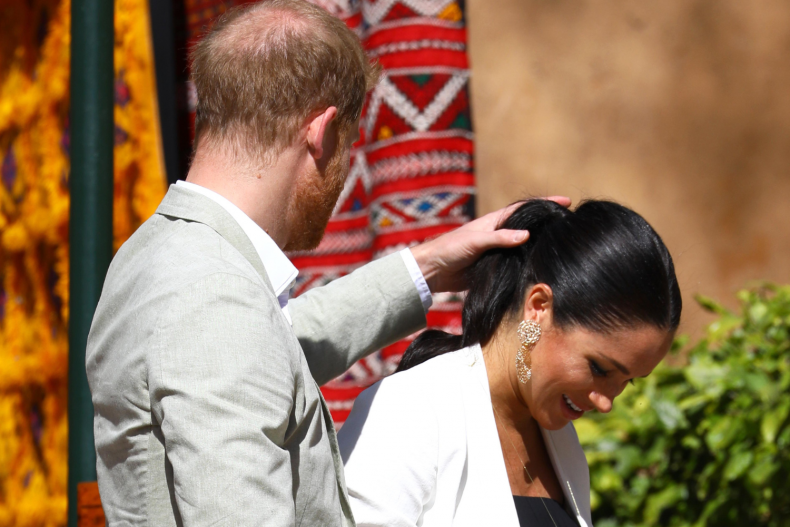 The Sussexes were in Europe on a pre-arranged visit to attend a number of charity events, the last of which was due to take place in London on September 8.
The queen died that afternoon in Scotland whereupon the couple cancelled their appearance and Harry traveled to Balmoral Castle to be with the royal family.
Clips used in the viral TikTok took place at a number of official engagements including Meghan's first proper solo project launch after her marriage, a community cookbook in aid of the victims of the Grenfell Tower fire in 2017, and the couple's tours of the South Pacific and South Africa.
A number of commenters on the video have praised Harry's tactile affection for Meghan and for making sure she was looked after at official royal events.
"He made my standards higher than I ever expected," wrote one user.
"There has never been a doubt in my mind that harry simply adores his wife," posted another, with a further commenter adding: "He adores her. It's really sweet. My husband does this for me 🥰"
One particular clip was taken by news cameras covering Harry and Meghan's brief visit to Morocco in February 2019.
The official visit was organized for the couple to learn about the strides Morocco is making in girls' education and youth empowerment, and was the last tour undertaken before Meghan gave birth to their first child Archie in May 2019.
During a visit to the Andalusian Gardens in Rabat, the couple met with a group of Morocco's young entrepreneurs who discussed their businesses and the products they produced.
At one point Meghan tried on a necklace produced by one of these young people and she she did so, Harry rearranged her sleek ponytail to ensure the piece was displayed to its full advantage.
Despite the large amount of praise Harry has gained for his attentiveness over Meghan's hair on occasions such as this, he has also come in for criticism too.
Following the Morocco gesture, British TV critic Jim Shelley joked at the royal's expense that "this is Harry's job now."
The Daily Mail also ran a 2020 article with the headline: "Why DOES Prince Harry keep fixing Meghan's hair? Royal's habit of grooming his wife is hailed as 'sweet' (but would it drive you nuts?)"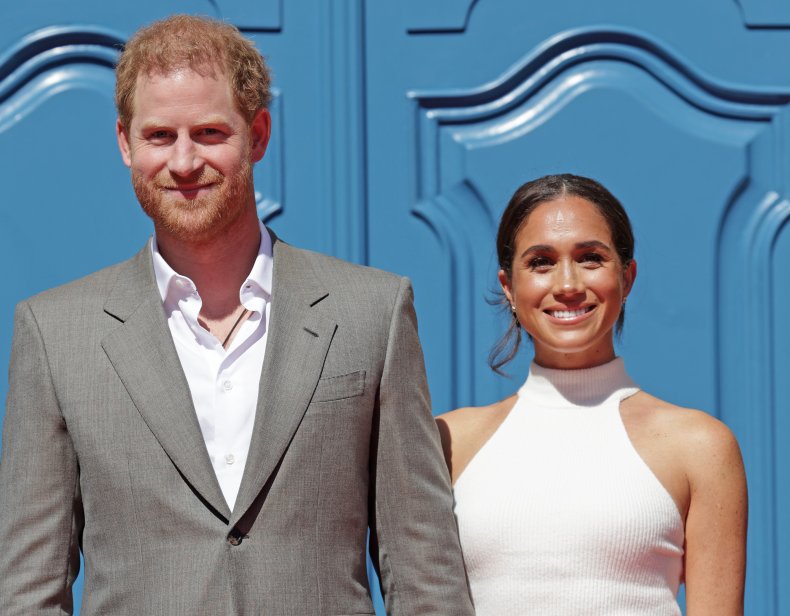 The couple moved to the U.S. with their family after stepping down from their roles as working royals citing, in part, negative treatment by the U.K. tabloid press and the feeling of being unsupported by members of the royal family and their household.
The Sussexes have since undertaken a number of private projects, including Meghan's solo podcast with Spotify, titled Archetypes.
The weekly episodes of the podcast, which states its aim is to "dissect, explore, and subvert the labels that try to hold women back," were paused by Meghan for one month out of respect for the late-queen's passing.
Archetypes will resume releases on October 4.
Do you have a question about Queen Elizabeth II, King Charles III or their family that you would like our experienced royal correspondents to answer? Email royals@newsweek.com. We'd love to hear from you.