Prince Harry idolized Princess Diana more than Prince William but did not understand her like his older brother, a new biography by Tina Brown states.
Harry and William were "collateral damage" in their parents' divorce but their ages gave them unique perspectives, the award-winning author and magazine editor wrote.
The Duke of Cambridge, at two years older than the Duke of Sussex, was "both a stand-in and a buffer" when things disintegrated with Charles, according to an excerpt from her book The Palace Papers, serialized in Vanity Fair.
Brown wrote: "From their earliest childhood, William and Harry were collateral damage in a cold war between their parents, one that could turn hot in front of them in alarming ways.
"The two-year age gap between them was critical in forging their distinctive worldviews and, equally so, in shaping their perceptions of their mother. Prince Harry idolized Diana more and understood her less."
William knew about Diana's famous strategy of co-operating with the media but her private life caused him problems at school.
After her bombshell 1995 interview with the BBC's Martin Bashir he was seen crying by a housemaster at boarding school Eton.
Brown quotes historian Robert Lacey suggesting he was "slumped on the sofa, his eyes red with tears."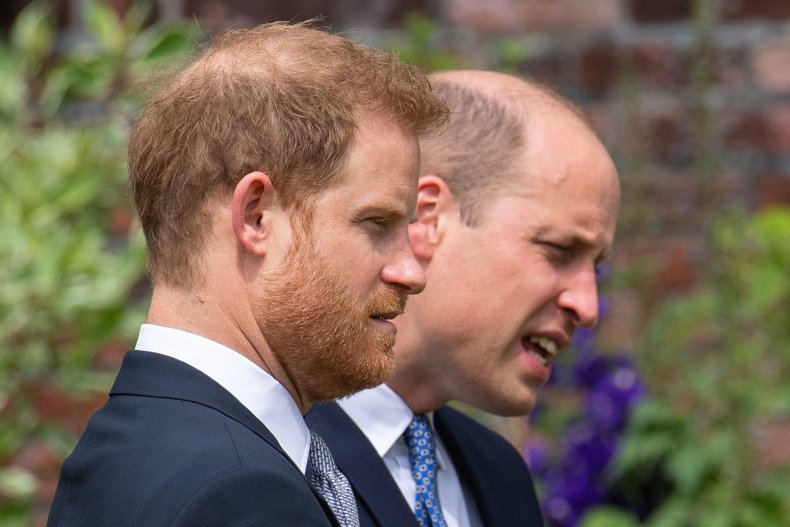 In 1996, William, aged 13, was brought along to a meeting with Piers Morgan where the then-editor of tabloid the Daily Mirror was given permission to ask "literally anything" and an alleged affair with the famous England rugby player, Will Carling, was discussed.
She describes how the future king had a picture of Carling's wife, Julia, on his dartboard at Eton, retelling the anecdote taken from Morgan's own book.
The Palace Papers reads: "It suggests that her boundaries were dissolving and, with them, her judgment. Not only was William used to hearing about her lovers, as Morgan notes, but he'd also found a way to deal with it at school.
"Tacking Julia Carling's image onto a dartboard was a gesture of loyalty to his mother that also announced he knew exactly what the other boys were whispering about."
When it was disclosed that her husband was visiting Diana at Kensington Palace, Julia Carling had fired a warning shot at the princess, declaring that she had "picked the wrong couple," according to the Daily Mail.
Julia added: "It would be easy to say she's ruined my marriage, but it takes two to tango and I blame Will for getting involved in the first place."
Brown said: "He [William] was privy to her volatile love life. He knew the tabloids made her life hell, but he also knew she colluded with them.
"By his early teens, he was his mother's most trusted confidant. She used to describe him as 'my little wise old man.'"
Brown's appraisal of Diana does not skirt around the edges and she describes how the princess would tip-off the paparazzi about some of her public appearances.
She wrote: "Time and again, Diana chose to invade her own privacy, often for the capricious reason of making the men in her life jealous. The most unforgettable 'stolen' snap from Diana's last fateful holiday was the famous 'kiss' picture of her in a clinch with bare-chested Dodi Fayed, her playboy lover, off the coast of Corsica.
"It was she who tipped off Italian lensman Mario Brenna—to send a taunting message to the real love of her life, Hasnat Khan."
For more royal news and commentary check out Newsweek's The Royal Report podcast:
Her characterization of Harry and William's differing perspectives echoes differences in their own words about their mother.
Harry told his Apple TV docu-series The Me You Can't See, which aired in May 2021, how strongly he identified with Diana.
He said: "Family members have said, 'Just play the game and your life will be easier,' but I've got a hell of a lot of my mum in me.
"I feel as though I'm outside of the system but I'm still stuck there. The only way to free yourself and break out is to tell the truth."
However, Prince William gave a more complex assessment of his mother in a statement after an investigation found that BBC journalist Bashir had manipulated his way to getting her famous 1995 interview.
During the bombshell sit down, she famously said: "There were three of us in this marriage so it was a bit crowded."
William said in May, 2021: "It is my view that the deceitful way the interview was obtained substantially influenced what my mother said.
"The interview was a major contribution to making my parents' relationship worse and has since hurt countless others.
"It brings indescribable sadness to know that the BBC's failures contributed significantly to her fear, paranoia and isolation that I remember from those final years with her."
In the starkest difference between William's view of his mother and Harry's, he described the interview itself as a "false narrative."