Prince Harry Is a 'Man of Great Strength,' Lifetime Movie Actor Playing Him Says
The actor playing Prince Harry in a new Lifetime movie tells Newsweek the duke has overcome a "ton of obstacles" in his life, and believes Meghan Markle made him stronger.
Jordan Dean tackles one of the most dramatic sagas in modern royal history, just months after Harry and Meghan dropped bombs on the monarchy through their Oprah Winfrey interview.
The green light for Lifetime's Harry & Meghan: Escaping the Palace was given in March, the same month as the CBS prime-time tell-all.
Filming then began in Vancouver, Canada, in May, the same month Harry's mental health docuseries The Me You Can't See was broadcast on Apple TV, including incendiary accusations of "total neglect" by the royals.
Now the film is due for release on September 6, adding a third film to the network's Harry and Meghan series.
Dean told Newsweek: "There's a responsibility you have to play a public figure, obviously in the spotlight since he was a young boy.
"I felt that responsibility again not trying to do an impersonation or a parody of him but again to try to find the essence of him as a character and try to find an emotional truth in the words.
"We speak some of the actual words they've said in interviews and films. There's a little pressure to that, but in a good way."
He said he mined the information that is already out there to prepare for the role in order to try to gain insight into the character.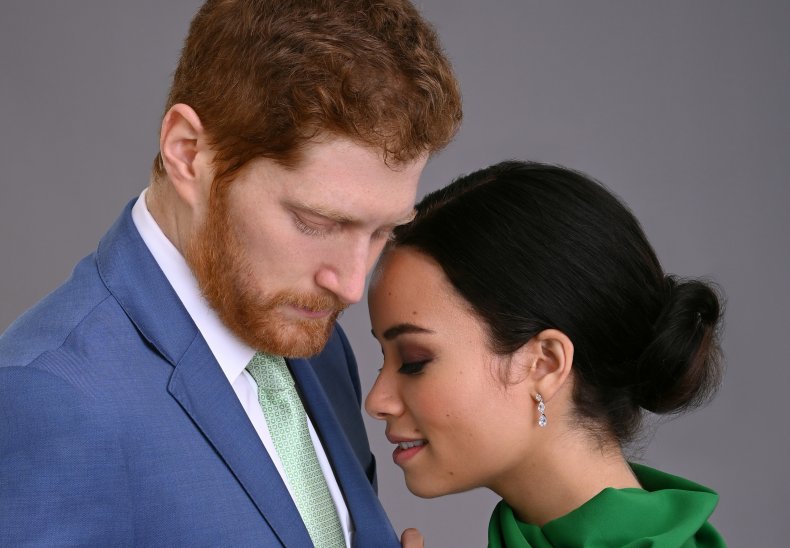 Dean told Newsweek: "My gospel as an actor is the text. Some of that is coming from what he's actually said. In general, I find him a man of great strength who has faced a ton of obstacles. I think through those obstacles that he's faced he's developed an inner strength. I think he's gained a new strength via Meghan."
Lifetime is broadcasting Escape From the Palace for the first time on Monday at 8 p.m. after a day filled with its past royal films.
The binge kicks off at 1 p.m. with William and Kate, followed by Harry & Meghan: A Royal Romance at 3 p.m. and Harry & Meghan: Becoming Royal at 5.30 p.m.
The latest installment has him star alongside Sydney Morton, who plays Meghan, acting out some of the couple's darkest moments.
The Oprah Winfrey interview itself is also recreated with Dean and Morton wearing identical outfits and styled in the same way.
Dean told Newsweek: "There's a specificity that you need when recreating a moment like that. Not to necessarily try and be harry but to take the truth in that scene and the honesty in that moment.
"When you watch it they are being very frank and open in ways that they haven't."