Prince Harry Says Media Are 'Not Going To Stop' Until Meghan 'Dies'
Prince Harry accused the media of risking Meghan Markle's life, warning: "They're not going to stop until she dies."
The Duke of Sussex claimed "history was repeating itself" and said Princess Diana "was chased to her death while she was in a relationship with someone that wasn't white."
The comments came in a docuseries he recorded with Oprah Winfrey for Apple TV, called The Me You Can't See.
Prince Harry described in detail how his wife had been left suicidal after negative stories in the media before suggesting it was "the same people, the same business model" that Diana experienced.
He said: "History was repeating itself. My mother was chased to her death while she was in a relationship with someone that wasn't white.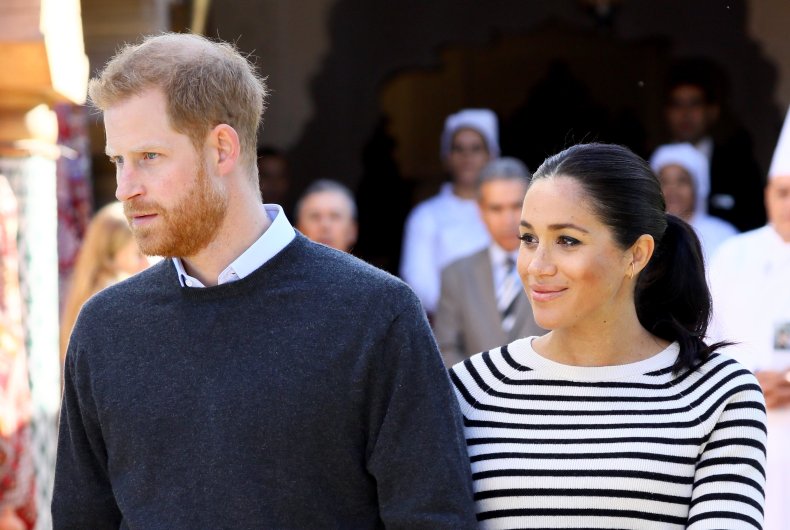 "And now look what's happened. You want to talk about history repeating itself, they're not going to stop until she dies.
"It's incredibly triggering to potentially lose another woman in my life. Like, the list is growing.
"And it all comes back to the same people, the same business model, the same industry."
Harry described negative press coverage of Meghan at the point their relationship was first announced in fall 2016.
He referenced an online story by the Daily Mail which said Meghan was "(almost) straight outta Compton" and another in the Mail on Sunday which described her as having "exotic" DNA.
However, the prince also spoke movingly about how she was left contemplating taking her own life in January 2019, after a series of critical stories in November and December of the previous year.
He said he asked his family for help but was met with either "total silence or total neglect" and told how the disagreements with the media were a major factor behind the decision to leave Britain.
In the docuseries, the duke said: "One of the biggest lessons that I've ever learned in life is that sometimes you've got to go back and to deal with really uncomfortable situations and to be able to process it in order to be able to heal.
"For me, therapy has equipped me in order to be able to take on anything. That's why I'm here now, that's why my wife is here now.
"That feeling of being trapped within the family is... there was no option to leave. Eventually, when I made that decision for my family I was still told you can't do this.
"Well, how bad does it have to get before I am allowed to do this? Well, she was going to end her life. It shouldn't have to get to that.
"Do I have any regrets? Yeah, my biggest regret is not making more of a stance earlier on in my relationship with my wife and calling out the racism when I did."
Prince Harry intervened just days into his relationship with Meghan, getting his press secretary Jason Knauf to release an on-the-record statement to the media.
The public comment on November 8, 2016, denounced "the smear on the front page of a national newspaper; the racial undertones of comment pieces; and the outright sexism and racism of social media trolls."
However, the couple told Oprah Winfrey in March that they felt the palace did not protect Meghan while she was pregnant and vulnerable, after claims she made Kate cry.
On The Me You Can't See, Harry said: "My father used to say to me when I was younger, he used to say to both William and I, 'well it was like that for me so it's going to be like that for you.'
"That doesn't make sense. Just because you suffered that doesn't mean that your kids have to suffer.
"In fact, quite the opposite. If you suffered, do everything you can to make sure that whatever experiences you had, that you can make it right for your kids.
"We chose to put our mental health first. That's what we're doing and that's what we'll continue to do. Isn't this all about breaking the cycle?"
The Me You Can't See is available from Friday, May 21, on Apple TV.
If you have thoughts of suicide, confidential help is available for free at the U.S. National Suicide Prevention Lifeline. Call 1-800-273-8255. The line is available 24 hours, every day. The Befrienders Worldwide website lists suicide support services around the world.