Prince Harry, Meghan Markle and the Queen at Royal Ascot 2018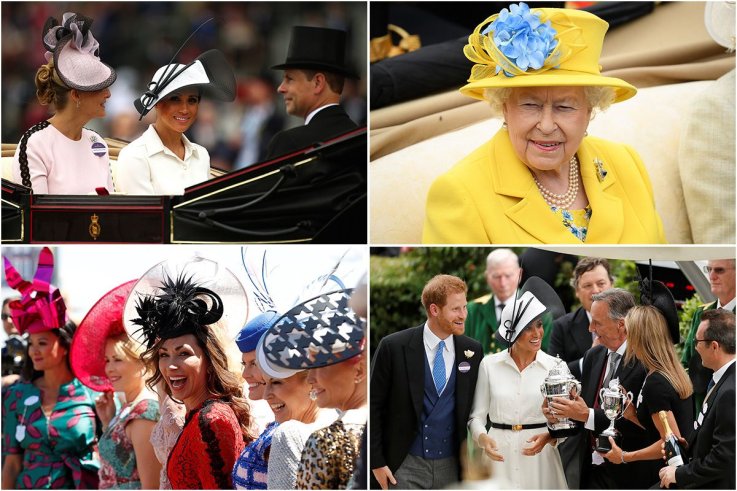 Champagne, colorful hats, waving royals, frantic betting and high drama on the track—it can only mean one thing. Royal Ascot is back.
The five-day competition sees the world's finest racehorses competing for more than £7.3m in prize money. Up to 300,000 people are expected to attend this year's event, which dates back back to 1711 when it was founded by Queen Anne.
These days, it's Queen Elizabeth II who attends each day in her horse-drawn carriage. This year, she brought along her son, Prince Charles, as well as her grandson, Prince Harry, and his new wife Meghan, Duchess of Sussex.
The day is one of the biggest in the British social calendar, and is mostly known for the outrageous fashion of its attendees rather than the racing itself.
The dress code is strict: men wear morning dress with a top hat. Women must wear a day dress with a hat, keeping their midriffs and shoulders covered.
With this stipulation, women at Ascot find other ways to stand out from the crowd. It has become traditional to wear increasingly bizarre and sculptural headgear to the event—one woman this year even wore a giant peacock hat, perhaps as a nod to this tradition of showing off.
The Queen herself gamely joins in, wearing her usual brightly colored suits. British bookmakers Ladbrokes even take bets on what color her hat will be on each day.
This year, June 21 is Ladies Day, named in 1823 when an anonymous poet described the Thursday of the Royal Meeting as "Ladies' Day … when the women, like angels, look sweetly divine."
This is truly the day for Ascot fashion—including the Queen's vibrant suits and Meghan's bonnets—to shine.
Our slideshow collects the best pictures of the crowd enjoying Ascot, royals and commoners alike, and—as is tradition—includes some truly outrageous fashion moments.