Prince Harry and Meghan Markle Are Having Two Kids, 'Maximum'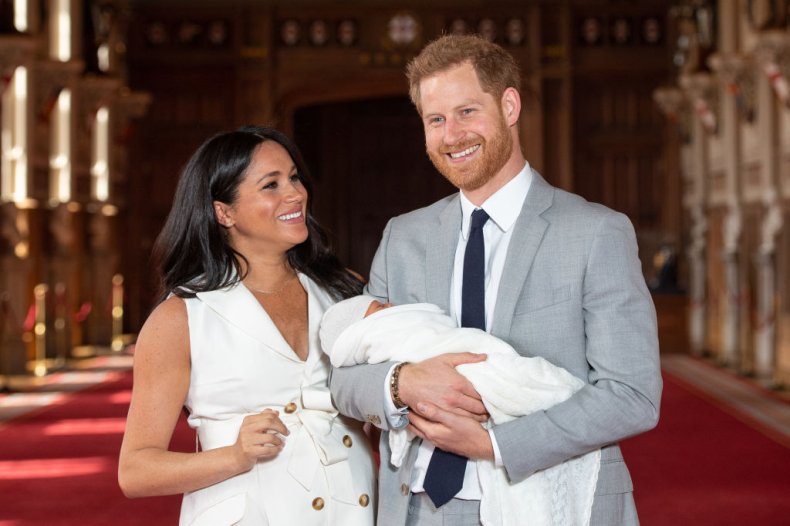 If Her Majesty, the queen, is nagging Prince Harry and Meghan Markle to have a busload of kids, she's about to be disappointed. Harry told British Vogue (guest-edited by Markle) that the newlyweds, and new parents, are only going to have two kids "maximum."
In a transcript of a chat with Prince Harry and Dr. Jane Goodall in the September issue of the magazine, Harry said his concern for conservation grew stronger after having his son, Archie Harrison Mountbatten-Windsor, born May 2019.
"I view it differently now, without question. But I've always wanted to try and ensure that, even before having a child and hoping to have children...," Harry said.
"Not too many!" Goodall laughs.
"Two, maximum!" Harry responds.
He went on to add, "But I've always thought: this place is borrowed. And, surely, being as intelligent as we all are, or as evolved as we all are supposed to be, we should be able to leave something better behind for the next generation."
Markle received some backlash for her guest-edited September issue of British Vogue. The issue is themed "Forces for Change," with the cover featuring 15 women Markle chose as inspirations, including leaders and activists like Salma Hayek Pinault, New Zealand Prime Minister Jacina Ardern, Jane Fonda, Laverne Cox, Yara Shahidi and Greta Thunberg.
Some criticized the Duchess for not including the Queen with the other trailblazing women.
Unlike Middleton in a 2016 British Vogue issue, Markle chose not to appear on the cover of the magazine.
"From the very beginning, we talked about the cover—whether she would be on it or not. In the end, she felt that it would be in some ways a 'boastful' thing to do for this particular project," British Vogue editor-in-chief Edward Enninful said. "She wanted, instead, to focus on the women she admires."
"These last seven months have been a rewarding process, curating and collaborating with Edward Enninful, British Vogue's editor-in-chief, to take the year's most-read fashion issue and steer its focus to the values, causes and people making impact in the world today," Markle said. "Through this lens I hope you'll feel the strength of the collective in the diverse selection of women chosen for the cover as well as the team of support I called upon within the issue to help bring this to light. I hope readers feel as inspired as I do, by the forces for change they'll find within these pages," she concluded.