Prince Harry and Meghan Markle Could Stop Paparazzi Drones Using California's Princess Diana Privacy Law
Meghan Markle and Prince Harry have been urged to use privacy laws introduced after Princess Diana's death to stop paparazzi drones at Tyler Perry's mansion.
The Duke and Duchess of Sussex have made repeated reports to the LAPD over sightings of what they believe are photographers taking to the skies to snap intrusive pictures.
Initial complaints did not appear to stop drone use, as they made calls on May 9, 19, 20, 21 and 25.
Now Professor Michael Froomkin, of University of Miami Law School, is urging them to invoke a Californian civil law introduced in the wake of Princess Diana's death.
He told Newsweek: "If the drones are repeat actors, they might be a nuisance, or caught by some local stalking law.
"If they are one-offs, or infrequent, and don't trespass onto private land, they likely enjoy First Amendment protection.
"I do believe a trespass remedy is or ought to be available, but the law on this is rather sparse.
"The step here would be to get the court to see the drone intrusion over the airspace of the private property as a trespass.
"Personally, I think that's the right answer."
He said the couple could use section 1708.8 of the civil code, brought in after Prince Harry's mother died in a Paris car crash while being chased by the paparazzi.
It includes increased penalties if someone trespasses to get photos or videos of someone in a personal or family setting.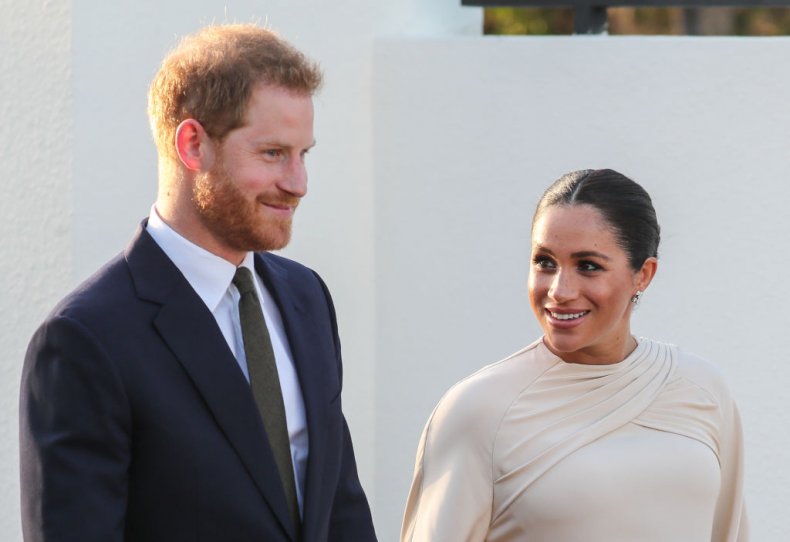 The law also allows a case with no physical trespass if there was "use of a visual or auditory enhancing device" to capture private moments taking place out of the public domain.
Drone pictures of Prince Harry playing with a pet dog at the swimming pool of Hollywood tycoon Perry's $18 million dollar hillside mansion were published on gossip sites in recent weeks.
The house is visible from public spaces as it sits beside a popular hiking trail with views over Los Angeles, but screens have been put up around the swimming pool area to prevent paparazzi photographs.
Froomkin said the civil code "probably goes about as far as the First Amendment permits" but could create a means for the couple to fight back.
The intrusive photography is likely to be particularly upsetting to the couple, who have complained repeatedly about the media.
And Prince Harry has talked movingly about his battle to heal the trauma of his mother's death.
The duke and duchess have not only had problems with drones, but also been followed by paparazzi photographers in cars.
Mark Stephens, of U.K. law firm Howard Kennedy, told Newsweek there could be some prospect of either civil or criminal action against photographers who repeatedly chase them.
He said: "What you've got to show is that this person is causing harassment alarm and distress over a period of time.
"If they do it more than once then you are in a situation of harassment.
"It does raise constitutional free speech issues in America, which are not a factor in Britain.
"I think it would potentially be under both civil and criminal law.
"If you've got someone stalking the royal couple then there's a security issue there that you need to address and deal with."
Friends of the Duke and Duchess of Sussex said the couple have so far not gone beyond police reports into the drone sightings.