Why Are Meghan Markle and Prince Harry Moving? He Feels 'Imprisoned' at Kensington Palace, Royal Biographer Claims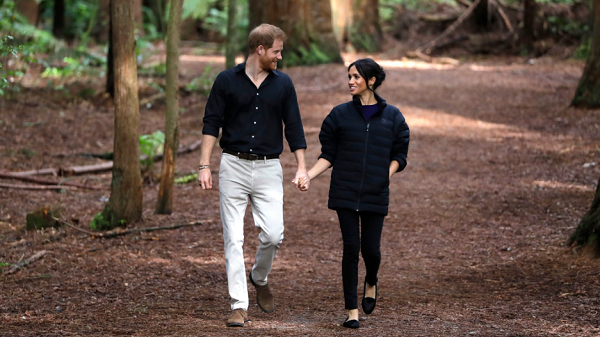 Prince Harry and Meghan Markle are trading in their Kensington Palace digs for a quaint country life in Windsor. The couple, who are expecting their first child together next spring, are reportedly moving to Frogmore Cottage on the grounds of Windsor Castle, not far from where they were married back in May.
Although Harry and Markle haven't given a specific reason for their big move, that hasn't stopped the floodgates of speculation from opening. Plenty of British tabloids—and some U.S. publications—assumed the means behind the couple's decision to relocate may be related to Harry's changing relationship with his big brother Prince William. Others alleged there was a sister-in-law rivalry between Markle and William's wife, Kate Middleton, Duchess of Cambridge.
William, Middleton and their three children also live in the grand 20-room apartment within the London palace, which is also home to various other members of the royal family including Prince and Princess Michael of Kent, the Duke and Duchess of Kent, Duke and Duchess of Gloucester and Harry's cousin Princess Eugenie and her husband Jack Brooksbank.
However, the unconfirmed familial tension has nothing to do with Harry and Markle's decision to leave their Kensington confines. Rather, a newly married Harry's desire for a home life outside of the constantly-watching public eye. "Harry feels very imprisoned at Kensington Palace," royal biographer Ingrid Seward told People magazine on Wednesday.
The author of My Husband and I—an autobiographical outlook on Queen Elizabeth II and Prince Phillip's marriage—noted Harry has long told many of his friends of how much "he can't wait to get out" of London, leading to his hasty decision to uproot his family 25 miles west of the big city not long after tying the knot.
With Harry and Markle's family gaining a new member with the arrival of their first child in 2019, their move from Nottingham College's two-bedroom cottage within the palace makes sense. Although Frogmore cottage reportedly needs some work to turn it back into the 10-bedroom luxury home it once was.
In a statement, Kensington Palace noted the Windsor Estate is a "very special place" for Harry and Markle. Following their wedding at St. George's Chapel in Windsor, the couple enjoyed their lavish reception at Frogmore House, which is just a stone's throw away from where they will live come 2019. They also posed on the Frogmore grounds for their engagement photos last fall.
Despite their big move next year, the Duke and Duchess of Sussex will still maintain primary offices in Kensington Palace although Harry and William, second in line to the British throne, will conduct their royal duties from separate offices.
Why Are Meghan Markle and Prince Harry Moving? He Feels 'Imprisoned' at Kensington Palace, Royal Biographer Claims | Culture