How Prince Harry and Meghan Markle's Oprah Winfrey Preview Compares to Past Comments
Prince Harry's previewed comments to Oprah Winfrey echo past statements about Meghan Markle in which he said: "I lost my mother and now I watch my wife falling victim."
CBS yesterday released two 30-second clips of Meghan and Harry sitting down with Oprah to discuss the pressure of life in the royal family.
In them, the prince compared his wife's experience of entering the royal family to Princess Diana's, warning: "My biggest concern was history repeating itself."
The comments released so far, including Oprah's, have nodded towards allegations already in the public domain, whether from past statements or court filings.
Here is a rundown of what the couple have said before.
"My biggest concern was history repeating itself"
Prince Harry and Oprah are the only voices in the clips pre-released by CBS ahead of the March 7 prime-time special, which runs from 8 p.m. to 10 p.m. ET.
The duke said: "I'm just really relieved and happy to be sitting here talking to you with my wife by my side because I can't begin to imagine what it must have been like for her going through this process by herself all those years ago.
"It has been unbelievably tough for the two of us. But at least we had each other."
Harry made similar comments in October 2019 as Meghan launched a privacy and copyright lawsuit against the Mail on Sunday.
Then, his attack was targeted at the British media, who he claimed had bullied his wife.
At around the same time, he launched separate phone-hacking lawsuits against the publisher of the News of the World and The Sun and the publisher of the Daily Mirror.
Quoted in The Guardian, his statement read: "There comes a point when the only thing to do is to stand up to this behavior, because it destroys people and destroys lives.
"Put simply, it is bullying, which scares and silences people. We all know this isn't acceptable, at any level.
"We won't and can't believe in a world where there is no accountability for this.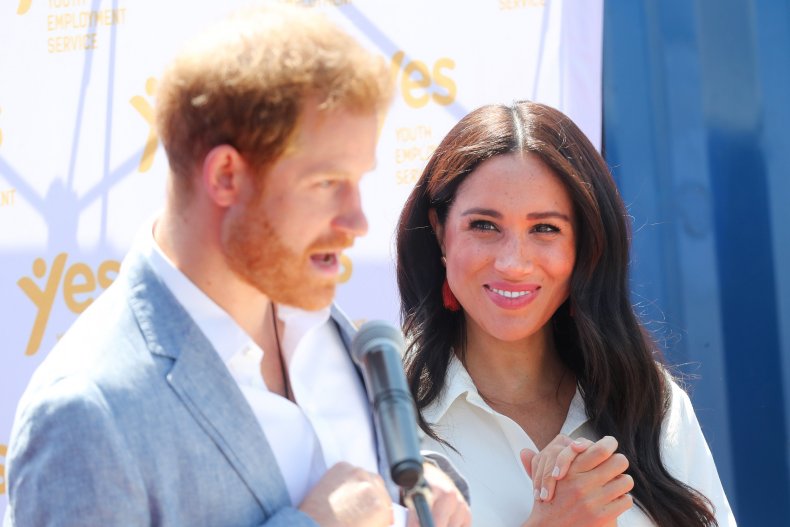 "Though this action may not be the safe one, it is the right one... I've seen what happens when someone I love is commoditized to the point that they are no longer treated or seen as a real person.
"I lost my mother and now I watch my wife falling victim to the same powerful forces."
One unique aspect of the CBS clip, however, is Harry's emphasis on the fact Princess Diana suffered alone.
The surrounding context of his comment is unclear, but Princess Diana and Prince Charles separated in 1992, prior to officially divorcing in 1996.
The princess was killed alongside her boyfriend Dodi Fayed in a car crash in Paris while being chased by the paparazzi a year later in August 1997.
During her life, she said in her own tell-all TV interview that Prince Charles had cheated on her.
In tape recordings with her voice coach she claimed Prince Philip gave her husband permission to have an affair with Camilla Parker Bowles, now his wife, the Duchess of Cornwall.
"Were you silent or were you silenced?"
In the CBS footage, Oprah touches on a subject that came up in Meghan's court case against the Mail on Sunday.
She asked: "Were you silent or were you silenced?"
In a court filing last summer, Meghan's lawyers described how she faced a torrent of negative publicity while she was pregnant with baby Archie and claimed she was prevented from defending herself by Kensington Palace.
The royal family are famous for their "never explain, never complain" policy that sees them appear to be above engaging with bad stories in the media.
The duchess' lawyers wrote: "[Meghan] had become the subject of a large number of false and damaging articles by the UK tabloid media, specifically by the defendant [the publisher of the Mail on Sunday], which caused tremendous emotional distress and damage to her mental health.
"As her friends had never seen her in this state before, they were rightly concerned for her welfare, specifically as she was pregnant, unprotected by the Institution, and prohibited from defending herself."
The filing added: "This shared frustration amongst [Meghan]'s friends left everyone feeling silenced, as it appeared that other so-called sources were able to disseminate false statements about [Meghan], while the people who knew her best were told that they needed to remain silent."
The same court document described how the Kensington Palace communications team would reply "no comment" to some inquiries by journalists without informing her.
It states: "The stance of 'no comment' was taken by the KP Communications Team without any discussion with or approval by [Meghan], as is standard practice for Royal communications."
"'Almost unsurvivable' sounds like there was a breaking point"
The CBS clips also suggest Oprah and Meghan may have addressed the issue of social media trolling, which the duchess has discussed before.
The chat show host asked: "'Almost unsurvivable' sounds like there was a breaking point?"
The phrase comes from an interview Meghan did with the Teenager Therapy podcast in October, in which she discussed being the most trolled person of 2019.
She said: "I'm told that in 2019 I was the most trolled person in the entire world—male or female.
"Now eight months of that I wasn't even visible.
"I was on maternity leave or with a baby but what was able to just be manufactured and churned out, it's almost unsurvivable."