The Royal Family Is Thriving Without Harry and Meghan | Opinion
Few people do polite passive aggression better than we Brits. It's why Meghan and Harry were invited to Queen Elizabeth II's Platinum Jubilee. At the Service of Thanksgiving at St. Paul's Cathedral on day two of the celebrations, their new place in the pecking order became apparent—they were with the royal equivalent of the B-list, sitting with the daughters of disgraced uncle Prince Andrew, and waiting with the hoi polloi for the star turns of Harry's grandmother, father and brother.
The crown is all. This past weekend celebrating a woman who, despite her 70 years as our head of state remains an enigma, proved it. During four days of festivities, millions partied. Even die-hards who would prefer a Republic to the dysfunctional, not-terribly-bright family of Germanic extraction we are told to scrape and bow to, shed a tear as the queen shared a cup of tea with Paddington the Bear. They struggled to explain why.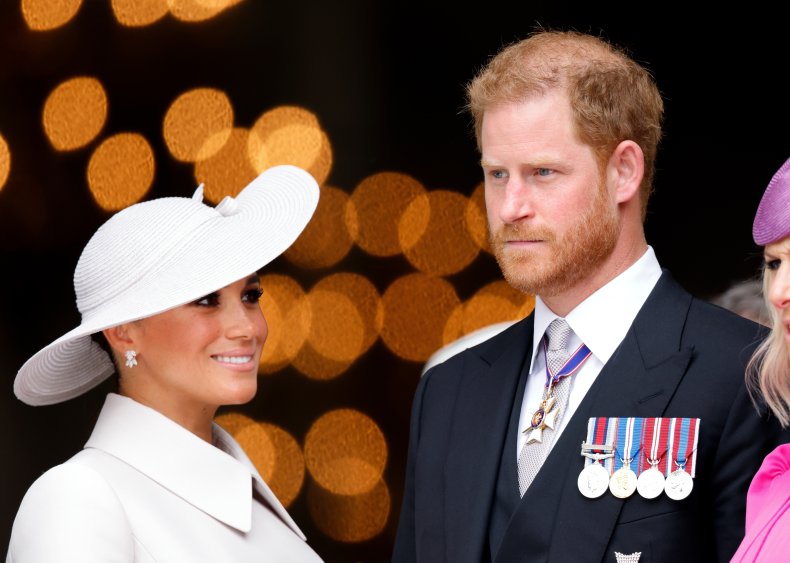 The crown—something for which people have fought wars over hundreds of years—is a magical symbol of nationhood and patriotism, things we cynical Brits normally shy away from. The weekend's celebrations allowed us to consider that actually we are pretty ok as a country, we do things pretty well; there is beauty in our traditions.
But the further away from the crown you are, the colder it is, and Prince Harry and Meghan are practically in Siberia. Even among the ardent royalists outside the Cathedral on Friday cheering the arrivals, there were some who booed this former favored pair. How quickly their cachet has fallen.
Prince Harry was briefly the darling of our nation, the cheeky boy we watched grow up. We cried alongside him when his mother died so tragically young and we felt his pain when he was forced to put on a stiff upper lip as he walked behind his mother's casket.
When he married Meghan we rejoiced, we genuinely did. This seemed a modern fairy tale story. She symbolized something new; a biracial American who reflected, for the first time, the minorities in our nation.
Initially, she was seen as an asset. She was full of ideas for doing good and seemed to revel in the public gaze. But it all quickly unraveled.
While her new in-laws are the most famous people in the land, they also work for us, the people, something Meghan apparently failed to understand, and we don't like being lectured at by people we pay for. Nor do we like to hear moaning from the most privileged in our society.
Instead, they are meant to represent tradition and class. The Sussexes showed they had neither when they went on television to attack his family at a time his grandfather was dying.
It's telling that after the first and only time we saw them at the Jubilee, they quickly vanished again from public view, despite their trip costing a reported £160,000 to fly over from Los Angeles on a private jet.
And it is equally telling that this couple who fled to America, announcing they were doing it to seek privacy (so private that they are doing a Netflix show about their lives), released their first and only photograph of their adorable daughter Lilibet after retreating back across the pond where some people still think they are important.
It is clear that Meghan appears to see the royal family as an extension of celebrity, while in reality, she and her husband have earned millions from Netflix and Spotify for doing nothing, simply by being extensions of the royal family.
But as their divide from the crown gets ever wider, their celebrity diminishes. No one is going to be interested in old stories about a slight from William or Kate in a few years; not when we have their cheeky son Louis to take fresh delight in. The spotlight has already moved on.
Nicole Lampert is the former showbiz editor for The Daily Mail.
The views expressed in this article are the writer's own.
For an alternate opinion read: The Royals Made a Colossal Mistake With Harry and Meghan