How Harry and Meghan Misinterpreted Diana's Royal Exit
Prince Harry and Meghan Markle may have misinterpreted Princess Diana's exit from the royal family, according to author and former editor of Vanity Fair, Tina Brown, who insists that the princess "didn't want to be out of the monarchy."
Speaking on the release of her book, The Palace Papers: Inside the House of Windsor, the Truth and the Turmoil, Brown told Joanna Coles of the Washington Post: "I don't know that [Diana] would have ever really advocated, you know, going off to live in Montecito without any of the patronages, and any of the platform or the powers."
Harry and Meghan stepped down as full-time working members of the royal family in March 2020 after a painfully public period of discussions and debate, which included figures such as Queen Elizabeth II, Harry's father, Prince Charles and his brother, Prince William.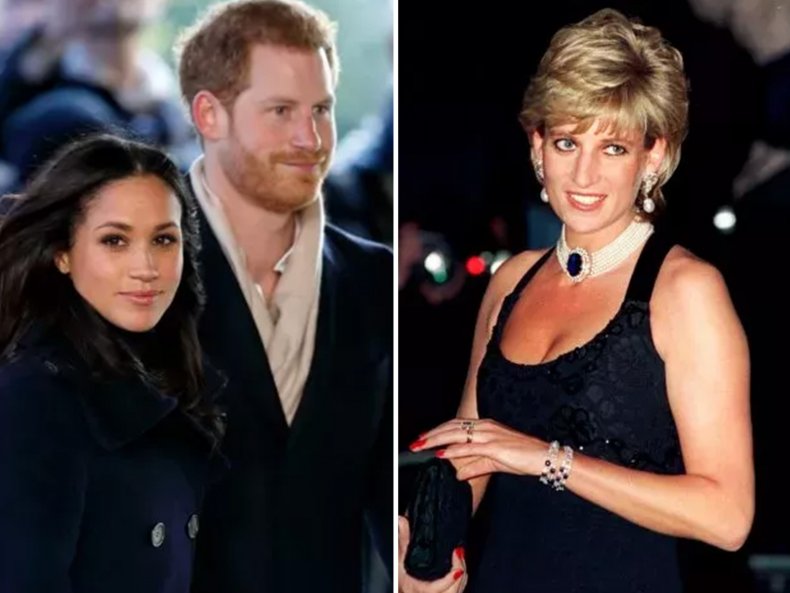 At the time, the decision to step back was caviated by the queen who left the door open for a return after the period of one year should the couple decide to come back.
In 2021, at the time of this deadline, a Buckingham Palace statement was released: "The Duke and Duchess of Sussex have confirmed to Her Majesty The Queen that they will not be returning as working members of The Royal Family.
"Following conversations with The Duke, The Queen has written confirming that in stepping away from the work of The Royal Family it is not possible to continue with the responsibilities and duties that come with a life of public service.
"The honorary military appointments and Royal patronages held by The Duke and Duchess will therefore be returned to Her Majesty, before being redistributed among working members of The Royal Family.
"While all are saddened by their decision, The Duke and Duchess remain much loved members of the family."
Since stepping back from official working royal life in Britain, both Harry and Meghan have been vocal about the reasoning behind their decision and also that it was something that Princess Diana would be proud to see.
In an interview with People magazine last month, Harry told readers: "I honor my mother in everything I do. I am my mother's son," and that he hoped that "everything I do makes her proud."
In one aspect Brown disagrees with Harry—his belief that Diana would have supported his royal exit and that she had made similar moves during her lifetime.
"He's always saying, you know, my mother would be, you know, happy et cetera," she told Coles.
"I don't know that Diana would. Diana always saw the power of changing within the structure of monarchy. She didn't want to be out of the monarchy."
Referencing Diana's mode of operation in the years following her separation from Prince Charles and months after her eventual divorce in 1996, which was followed tragically by her untimely death in a 1997 Paris car crash, Brown said: "She wanted to hang on to her HRH, which was confiscated. She stayed living in Kensington Palace.
"Nothing would have prized her out of that. She saw that the royal imprimatur was always going to be the best, you know, leverage, the best convening power, to promote the causes that she cared about."
Brown previously voiced her opinion in this matter on The New York Times' Sway podcast with Kara Swisher, where she explained just why she believes Diana would not have cast herself adrift from the monarchy in the way that Harry and Meghan have.
Diana did not leave the nuclear royal family "out of her own desire," Brown told Swisher. "She would never have left if Charles, if her husband had been in love with her. So she didn't actually leave the royal family. She was divorced. She had to leave the royal family."
"But even then, she continued to live at Kensington Palace. And she really saw you could make more change inside the family than leaving it.
"I mean, when Diana shook hands with the AIDS patients without gloves at Middlesex Hospital, she was doing that as Her Royal Highness Princess of Wales. She knew that it was that stature, that diadem on her head, that position, that gave her gesture such meaning."
Swisher closed the subject by adding that Diana had an unmistakable star power as well as royal one, to which Brown responded: "She had huge star power, but her star power became more potent because it was allied to monarchy. And so I don't know whether she would have been thrilled to see them off in Montecito, sort of, Harry stripped of his military honors."
Harry and Meghan made their first joint visit to the U.K. since their stepping down as full-time working members of the royal family last month, where they paid a private call on the queen at Windsor Castle.
When asked if the prince would be going to London for the monarch's Platinum Jubilee celebrations in June by Today show host Hoda Kotb at the Invictus Games in the Netherlands, Harry responded: "I don't know yet. There's lots of things with security issues and everything else. This is what I'm trying to do, trying to make it possible that I can get my kids to meet her."
The prince is currently in an ongoing legal dispute with the U.K. Home Office over the security detail assigned to him when visiting the country, since moving to the U.S.