Prince Harry and Meghan Markle's Official Royal Exit Sparks Backlash and Applause
Prince Harry and Meghan Markle have officially exited royal life. Queen Elizabeth II confirmed in a statement on Friday that the couple's decision not to return as working members of the royal family will result in the revocation of the honorary military appointments and royal patronages once held by the Duke and Duchess of Sussex.
Fans of the couple rallied behind them on social media, offering support as the couple, who have been living in California since 2020, enters a new stage of life as private (but still very public) citizens.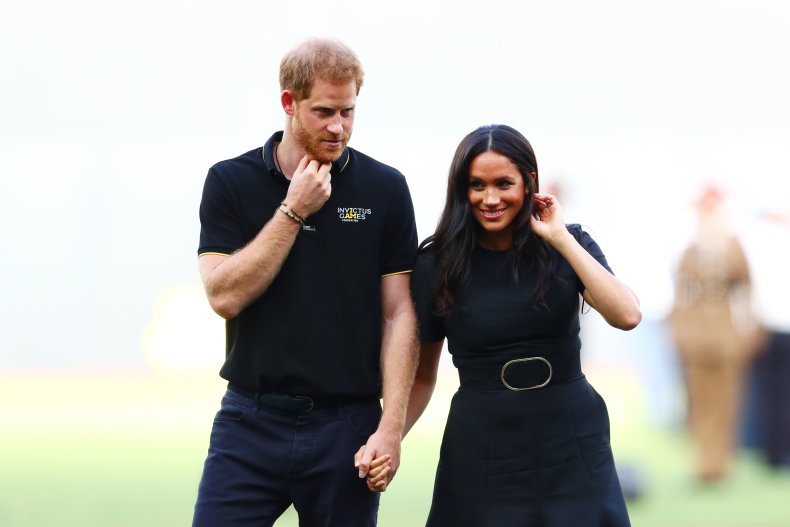 "Congratulations to Harry and Meghan, the Duke and Duchess of Sussex, for making a life of their own. I think they will prove it's perfectly possible to serve their community and charitable interests outside 'the firm,'" one person tweeted on Friday.
Another wrote: "Harry & Meghan will not return as working members of the Royal Family! I say good for them, the monarchy is coming to an end in my opinion and outdated! Anyone else agree!?"
According to some people, the Queen's decision to strip the pair of their royal titles only mark a major loss for the monarchy, considering the widespread influence and fanfare surrounding Harry and Meghan.
"The Royal Family have lost the two assets that could have modernised [sic] and increased relevancy. No doubt detractors will continue to sneer at Meghan and Harry and wax lyrical about William and Kate but like a great philosopher once said: 'stop trying to make fetch happen,'" wrote actress Michelle Gayle.
Although the Queen wrote in her statement that "it is not possible to continue with the responsibilities and duties that come with a life of public service," which some took as a slight to the couple, there were others who felt that Harry and Meghan's permanent royal exit would only free them to do more work and community service that they are passionate about.
"Good for #HarryandMeghan! There's no doubt that their broader commitment, on their own terms, to a life of service to the world (which includes the UK) will always reflect positively on the Royal Family," author and activist Dr. Shola Mos-Shogbamimu tweeted.
There were others who disagreed, among them Piers Morgan, who tweeted that "one can lead a far more lucrative life of service if one has a royal title."
Radio personality Kevin O'Sullivan, meanwhile, argued on Twitter that the couple is primarily concerned with celebrity and wealth. He tweeted: "After the Queen at last sacked them from the royal family, Harry and Meghan declared: 'We can all live a life of service.' Or, if you're ligging off your flagging royal status, you can replace your life of service with a shameless pursuit of undeserved wealth and fatuous fame."
O'Sullivan's tweet makes reference to a statement shared by Harry and Meghan's spokesperson on Friday, immediately after the Queen's official announcement went public.
The couple's spokesperson said: "As evidenced by their work over the past year, The Duke and Duchess of Sussex remain committed to their duty and service to the U.K. and around the world, and have offered their continued support to the organizations they have represented regardless of official role. We can all live a life of service. Service is universal."
One person on Twitter found Harry and Meghan's statement to be disrespectful. "Petty, jealous and vindictive - Harry and Meghan take another bitter swipe at the Queen," they tweeted. "What happened to kindness? The Queen has been kind and generous. Is this how they repay her kindness?"
Updated 2/19/2021, 2:12 p.m. ET: This article has been updated to include an additional tweet and accompanying context.