Harry, Meghan Security Incident Echoes Early Issue With L.A. Photographers
Police were reportedly called over intruders at Prince Harry and Meghan Markle's home twice in May—echoing a series of similar reports early on in their U.S. lives.
Officers were notified of two incidents in May on key dates in the royal news calendar—their wedding anniversary and their trip to Britain for the Platinum Jubilee.
The saga sets an appropriate backdrop to Prince Harry's U.K. security lawsuit, which has seen him sue the British government for removing his Metropolitan Police protection detail while on trips to the country.
However, it also echoes problems the couple had with photographers when they first moved to California and were staying in actor and filmmaker Tyler Perry's Los Angeles mansion.
Intruders at Meghan and Harry's Montecito Home
Police received a report of a trespasser at the couple's $14.7 million mansion, in Montecito, California, on May 19, their wedding anniversary, according to reports seen by U.K. newspaper The Sun.
A second incident took place on May 31, shortly before they flew to Britain for Queen Elizabeth II's Platinum Jubilee, arriving in the U.K. the following day, on June 1.
Santa Barbara Police Department was told the problems related to a "trespasser," "property crimes" and "suspicious circumstances," The Sun reported.
Newsweek asked the Santa Barbara Police Department for comment.
There has been no public confirmation about who was alleged to be trespassing at their property and it is possible the couple themselves never got to find out.
However, paparazzi photographers are known to target dates when celebrities may be more likely to leave the house, for example, for an anniversary dinner.
Meghan and Harry's arrival in Britain for the Platinum Jubilee was hotly anticipated as it marked the first time the duchess would be seen publicly in the country since the couple left in 2020.
The couple may well have been on high alert as Harry was photographed at the airport in Los Angeles on previous trips to the U.K., including in June 2021 to unveil a statue in his mother's honor at Kensington Palace.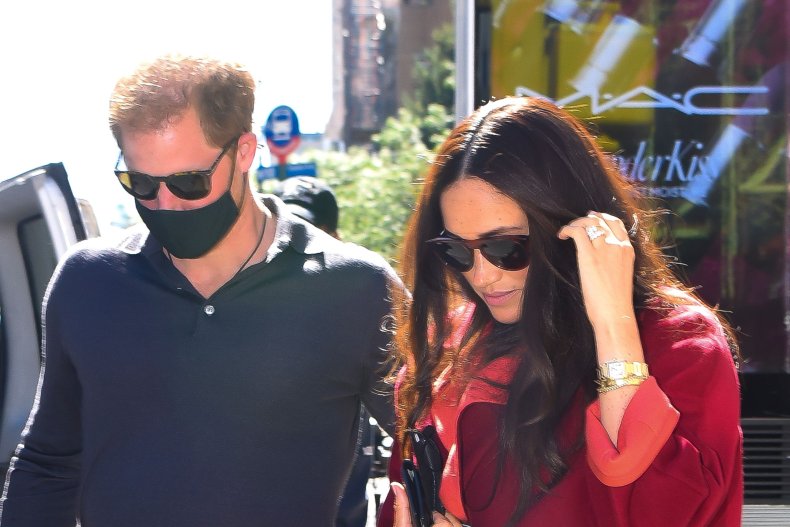 Meghan and Harry's Introduction to L.A. Paparazzi
The Sussexes' decision to relocate to California triggered frenzied reporting and a market for the first pictures of the couple enjoying their post-royal lives.
Back then, in 2020, a police report was again made on their wedding anniversary, May 19, even though the world was in COVID lockdown at the time.
Other calls were made on May 9, 20, 21 and 25 with drones flying as low as 20 feet overhead in an effort to get pictures of the young family.
The Daily Beast reported at the time that photographers were suspected to be behind the incidents, though it was not yet known for sure.
In time, picture agency X17 got pictures using a drone of Archie playing with his grandmother Doria Ragland in the private grounds of Tyler Perry's Los Angeles mansion.
The pictures ran in German mass market celebrity magazine Bunte in July 2020, as Newsweek exclusively reported at the time.
Harry and Meghan sued and that fall X17 was forced to apologize for the intrusive images.
The emotional stakes were all the higher for Prince Harry as alongside the incidents at their home, photographers, who have never been identified, chased the couple in their car, The Daily Beast reported in 2020.
Princess Diana died in a car crash in Paris in 1997 while the car she was a passenger in was being followed by photographers.
Prince Harry's Police Security Lawsuit
The other backdrop to the couple's U.S. security issues is Harry's attempt to get his U.K. police protection re-instated.
The prince is suing the British government for removing his taxpayer-funded team and is poised to launch a second "judicial review" case over a ruling that he is not entitled to cover the cost of the service himself.
The duke's argument has been made on the basis of the threat to him as well as to Meghan and their children Archie and Lilibet Mountbatten-Windsor.
A legal representative said in January: "The Duke and Duchess of Sussex personally fund a private security team for their family, yet that security cannot replicate the necessary police protection needed whilst in the UK. In the absence of such protection, Prince Harry and his family are unable to return to his home."
However, the actions of photographers are an issue in that case too as it partially relates to an incident at a charity event during his visit to the U.K. in late June and early July, 2021.
Harry attended the WellChild awards but his presence was leaked and there was an incident involving photographers as he left.
His legal representative said in January: "During his last visit to the U.K. in July 2021—to unveil a statue in honour of his late mother—his security was compromised due to the absence of police protection, whilst leaving a charity event."
If the prince were to get his police team re-instated, they would be able to escort him through red traffic lights with sirens wailing, leaving photographers in their dust.
However, that may be a tall order due to the type of lawsuit he has been able to file. Judicial reviews can only force government departments to take a decision again, potentially in a different way.
For example, one possible outcome is that Harry may force the Home Office [interior ministry] to allow him to make representations as part of the decision-making process by the Royal and VIP Executive Committee, RAVEC.
However, a judicial review cannot force the government into taking a specific decision, like reinstating his police team, if the secretary of state is determined not to grant him his wish and abides by the correct process next time.
For more royal news and commentary check out Newsweek's The Royal Report podcast: