Prince Harry and Meghan Markle Staffer Tells of 'Incredible Experience' Working for Them
Prince Harry and Meghan Markle's former chief of staff has described the couple as "incredibly talented" a few months after quitting her job.
Catherine St-Laurent stepped back from the role in March, with the announcement coming a couple of weeks after Meghan and Harry's bombshell interview with Oprah Winfrey.
In the run-up to the tell-all on CBS, an email was leaked to U.K. newspaper The Times detailing a bullying allegation against Meghan made by her former staff at Kensington Palace.
However, in her first interview with a publication since her departure as chief of staff, St-Laurent praised the couple.
She told The Cut: "It was an incredible experience. They are incredibly talented and creative leaders. I'm grateful to have had the opportunity to do that, to be able to be with them on their journey.
"The time that I spent with them was incredibly fulfilling. I think they have the potential to be very influential leaders in the social-impact space. I look forward to continuing to be a part of that."
St-Laurent retained an advisory role with the couple after stepping down as their chief of staff and as executive director of their foundation Archewell.
In March, there was speculation in the British media that she may have had a bad experience working for the couple, although St-Laurent has given no such indication.
A Daily Mail headline at the time asked: "How have Harry & Meghan lost ANOTHER right hand woman?"
Meghan was accused of bullying two PAs out of the royal household in an email sent in October 2018, but leaked just days before the Oprah Winfrey interview aired.
Jason Knauf—who was then communications secretary to the couple, as well as Prince William and his wife Kate—wrote to a superior: "I am very concerned that the duchess was able to bully two PAs out of the household in the past year.
"The treatment of X [name removed] was totally unacceptable."
He added: "The duchess seems intent on always having someone in her sights. She is bullying Y [name removed] and seeking to undermine her confidence.
"We have had report after report from people who have witnessed unacceptable behavior towards Y [name removed]."
Two months after Knauf's email was sent, an article in the Sunday Times described Meghan as "Duchess Difficult" and claimed staff found her hard to work for.
It was suggested that she got up early each morning to do yoga and fired off emails to staff before their office hours began.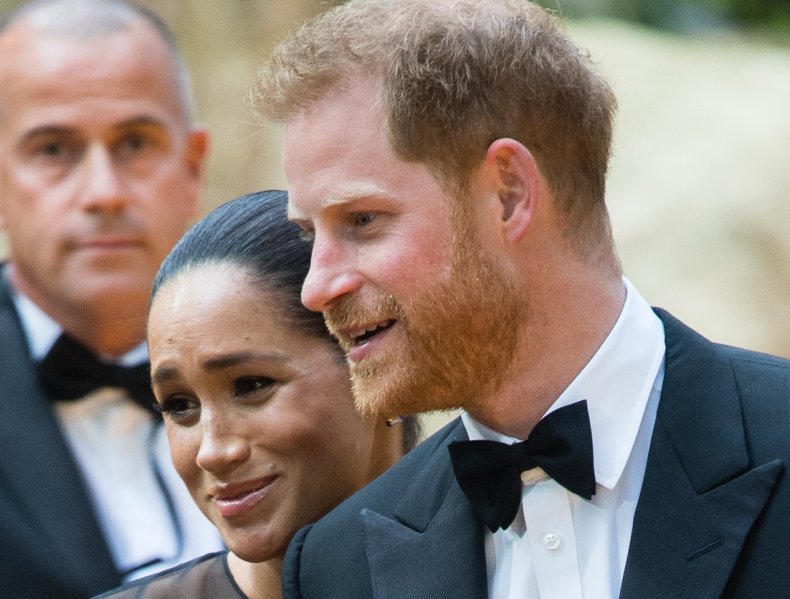 However, St-Laurent told The Cut she had no problem with early mornings.
"I'm a morning person, so I'm up at 5:30. I try to get a workout in before my kids are up, which is also quite early—my youngest is usually up by 6:00 a.m.," she said.
"I always have coffee in the morning, without fail. I have a stovetop espresso maker that I think technically makes six shots of espresso.
"I do a quick check of emails and phone for anything time sensitive or urgent. Then there's the chaotic prep that is morning time with a 2-year-old and a 5-year-old, getting lunches ready and breakfasts and nudging them into clothes to go to school."
After the bullying claims were made, Meghan and Harry's spokesperson said: "The duchess is saddened by this latest attack on her character, particularly as someone who has been the target of bullying herself and is deeply committed to supporting those who have experienced pain and trauma."
Meghan and Harry recently took on a head of audio, Rebecca Sananes, to work on their Spotify podcast.
Sananes previously worked at New York Magazine and Vox Media, according to her LinkedIn page.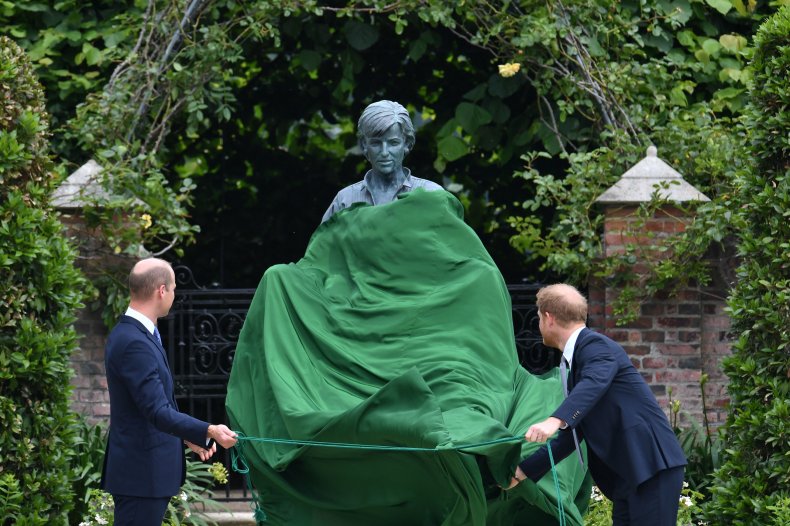 In Focus
Prince William and Prince Harry unveil a statue they commissioned of their mother Princess Diana in the Sunken Garden at Kensington Palace, on what would have been her 60th birthday.
Launch Slideshow

3 PHOTOS