Prince Harry and Meghan Markle To Still Take 95 Percent of Their Income From Royal Family
Prince Harry and Meghan Markle will still take 95 per cent of their income from the Royal Family, it has emerged—after claiming they will work to become "financially independent."
In a statement posted on social media on Wednesday, the Duke and Duchess of Sussex revealed they intend to "step back" from the role as "senior" members of the Royal Family following an extended break from royal duties over the festive period.
The couple added they will work to become "financially independent" while continuing to "fully support" the Queen.
They have yet to reveal exactly how they intend to become financially independent, but they have said, on their official website, that they "value the ability to earn a professional income, which in the current structure they are prohibited from doing."
Their website's Funding section revealed that that the public money they will be relinquishing—provided by the Sovereign Grant—only amounts to 5 per cent of their total income. The remaining 95 per cent of their income is funded by Prince Charles from his income from the Duchy of Cornwall.
The revelation prompted writer Rupert Myers to note that the couple still receiving the vast majority of their income from Harry's father was a "curious definition of "financial independence"."
"Hadn't quite realised that they're still going to take 95% of their income that Charles provides, a curious definition of "financial independence"," he wrote on Twitter.
Emily Hodgkin added the couple's claims are "a bit disingenuous." She wrote on Twitter: "They are only planning to give up 5 percent of their income, from the Sovereign Grant. However, their website makes it clear they still hope to receive the other 95 percent."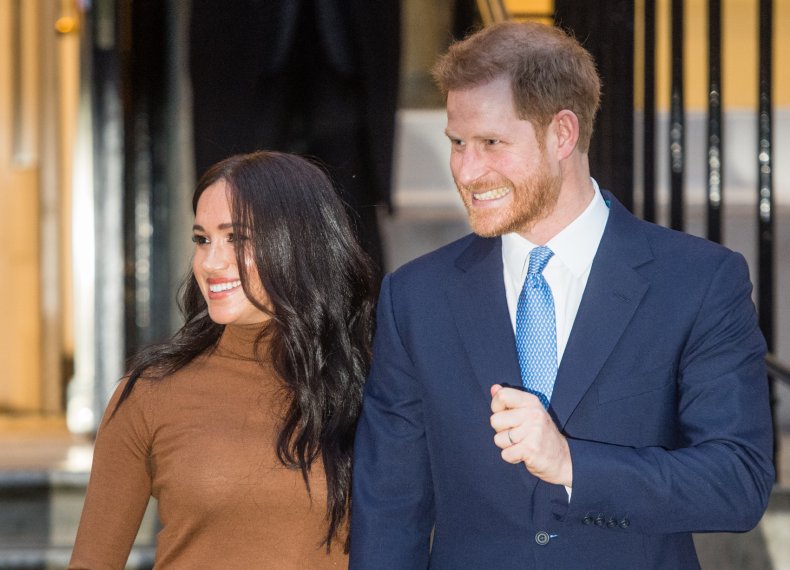 Dan Barker noted: "Having read Harry & Meghan's new website, the summary is that "financially independent" means: 1. They will stop taking the 5% of their income from The Queen. 2. They will keep the 95% from Charles. 3. In giving up the 5%, they want to be able to work commercially."
Paul Lewis, an associate editor at The Guardian, added: "The "funding" section of Harry and Meghan's website claims the couple don't receive "tax privileges" - and then goes on to reveal 95% of their income comes from (tax exempt) Duchy of Cornwall revenues, via Prince Charles."
In their statement, posted on social media and their official website, Harry and Meghan also revealed that they plan to split their time between the U.K. and North America from now on.
"After many months of reflection and internal discussions, we have chosen to make a transition this year in starting to carve out a progressive new role within this institution," they said.
"We intend to step back as 'senior' members of the Royal Family and work to become financially independent, while continuing to fully support Her Majesty The Queen. It is with your encouragement, particularly over the last few years, that we feel prepared to make this adjustment.
"We now plan to balance our time between the United Kingdom and North America, continuing to honour our duty to The Queen, the Commonwealth, and our patronages.
"This geographic balance will enable us to raise our son with an appreciation for the royal tradition into which he was born, while also providing our family with the space to focus on the next chapter, including the launch of our new charitable entity."
But it later emerged the couple didn't consult any senior royals before issuing the statement. The Royal Family were said to be "hurt" by the couple's announcement, the BBC reported.
The infographic below, provided by Statista, shows British public perception of the treatment of the royal family by the media.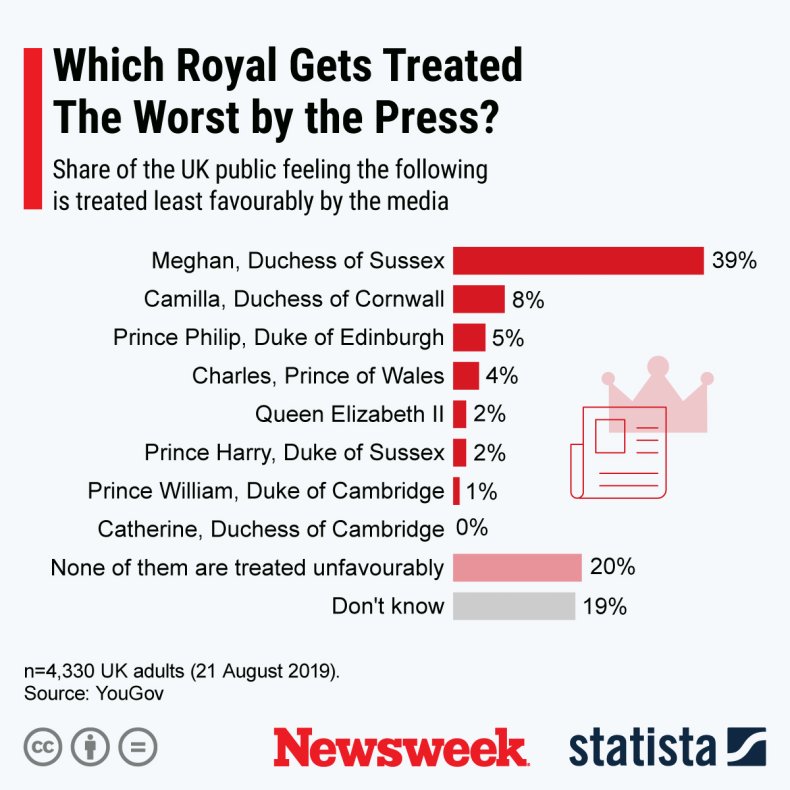 Buckingham Palace issued a response saying the couple's decision to step back from the Royal Family will be "complicated."
"Discussions with the Duke and Duchess of Sussex are at an early stage," a Palace spokeswoman said. "We understand their desire to take a different approach, but these are complicated issues that will take time to work through."
Graham Smith, of Republic, a group that campaigns for an elected head of state, called Harry and Meghan's statement "crass" and "self-serving."
"This really is wanting to have your cake and eat it. They have said they will dip in and out of royal duties as it suits them but won't stop taking public money until they find other sources of income," he said.
"To suggest that they're not already financially independent is incredibly crass and belies a sense of self entitlement and a lack of self-awareness that is common among royals."
He added: "Taxpayers will rightly ask who will be funding their overseas lifestyle, their extra security and trips back and forth between here and North America."