Sussexes' 'Shock' Crowd Reaction Resurfaces: 'This Is Why They Hate Meghan'
A video of a crowd's loud and enthusiastic reaction to the arrival of Prince Harry and Meghan Markle at a society sports event in 2018 set alongside its muted greetings for other senior royals has gone viral after resurfacing on social media.
The clip, filmed during the Royal Ascot horseracing event that year, shows a carriage procession featuring Queen Elizabeth II, Princess Anne, the then-Prince Charles and Camilla, Duchess of Cornwall, as well as Prince Edward and Sophie Wessex—but the crowd erupts with the arrival of Harry and Meghan, just weeks after their royal wedding.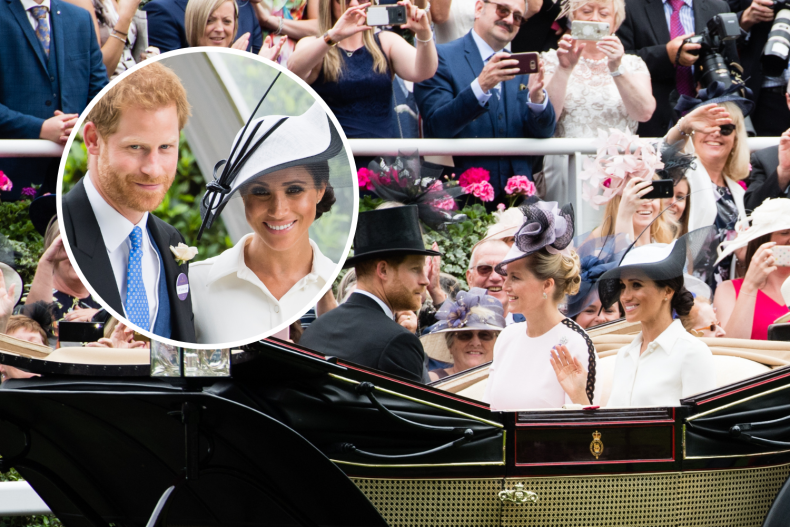 Captioned "this is why they hate Meghan," the clip was reposted from the account meghanxharry by user angiems1984. The original video has been viewed over 9 million times, with the repost exceeding 200,000 and receiving in excess of 10,000 likes.
The exhibition of public support and approval shown to the Sussexes at the time was echoed in Britain through polling conducted by YouGov, which showed that between May and October 2018, Harry was the most popular member of the royal family—surpassing even the queen.
At the time, Meghan Markle was in sixth position behind her husband, the queen, Prince William, Kate Middleton and Prince Philip.
The couple married on May 19, 2018, and began undertaking a number of public engagements and appearances soon afterwards. Their visit to Royal Ascot with the queen, Charles and Camilla marked their first and only appearance there.
For the occasion, Meghan was widely praised for her choice of outfit, a loose-cut white shirt dress with simple embroidery from the design house that was responsible for her wedding dress, Givenchy in Paris. The new duchess paired her look with a matching belt from the same brand and a statement hat from Philip Treacy, the milliner famous for creating pieces for Kate and Camilla.
William and Kate didn't attend Royal Ascot in 2018.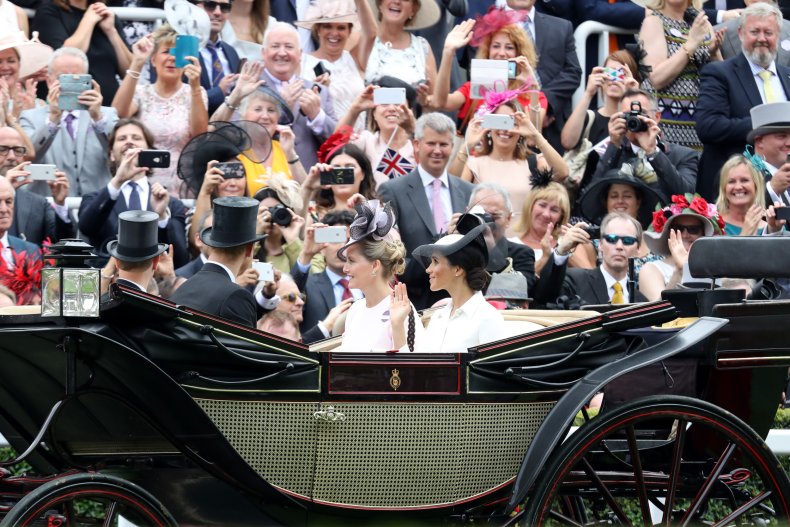 A number of comments on the original video praised the Sussexes while highlighting the difference in reaction to the other royals.
"That reaction from the crowd must have come as a bit of a shock to some of them," wrote one user.
"Harry and Meghan were always the fun, relaxed couple. People felt comfortable enough to scream around them," said another, with a further user adding: "Meghan gets so much unnecessary negative press so it's so nice to see people cheer for them."
In recent years, both Harry and Meghan have spoken about the negative experiences they went through while working members of the monarchy following their marriage, and alleged that part of the royal family's latter hostility towards Meghan in particular was driven by jealousy or fear of the duchess' increasing popularity.
In the couple's 2021 interview with Oprah Winfrey, the TV host asked Harry if he believed that Meghan had been well received by the royal family in the beginning, which would have included the time around the Royal Ascot appearance.
"Did you think she was well received in the beginning?" she asked.
"Yes. Far better than I expected. (Laughter) But, you know, my grandmother has been amazing throughout. You know, my father, my brother, Kate and . . . and all the rest of the family, they were, they were really welcoming. But it really changed after the Australia tour, after our South Pacific tour."
In September 2018, Harry and Meghan embarked on a lengthy tour of the South Pacific that saw them draw huge crowds of well-wishers. It provided his family, he said, with the opportunity to see "how incredible she [Meghan] is at the job. And that brought back memories."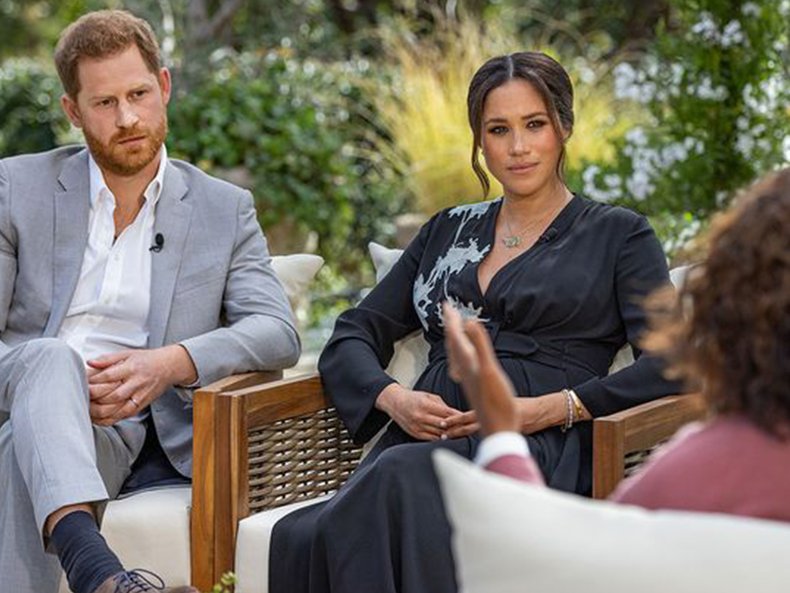 Shortly after this, the first stories broke about Meghan allegedly making Kate cry before the royal wedding, something Meghan said was a "turning point" in her relationship with the British media. It also widened frictions with the royal household, which, it is claimed, failed to defend her against the false narrative.
Despite leaving the royal family and moving to the U.S. in 2020, Meghan and Harry have still received a warm reception from crowds in Britain on their rare visits since.
In June 2022, the couple received cheers when they entered St Paul's Cathedral for Queen Elizabeth's Platinum Jubilee thanksgiving service, though some boos were also heard.
When the Sussexes met with crowds of well-wishers outside Windsor Castle with William and Kate after the queen's death in September, they again received a warm reception, with Meghan being given an embrace by a young fan.
Since the release of Harry and Meghan's recent media projects, namely their Netflix docuseries and the prince's memoir, their popularity in Britain has plummeted with the pair now only polling marginally higher than the disgraced Prince Andrew according to YouGov.
Whether the Sussexes will attend the coronation of King Charles III on May 6 hasn't yet been confirmed.
James Crawford-Smith is Newsweek's royal reporter based in London. You can find him on Twitter at @jrcrawfordsmith and read his stories on Newsweek's The Royals Facebook page.
Do you have a question about King Charles III, William and Kate, Meghan and Harry, or their family that you would like our experienced royal correspondents to answer? Email royals@newsweek.com. We'd love to hear from you.