How Did Prince Harry and Meghan Markle Meet? Find Out the True Story
With all the focus on the royal wedding Saturday, some people might have forgotten how Prince Harry and Meghan Markle met nearly two years ago. The couple announced their engagement in November after they first met in July 2016.
In the age of online dating where there are few secrets, Markle and Prince Harry met in a clandestine way: a blind date. It was a mutual friend who set them up.
Markle, 36, didn't have many questions before she went on the date. "It was definitely a set-up. It was a blind date. I said, 'Well, is he nice?' Because if he wasn't kind, then it didn't seem like it would make sense," Markle told the BBC after she and Harry announced their engagement.
Even though Harry is known throughout the world, Markle wasn't that familiar with the British royal. "You know, because I'm from the States, you don't grow up with the same understanding of the royal family," Markle said in November. "While I now understand very clearly there is a global interest there, I didn't know much about him."
Markle garnered some stardom on the USA show Suits, though Harry had never watched it before he met his future bride. "I'd never, never even heard about her until this friend said 'Meghan Markle.' I was like, 'Right okay, give me, give me a bit of background, like what's going on here?'" he said.
"I was beautifully surprised when I walked into that room and saw her and there she was sitting there," the prince told the BBC. "I thought, I am really going to have to up my game here."
A romance between the couple soon blossomed. For their third date, the British prince took Markle on a vacation to Botswana.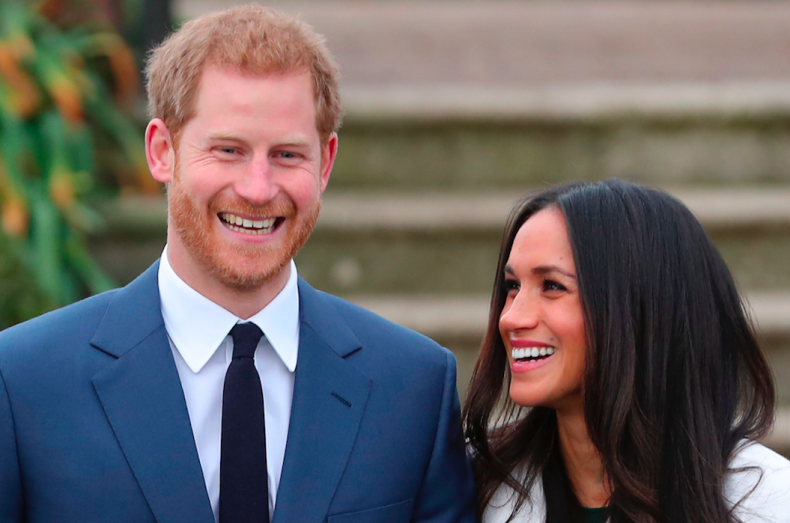 For Harry, 33, it was practically love at first sight. "The fact that I fell in love with Meghan so incredibly quickly was sort of confirmation to me that all the stars were aligned, everything was just perfect," he said. "It was this beautiful woman just sort of literally tripped and fell into my life, I fell into her life."
Harry and Markle didn't reveal the identity of the mutual friend who set them up. "We were introduced by a secret friend, who we will protect her privacy," Harry said during the BBC interview.
Harry and Markle are slated to marry Saturday at St. George's Chapel in Windsor Castle. Since her father dropped out of the wedding due to a heart condition, Prince Charles will walk her down the aisle. Nearly 600 people are expected to attend the royal wedding. Princess Charlotte will be one of the bridesmaids and Prince George will be a page boy. Markle will follow royal tradition by not having a maid-of-honor, but Prince William will be Harry's best man.