In Pictures: Royal Wedding Photos of Meghan Markle and Prince Harry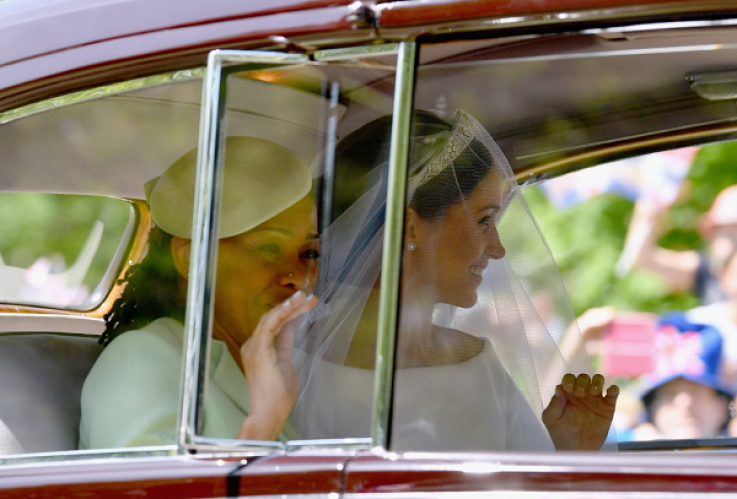 Prince Harry and American actress Meghan Markle exchanged vows to become husband and wife Saturday.
Harry and Markle's wedding came nearly two years after the lovebirds were first set up on a blind date by a mutual friend, whose identity has yet to be revealed. In the couple's first joint interview with BBC after announcing their engagement in November 2017, Markle said the only question she had for her friend was simply, "Well, is he nice?"
It wasn't until their first meeting, which was in the summer of 2016, when Markle discovered her secret date was none other than Harry.
As for the longtime bachelor prince, Harry said it was almost love at first sight when he met Markle. "The fact that I fell in love with Meghan so incredibly quickly was sort of confirmation to me that… everything was just perfect. It was this beautiful woman just sort of literally tripped and fell into my life. I fell into her life," he told BBC.
Flash forward a year later to a Sunday night in November and Harry found himself on bended knee asking Markle to marry him. "It was a cozy night… We were trying to roast a chicken, and it was just an amazing surprise. It was so sweet and natural and very romantic. He got on one knee," Markle revealed, noting that she "could barely" let Harry finish his proposal before she replied, "Can I say, 'Yes,' now?"
Now the couple is expected to say "I do" in front of their closest friends and family during their royal ceremony in Windsor.
What's expected to be the biggest matrimonial event of the year, Harry and Markle's wedding at St. George's Chapel will be attended by 600 guests while about 1,200 members of the public celebrate Markle and Harry's union as the couple travels around the town in a two-mile long procession.
Fans across the pond in the U.S. won't have to miss out on all the royal festivities just because they're on the other side of the Atlantic. There will be some cameras allowed inside of the ceremony in addition to several networks like ABC, CBS and BBC America offering live streaming coverage of the couple's royal Ascot ride in Windsor leading up to and following the ceremony.
While it's unclear where the couple will go for their honeymoon following their lavish wedding celebrations, there are some speculations that Harry and Markle will jet-set to Botswana for their first trip as a married couple. Harry's love of the country is widely known, and it's the place he first took Markle to on their first vacation together on their third date.