Prince Harry, Meghan Markle 'Whining Did Not Go Over Well With Americans'
Prince Harry and Meghan Markle's Netflix series "marked a turning point" and "did not go over well with Americans," according to a royal biographer.
Christopher Andersen, the author of Brothers and Wives, suggested a swing against the Duke and Duchess of Sussex in United States public opinion was due to a "torrent of complaints" that appeared "petty."
The couple released a six-part docuseries, Harry & Meghan, in December which was followed weeks later by the prince's book Spare and interviews around it.
The intervention was one of a number by U.S.-based commentators that have recently reflected a differing view of the Sussexes.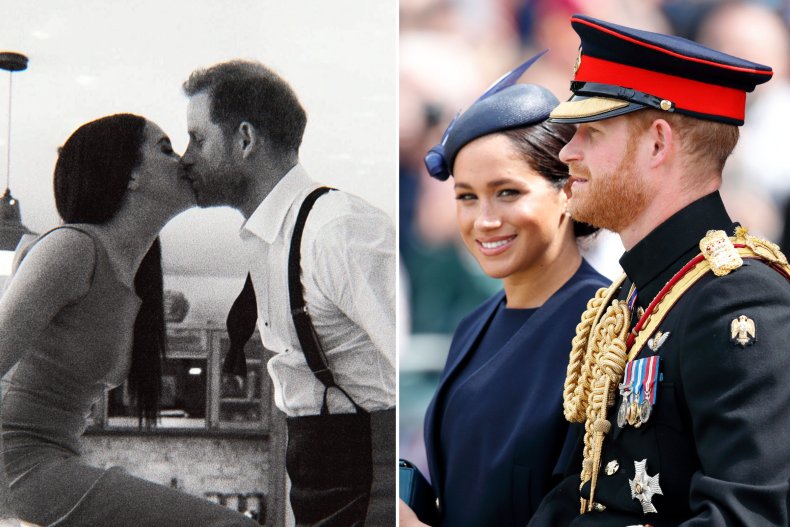 Andersen told The Times: "The Netflix documentary marked a turning point. There was the torrent of complaints, many of which seemed, for want of a better word, petty. The whining did not go over well with Americans."
His comments followed exclusive polling by Redfield & Wilton for Newsweek which showed Prince Harry dropped 45 points in his net approval rating between December 5 and January 16 while Meghan dropped 36 points.
Brenner Thomas, the co-founder of New York-based agency The Lead PR, also told The Times: "The real issue is that Americans don't like their royals acting like reality TV stars."
Perhaps more concerning still for Harry and Meghan is that there are signs of a disconnect between the couple and social progressives on the very question of the monarchy.
Cate Young, podcast producer and culture critic, told Aisha Harris on the NPR show Pop Culture Happy Hour that she was "a pretty big fan" of the couple but was starting to get frustrated.
"I'm definitely starting to kind of see or at least understand why people are feeling a little burnt out on them," Young said.
"Their grievances are valid. I'm starting to get a little frustrated with their apparent lack of any real self-reflection and their place within this institution because I think that with Harry specifically there seems to be an inability to recognise that it's not just about family members being mean.
"There is a historical harm being perpetuated by the existence of the royal family that he can't seem to quite get to," she said. "He just wants them to be nice to him but I don't think that he seems to understands that the reason they can't be nice to him is because they have to keep upholding this harmful institution."
Soraya Nadia McDonald, the senior culture critic for Andscape, also a guest on Pop Culture Happy Hour, said that "neither of these people (Harry and Meghan) are intellectuals," while adding: "I don't say that to be insulting or shady."
"This is a man who has been deeply heartbroken by the loss of his mother," she said. "You kind of just want to give him a hug."
Kristen Meinzer, the host of the By The Book podcast and a former co-host of Newsweek's The Royal Report, said on the show: "For everybody who's upset about Harry and Meghan I think they're forgetting that a lot of the public was also exhausted by Charles and Diana at the time when they were airing their dirty laundry.
"A lot of us forget the memory that it wasn't just the stories that each of their offices was leaking to the press but Charles himself had a tell-all book with Jonathan Dimbleby that he co-wrote. He had a night time, prime time special with Dimbleby where he told-all also. He was doing it, Diana was doing it."