Will Prince Harry and Meghan Markle Lose Their Royal Titles? Royal Expert Weighs In on What 'Stepping Back' Means
The Duke and Duchess of Sussex's future in the royal family may seem uncertain, but tradition may not change very much just yet.
Prince Harry and Meghan Markle announced Wednesday their decision to "step back" from their roles as senior members of Great Britain's royal family. According to Royal Commentator Kristen Meinzer, the couple's royal titles, finances and more may change, but those shifts may not be as dramatic as it seems.
"After many months of reflection and internal discussions, we have chosen to make a transition this year in starting to carve out a progressive new role within this institution. We intend to step back as 'senior' members of the Royal Family... It is with your encouragement, particularly over the last few years, that we feel prepared to make this adjustment," the statement posted to the couple's Instagram account read in part.
In the couple's statement, Meghan and Harry added that they are working toward becoming financially independent from the prince's grandmother, Queen Elizabeth II. They also said they plan to split their time between North America and the United Kingdom for the foreseeable future.
Meinzer, who has served as a royal commentator for NBC, the BBC and CBC, told Newsweek that the announcement doesn't mean the couple has quit the family or their royal duties. According to Meinzer, Meghan and Harry will likely continue to be called the Duke and Duchess of Sussex, even while living abroad.
"At the moment, they still want to continue to 'honor their duty to the Queen, the Commonwealth, and our patronages,'" she said, citing the statement, "which leads me to believe they won't be giving up their titles now. Additionally, their website clearly states: 'Other current members of the Royal Family who support the monarch and also have full-time jobs external to their commitment to the monarchy.'"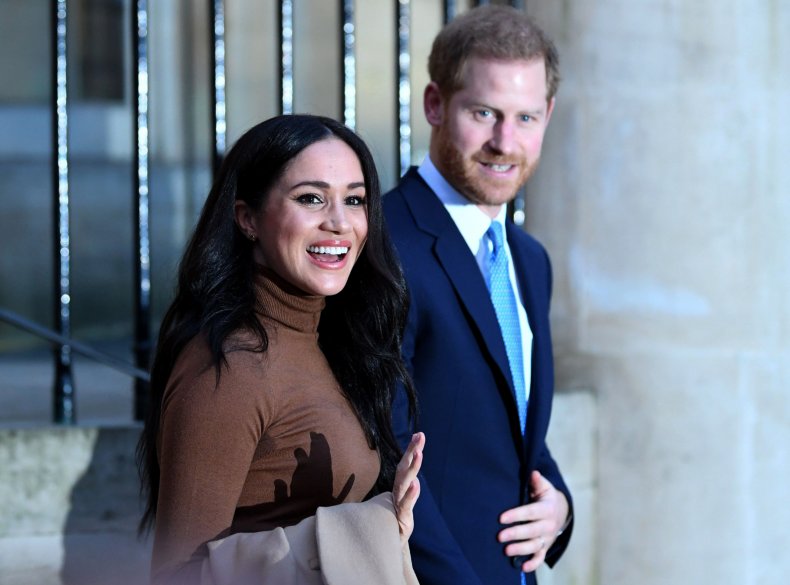 Meinzer also illustrated how the royal couple has already taken steps toward dropping titles in their decisions regarding their son, Archie Mountbatten-Windsor. "If they do down the road give up their titles, I don't think it would be life-shattering for them," she explained. "Reminder, they deliberately chose not to give Archie a title so he could live a more normal life."
However, Meinzer said she doesn't think the duke and duchess will abdicate their titles anytime soon.
As for moving toward financial independence, Meinzer said the pair is well off, with or without their royal allowance.
"The move toward financial independence should be smooth, as Prince Harry and Meghan Markle's net worth is estimated to be in the neighborhood of £29 million to £33 million, depending on which sources you're looking at," she said. "Additionally, they have the potential to amass a larger fortune through their work and investments."
In the U.S., the couple's net worth would be between $26 and $29.6 million.
Markle is expected to have a net worth of around $5 million due to her acting career, according to Money. Harry also has millions from a trust fund that will pay out again when he turns 40, according to The Guardian.
However, stepping away from the royal family's wealth could actually be beneficial. In December, rumors reported by The Daily Mail claimed Prince Charles may cut down how many members of the royal family receive allowances from taxpayer dollars. However, whatever plans the Duke of Cornwall and future King of England has toward supporting members of the royal family have not been confirmed.
Meinzer explained. "Charles has long advocated for streamlining the royal family," she said. "This move is very much in keeping with that, which I imagine must make him happy."
Shortly after Harry and Meghan posted their announcement, Queen Elizabeth II's office released a short statement.
"Discussions with the Duke and Duchess of Sussex are at an early stage," read the statement from the Queen's office. "We understand their desire to take a different approach, but these are complicated issues that will take time to work through."
According to the BBC, the Queen and other members of the royal family were not consulted before the joint statement from Harry and Meghan was released. A spokesperson from the palace told the network that the royal family is "disappointed."