Prince Harry Must Use His Memoir to 'Repair Some Damage' to the Royals—Experts
Prince Harry should use his bombshell autobiography to repair the damage done to the royal family, an expert tells Newsweek.
The Duke of Sussex announced on Tuesday he is "telling his story" through a book with Penguin Random House.
Expectations are already mounting that it will be an onslaught against the royal family, but reputation experts tell Newsweek that might be presumptuous.
Eric Schiffer, chairman of Reputation Management Consultants, said greater context around the allegations in Harry and Meghan's Oprah Winfrey interview might create new sympathy and understanding for the royals.
He told Newsweek: "I think the market for Harry's book will be mammoth and he knows it and that is what has Buckingham Palace likely freaking out about what are the contents within the book that they're going to find repulsive and painful.
"To me this is an opportunity for him to create greater context and a bridge and those within Buckingham Palace would hopefully like to see that.
"I think if he was wise he would find a way to be able to tell his truth and also repair some damage.
"That will go a long way to reducing his pariah status in the U.K."
"I think there are ways to create a greater level of sympathy and understanding for those that have been hurt by his earlier comments.
"He can provide some sensitivity and empathy to them and repair some of the damage and I would hope he would look at that as an opportunity.
"He may not though, there's a lot of pain that he's dealing with and that's evident.
"And he's comfortable with sharing that, those raw emotions, which is what I think is causing the public to be so compelled."
Meghan sparked global headlines when she said an unnamed member of the royal family expressed concern about how dark their unborn child's skin might be.
However, Harry appeared more guarded, telling Oprah: "That conversation I will never share."
When pressed to provide the specific inflammatory comment, he replied: "What will the kids look like?"
The couple did not give the surrounding context to the conversation and by not naming the royal, they triggered an international guessing game with both Charles and William under suspicion.
However, Schiffer said the raw emotion of the couple's testimony had captivated the public in a manner reminiscent of Princess Diana, who did her own bombshell interview in 1995.
He said: "They've always had this special emotional connection with his mother when she was alive and part of that was her ability to resonate this emotional truth and not all of that was overt, it was sometimes just through her mannerisms.
"And Harry is tapping into that same meme."
Professor Jonathan Shalit, chairman of InterTalent Rights Group, agreed that it may be too soon to assume the memoir will reflect badly on the royals.
He told Newsweek: "The whole British press has an opinion but nobody has read a word he's written yet.
"If he wants to sign a book publishing deal why shouldn't he? He's donating money for charity. He's got to earn money.
"I think the mass criticism of him writing a book is like being the judge before you've heard the case.
"Absolutely, when he's written the book like any biographer I'm sure he's the first to know he'll be praised by some and criticized by others.
"Everyone is assuming he'll write negative stuff, I'm not going to conjecture what he's going to write because I don't know, but I think all these people giving opinions should wait to see what they read."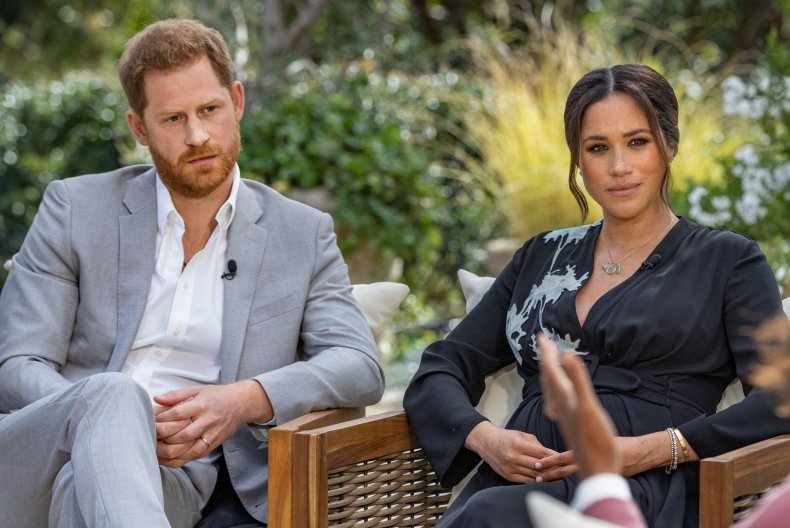 In Focus
Prince Harry and Meghan Markle speak to Oprah Winfrey during their bombshell tell-all interview broadcast on CBS on March 7, 2021.
Launch Slideshow

3 PHOTOS