Prince Harry Quitting Royal Duties Is More About Nazi Uniforms Than Meghan Markle, Book Claims
Meghan Markle was "not the original factor" in Prince Harry's decision to quit royal life—after years of resentment towards brother Prince William, a new book claims.
The Duke of Sussex has been vocal about structural racism in recent comments aimed at creating equal outcomes for people of color.
However, he caused controversy as a 20-year-old by dressing up in a Nazi uniform to go to a "Colonials and Natives" fancy dress party.
Now historian Robert Lacey claims Harry believes he shared too much of the blame for the incident compared to his brother, who was there when he got the outfit.
In Battle of Brothers, the author claims this was the real starting point for his rift with Prince William and ultimately his decision to abandon his royal duties.
Up until now, the dispute between Harry and William has been blamed on comments the older royal is said to have made about Meghan.
Lacey writes: "In January 2005, the brothers went down to Maud's Cotswold Costumes to select their outfits for a friend's 'Colonials and Natives' fancy-dress party.
"William opted in the end to go as a lion—or was it a leopard?—with tight black leggings and furry paws.
"As for Harry, he chose a khaki-colored uniform that, he later explained, he selected for the sandiness of the shirt: he thought it complemented his coloring.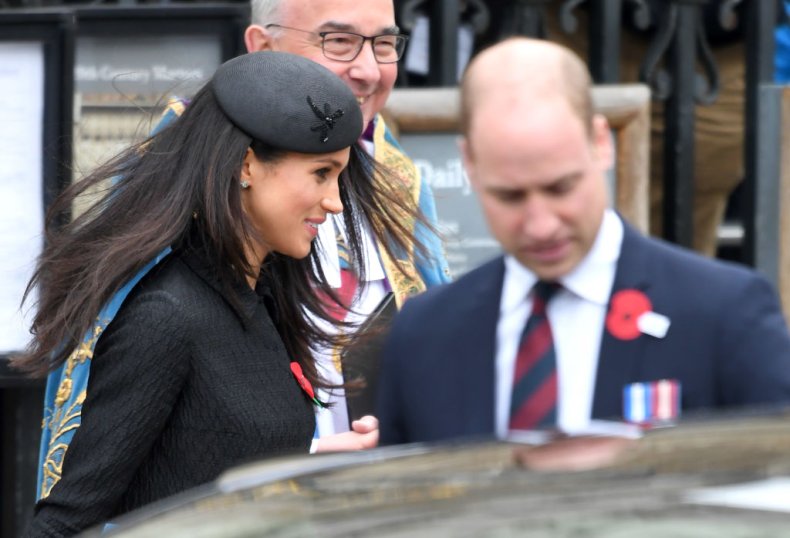 "The trouble was that the shirt's left sleeve was encircled by a bright red and white armband bearing a stark, black Nazi swastika.
"If there was one incident in the youth of Prince Harry that would be taken to represent his wild, foolish and totally unjudged side, it was that Nazi costume."
The young prince's outfit appeared on the front page of U.K. tabloid The Sun after a party guest took a picture of him.
The result was a public outcry in which Harry was condemned by, among others, the Board of Deputies of British Jews.
In a statement quoted in The Guardian at the time, the board said: "It's not a joke to dress up as a Nazi, especially as we come up to the 60th anniversary of the liberation of Auschwitz."
The prince was forced to apologize, admitting "it was a poor choice of costume," however, Lacey claims he continued to harbor resentment that his brother did not share the backlash.
The book describes how William was with Harry when he picked up the uniform and went to the party alongside him but was never reprimanded.
Lacey writes of Harry: "He apologized, but there was public outrage. Many observers, however, missed the point: obviously the 20-year-old Harry wasn't really a neo-Nazi, as one Labour MP alleged.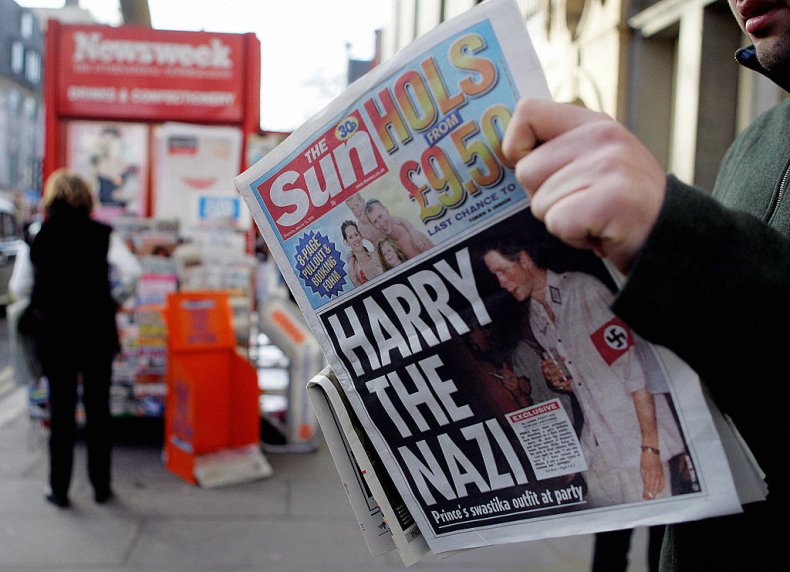 "The lad was naughty, not a Nazi. Most clearly of all, we know that Harry chose his costume in conjunction with his elder brother—the future King William V, then 22, who had laughed all the way back to Highgrove with the younger sibling he was supposed to be mentoring—and then onwards to the party together.
"But did a single commentator remark on Prince William's role in the debacle?
"It was the function of the elder brother to be perfect in the public eye, whether he truly was or not, and it was the function of the younger one to make the rest of us laugh or complain or feel disapproving—and at all events to make us feel thoroughly superior to the poor, clueless kid."
He quotes a former aide saying: "Harry resented the fact that William got away so lightly."
Lacey claims that years later this incident helped fuel Harry's anger towards William and ultimately created the conditions for the prince's decision to leave the royal family.
The book says: "Meghan was not the original factor in Prince Harry's decision to get shot of his family in January 2020.
"He already had very solid reasons to get shot of the rest of us and our smiling assumptions of the inferior—and actually rather demeaning—role that he should be grateful to play.
"Truly a 'spare' in more than one sense."
Previously, royal biography Finding Freedom claimed William and Harry fell out over just two words, "this girl," which the older royal used to describe his younger brother's new flame.