Prince Harry Insists He Is Not a 'Victim' After 'South Park' Jabs
Prince Harry said on Saturday that he doesn't feel like "a victim" and suggested he has never "looked for sympathy" during an interview with a trauma expert after he and his wife, Meghan Markle, were recently mocked on South Park.
The Duke of Sussex spoke to Dr. Gabor Maté to promote his memoir, Spare, weeks after the animated television series parodied the book in an episode that showed the "Prince and Princess of Canada" on a "worldwide privacy tour."
The show's creators showed the prince, who looked and dressed like Harry, publicizing a memoir called Waaagh. South Park also depicted the prince and princess getting advice from a public relations expert whose brand strategies all suggested his clients present themselves as victims.
"Well, I certainly don't see myself as a victim. I'm really grateful to be able to share my story in the hope it will help empower, encourage others," Prince Harry said during the online seminar on Saturday. "And hopefully let people understand that again back to the human experience that we are in some shape or form all connected especially through trauma. But no, I do not and I have never looked for sympathy in this."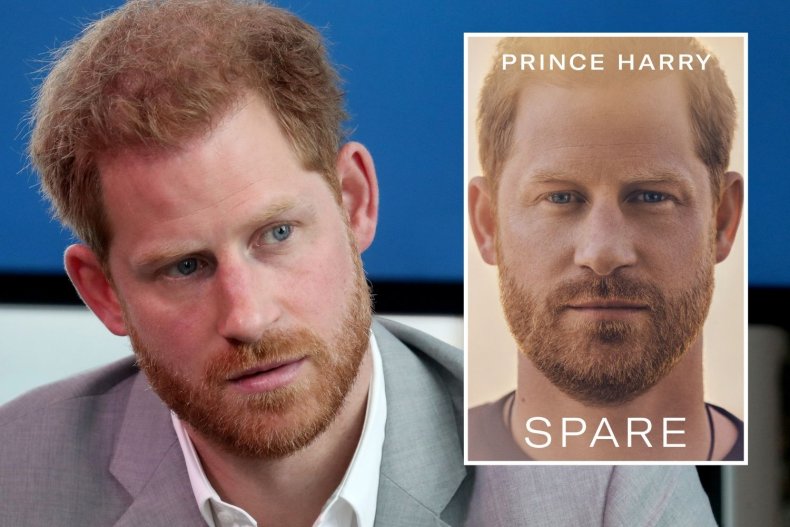 The pair did not discuss South Park during the interview.
The show mocked Harry and Markle for asking for privacy while discussing their private lives. In the show, a Canadian interviewer asks the Prince of Canada: "Isn't it true, sir, that your questionable wife has her own TV show and hangs out with celebrities and does fashion magazines?"
The host added: "Well, I just think some people might say that your Instagram-loving b**** wife actually doesn't want her privacy."
Markle was also described on the show as a "sorority girl, actress, influencer, victim" by a brand management consultant.
Newsweek reached out to Comedy Central for comment.
Elsewhere during the virtual Q&A, put on by publisher Penguin Random House, Maté told Harry that his book was a "story of deprivation" of the emotional kind rather than the physical, and highlighted the lack of hugging in royal upbringings.
"The father himself [King Charles III] was born mercilessly as a kid or he was made fun of for his best qualities, his sensitivity and intellectual interest, where people are not held and hugged," Maté said. "You know, animals hug their kids."
Harry replied: "It's the first thing we do as parents when you have a child, skin-to-skin."
Maté also suggested that he believes Harry may have Attention Deficit Disorder (ADD), prompting Harry to reply: "Thanks for the free session."
The prince discussed his desire to give his children, Archie and Lilibet, a different life to the upbringing he had as a royal.
"It leaves me in the position of a father having two children trying to smother them with love," he said. "I feel a huge responsibility not to pass on any trauma or negative experiences that I've had as a kid or as a man growing up. There are times when I catch myself when I should be smothering them with that love but I might not be."