Harry is 'Petulant' and William is 'Stubborn' Amid Rift Says Diana's Butler
Princess Diana's former butler described Prince Harry as "petulant" and Prince William as "stubborn" in a television interview marking the 25th anniversary of Diana's death.
Paul Burrell served as butler to Diana from 1987 up until her untimely death at the age of 36 in a 1997 Paris car crash.
Burrell gained notoriety in the years after the princess' death with the press nicknaming him Diana's "rock" for his apparent closeness to his former boss and in 2002 was the subject of a legal dispute having been accused of stealing items belonging to her.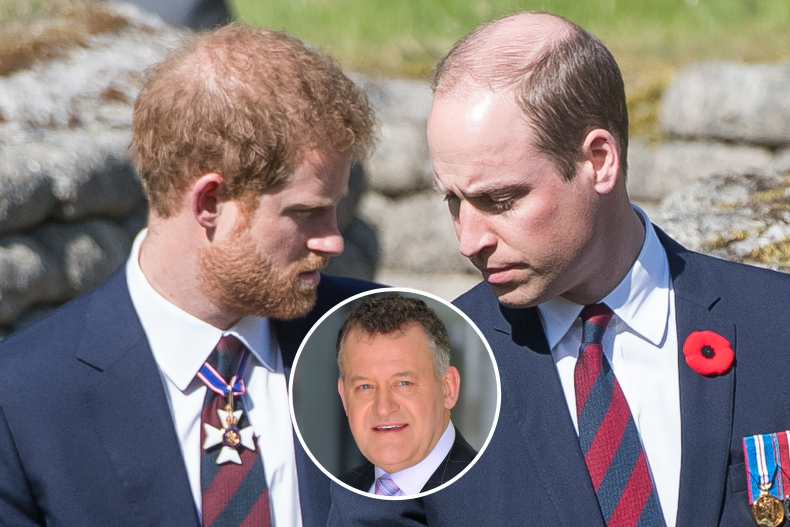 A case was brought against Burrell after hundreds of items belonging to the princess as well as Prince William and Prince Charles were found after a police raid at his family home. This case was later dropped at trial after evidence was given that Burrell had previously informed Queen Elizabeth II that he had the items in his possession for safekeeping.
In a TalkTV panel discussion with host Isabel Oakshott on Wednesday, Burrell spoke of his belief that the relationship between William and Harry, which has been reportedly strained since Harry moved to the U.S., was "too far gone" for any hope of repair.
"I think it's too far gone personally," he said before adding that the Duchess of Cambridge tried to reunite the pair to no avail.
"I used to think that maybe Kate could bring them back together. She tried when they were at Prince Philip's funeral, she tried her best—it didn't happen."
On the differences between the two brothers, whom Burrell had known when they were children, he said: "Harry is quite petulant in lots of ways and William is stubborn, so the two boys are at loggerheads and of course at loggerheads with their father too for different reasons."
In spite of this, Burrell defended Harry when show host Daisy McAndrew appeared to suggest that the prince was more "explosive" than his "calm" brother William.
"But Harry was always the spare," he said. "Harry never had a route map. He never had that map to tell him where he was going, he had to find it himself. He found that in Meghan so Meghan gave him the exit, she gave him a future too with his children."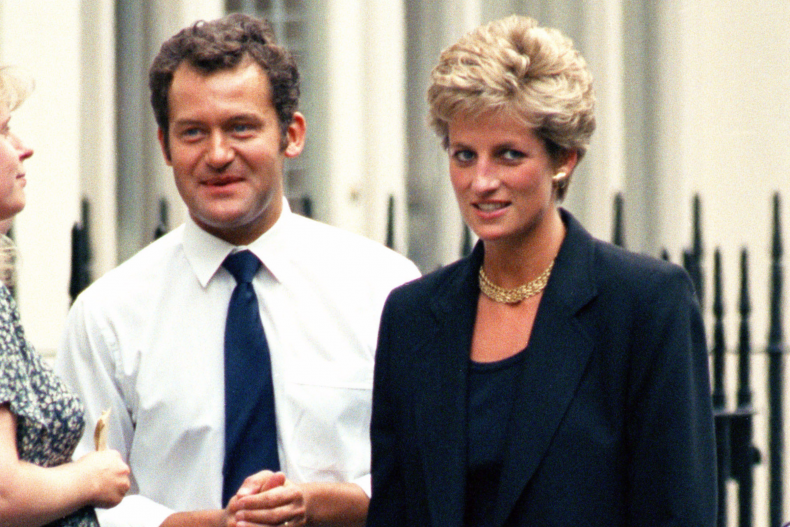 Despite their mother's closeness to Burrell and the princes' familiarity with him during their childhood, the brothers did not maintain a relationship with the butler after their mother's death.
Following the revelations of the 2002 legal case and the return by Burrell of the property belonging to the royals, he wrote a tell-all book about his experiences, revealing many personal details about Diana and her private life.
In response to this both William and Harry released a joint statement in 2003 calling the move a "betrayal".
"We cannot believe that Paul, who was entrusted with so much, could abuse his position in such a cold and overt betrayal," it read.
"It was not only deeply painful for the two of us but also for everyone else affected and it would mortify our mother if she were alive today and, if we might say so, we feel we are more able to speak for our mother than Paul. We ask Paul please to bring these revelations to an end."
The book, A Royal Duty, was published in October 2003 and a follow-up book The Way We Were: Remembering Diana was published in 2006. Included in this second book were images taken by Burrell inside the princess' private Kensington Palace apartments and of her jewelry collection.
Though there were no official royal plans to mark the 25th anniversary of Diana's death on Wednesday, both William and Harry have paid tributes to their mother throughout the year.
Last week at a polo event, Harry told guests: "Next week is the 25th anniversary of my mother's death, and she most certainly will never be forgotten," he said. "I want it to be a day filled with memories of her incredible work and love for the way she did it. I want it to be a day to share the spirit of my mum with my family, with my children, who I wish could have met her."
Newsweek has reached out to representatives of Burrell and Prince Harry for comment.