Prince Harry Praises Landmine Charity Made Famous by His Mother Princess Diana for Their Work Amid Pandemic
Prince Harry has praised Princess Diana's landmines charity for bringing coronavirus relief to starving families around the world.
Photos of the Princess of Wales wearing bomb protection while walking through Angolan minefields with members of the Halo Trust in 1997 are among the most iconic of her life.
Her son has followed in her footsteps by continuing to work with the organization, which clears buried explosives across the globe.
Now he has written to the organization's 8,500 staff, praising them for switching operations to help families who face starving from food shortages caused by lockdown.
The prince said: "In these trying times, hope comes from the light of our common humanity. Nowhere is that light burning brighter than at the Halo Trust.
"As countries closed their borders, lockdowns came into force and international travel became harder, many might have chosen to suspend operations.
"Instead, Halo kept open a presence in all 25 of its country operations."
The prince retraced his mother's steps during an emotional visit to Angola with the Halo Trust in September as part of a tour of Africa.
He witnessed new mine-clearing operations and went to the city of Huambo, where he saw how the village his mother helped has now become a "thriving community," the charity said.
That visit came on the back of previous work with the NGO in Angola in 2013 and Mozambique in 2010.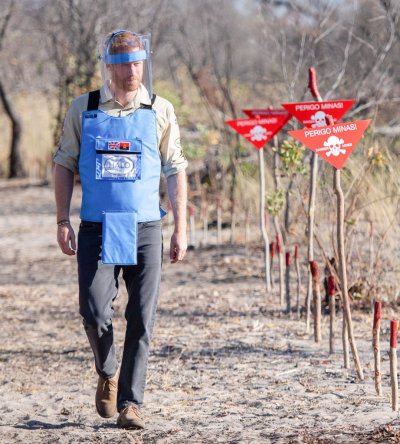 Since the pandemic, the organization has provided ambulances in Somaliland, where the local health authorities have just two and the trust has eight.
They have been helping local health chiefs at hospitals with no ventilators prepare for the killer virus to hit, building a field hospital and triage center.
And in Afghanistan, where they have 3,500 staff, they have used their huge fleet of vehicles to bring food into communities devastated by lockdown.
Villages already crippled by poverty now face being told they cannot work and food has quickly become scarce.
Prince Harry said: "The fact that you can operate across conflict-affected countries like Afghanistan is also a precious resource in the face of a disease that recognizes no frontlines.
"It is at times like this that the work and efforts of people like you—prepared to do whatever it takes to help, serve and protect others—shines through.
"In sometimes hazardous and dangerous situations, your commitment to your communities and people who need your help is remarkable.
"I am hugely proud to be able to support such an extraordinary organization."
He added: "Halo might just have stuck to its core role, but I would also like to salute you for pivoting so quickly to meet the challenges unexpectedly presented by the pandemic."