Prince Harry Praises Warrior Games Athletes for Coming Back From 'Dark Places'
Prince Harry and Jill Biden heaped praise on each other's commitment to the armed forces during a meeting for the Warrior Games.
The Duke of Sussex reprised his friendship with the first lady during an event for competitors in the Department of Defense tournament, which was canceled due to COVID.
The Warrior Games sees injured or sick servicemen and women compete in a range of adaptive sports in the style of the Olympics and aims to help recovery.
Prince Harry said: "To see every single one of you here, with the pride on your faces, makes me incredibly happy to know how far you guys have come, the dark places that you have been to but where you are now stronger than ever before, no doubt, and that is partly if not mainly down to sport."
He added: "It's not just about yourselves and your families, but you have to remember that you're doing this also for your brothers and sisters-in-arms, and those people that are in a really dark place. You know what it's like, you've been there yourselves, and you have recovered for yourself. Now you're leading them to their own recovery, so for that, I thank you."
The Biden administration has been under pressure since the U.S. troop withdrawal led to Afghanistan falling rapidly to the Taliban.
Prince Harry's own military veteran friend Ben McBean, a former Royal Marine and a double amputee, was among those to publicly criticize the administration, calling Joe Biden a "d***head" in August.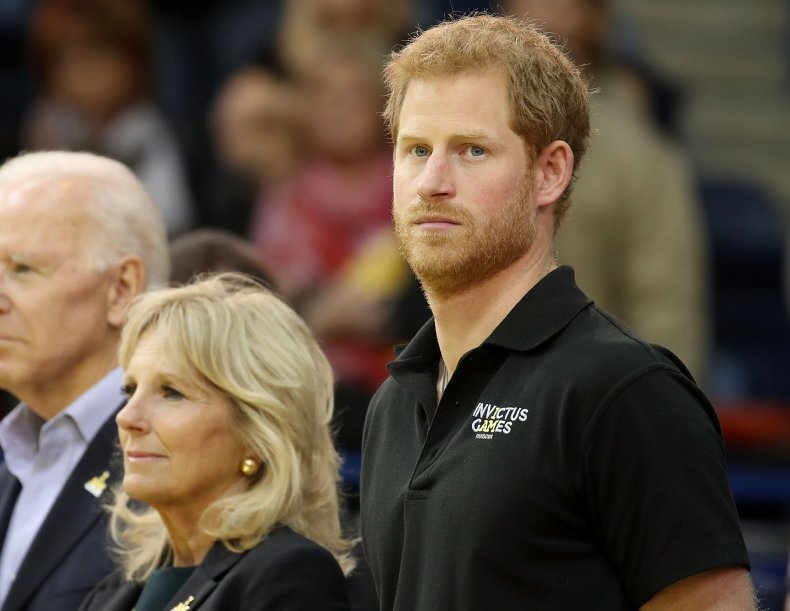 However, Harry praised the first lady's commitment to the military community and referenced a string of past meetings between them at his own, similar, Invictus Games tournament.
He said: "Dr. Biden, it's an absolute pleasure and a joy to see you again after so many years."
He added: "It's been fantastic to see you in action in various parts of the world giving everything that you've got to so many people to not just those who wear the uniform but the families as well, many of them wouldn't be here without you."
The first lady also praised Harry for his service during two tours in Afghanistan which saw him serve on the frontline as helicopter gunner in Helmand Province.
Biden said: "Twenty years ago our world broke apart and the shockwaves of 9/11 continue today. But as the president and I visited the September 11 memorials this weekend I was reminded of the humanity that shined through the inhumanity of that day.
"It was a call to defend the values we hold dear as we waged a global war on terror and a courageous group of men and women stepped forward to say, 'me. I will go.' And that includes you Harry. You live by a simple principle—serve together recover together.
"It's a philosophy not limited by the flag you wear. Your brothers and sisters in arms are connected by something so much deeper than the borders that separate us.
"And you've dedicated your time, talents and heart to lifting up service members from around the globe. In fact, it's hard to believe it's been seven years since the first Invictus Games in London."