Prince Harry Remembrance Rift With the Palace Shows 'Cruelty' of Monarchy: Author
Prince Harry's rift with the palace over his war wreath highlights how he is seen as "expendable," a royal biographer tells Newsweek.
The Duke of Sussex had wanted a wreath laid on his behalf during Britain's official Remembrance Sunday commemorations attended by Queen Elizabeth II and other royals in London yesterday.
Palace aides refused the request on the basis he is not a working royal and a wreath in his name was left unused in a branch of the Royal British Legion.
Historian Robert Lacey charted the rift between Prince Harry and Prince William in his biography Battle of Brothers.
He told Newsweek: "I think this is an indication that things are worse than we thought. If everything was hunkydorey there seems no reason why a wreath should not have been laid in Harry's name.
"If the royal family or the palace wanted to co-operate then it would seem to be a perfectly reasonable request to make that could have been fulfilled. I don't think it augur's well for the prospects of a reconciliation.
"On the face of this, it would seem that Harry is keener on reconciliation or maintaining some sort of link than the palace is to granting one."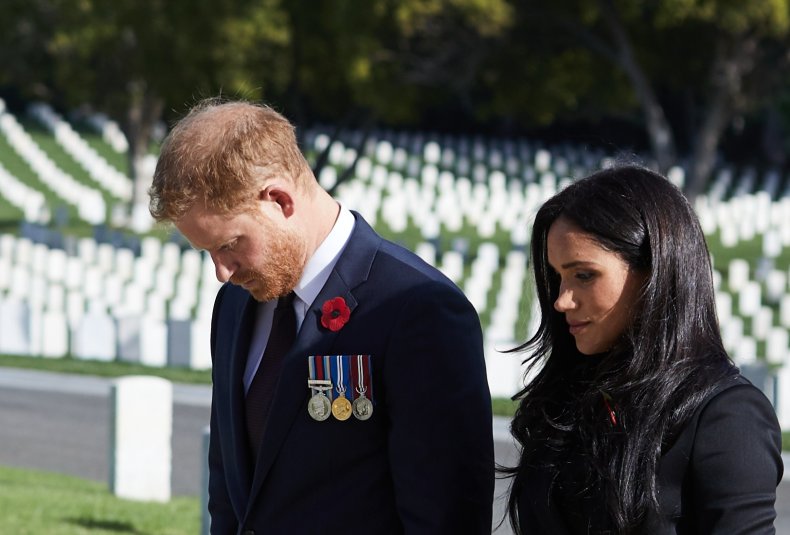 It is not clear whether Queen Elizabeth II or other royal family members played any role in the decision over the wreath, which was attributed to palace aides by The Sunday Times.
Prince Harry has a key military title on the line, in that he held the ceremonial role of Captain General of the Royal Marines before he stepped back from royal duties in March.
Since then, the post has been kept open while a 12 month review of Harry and Meghan's new relationship with the royal family takes place.
Lacey said: "From everything we know it's clear Harry would like to keep his military titles and connections. This would seem to be a sign that's not going to be possible."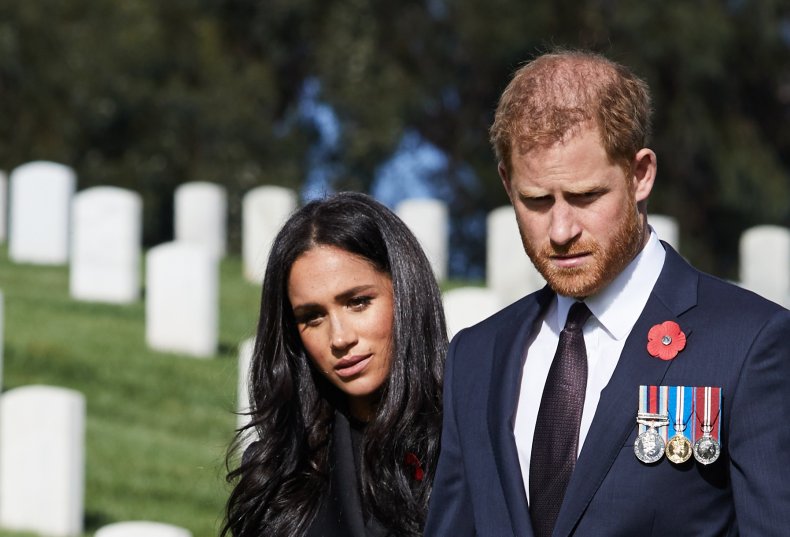 Harry served in the British armed forces for ten years, which saw him do two tours on the frontline in Afghanistan, rising from the rank of Captain to Major and killing Taliban insurgents.
His service comes in contrast to his father and brother, Prince Charles and Prince William, who were at the cenotaph yesterday.
The direct heirs to the throne avoid the front line for safety reasons to preserve their role as future kings.
However, the second-born "spares" can be deployed to war because they are not destined for the throne, unless the direct heir dies.
Prince William was a Royal Air Force search and rescue pilot but was never sent to the front line.
Prince Charles captained a Royal Navy coastal minesweeper, HMS Bronington, in the early 1970s but did not see active service in a war.
Lacey said: "We've seen the pictures of Harry and Meghan doing the homage on their own. They are sad, almost tragic. They've clearly been issued as part of the ongoing battle between the Sussexes and the palace."
He added: "I think it's a tragedy that the two members of the royal family that have actually seen action were both excluded.
"That goes into the fact that actually it's always the spares. The spares are expendable so they are sent to war. It's all part of the cruelty of the spare system."
Prince Andrew was also left out of yesterday's service after stepping back from royal duties in disgrace last year over his friendship with Jeffrey Epstein.
He served on the frontline during the Falklands War in 1982 and served as a helicopter pilot on HMS Invincible.
Royal commentator Peter Hunt, former royal correspondent for the BBC, said on Twitter: "In London, a wreath wasn't laid on his behalf. In self-imposed exile in Los Angeles, a prince, with a photographer, did it himself. This is what happens when an institution fails to make peace with the son of a future king: #RememberanceSunday2020."
Prince Harry gave a video interview about his service as an Apache co-pilot gunner in Afghanistan in 2013.
Quoted in the Guardian, he said: "If there's people trying to do bad stuff to our guys, then we'll take them out of the game, I suppose. Take a life to save a life."