Prince Harry Reveals How 'Incredibly Strong' the Queen Was With Prince Philip at Her Side
Prince Harry said Prince Philip made Queen Elizabeth II "incredibly strong" and said they "were very much in love," in a new documentary.
The queen famously described her husband as her "strength and stay" during a speech months after Princess Diana died in a car crash in 1997.
Now Prince Harry has shed more light on the Duke of Edinburgh's role by the monarch's side during 73 years of marriage.
He made his comments for BBC tribute show Prince Philip: The Royal Family Remembers, due to be broadcast on Wednesday, September 22, at 9 p.m. GMT (4 p.m. ET).
In the documentary, Harry says: "More than anything I miss his sense of humor. But I miss him more for my grandmother because I know how incredibly strong she was with him there. I also know she will be ok without him."
He added: "The two of them together were just the most adorable couple. To me knowing the cheekiness of him and knowing that behind what the world sees you have two individuals who were very much in love and both, from a very young age, have dedicated their life to service... that is an incredible bond between two people."
Prince Harry does an impression of his grandmother during the film, which is his first major partnership with the royals since he returned to Britain to unveil a statue of Princess Diana with Prince William in July.
Harry is seen in the documentary looking back through flight logs from a trip to Africa in 1983.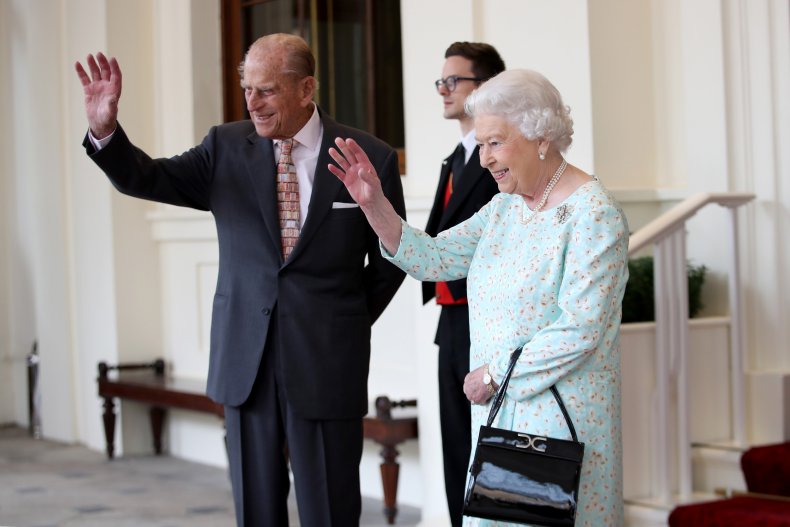 Harry said: "He was doing all the flying himself, or certainly chunks of it. When you're flying, you don't get an easy pass just for being the Duke of Edinburgh. You very much have to put in the work and prove your skill.
"But also he had an amazing privilege to get behind the controls and fly aircraft all around the world.
"I can just imagine my grandmother sitting in the back of a plane having a cup of tea, going through turbulence and going 'Oh Philip. What are you doing?'"
After Philip's death on April 9, Harry flew back to Britain for the funeral eight days later at St. George's Chapel, Windsor Castle, on April 17.
The venue was the same one where Harry and Meghan Markle married three years earlier on May 19, 2018, with Philip present.
In the days after Philip's death, following a month in hospital for infections and a heart operation, Harry released a tribute to his grandfather.
It read: "He will be remembered as the longest reigning consort to the Monarch, a decorated serviceman, a Prince and a Duke. But to me, like many of you who have lost a loved one or grandparent over the pain of this past year, he was my grandpa: master of the barbecue, legend of banter, and cheeky right 'til the end.
"He has been a rock for Her Majesty The Queen with unparalleled devotion, by her side for 73 years of marriage, and while I could go on, I know that right now he would say to all of us, beer in hand, 'Oh do get on with it!'"