Prince Harry Says Prince Charles Likely 'Knew' He'd Walk Meghan Markle Down the Aisle
Meghan Markle said 'I do' back in May, and her husband Prince Harry recently recalled a moment ahead of their big day when he had to ask his father Prince Charles to walk his then-fiancée down the aisle. Prior to this, Meghan's father was forced to step down from the role due to an apparent health-related emergency.
The new BBC documentary Prince, Son and Heir: Charles at 70 explores various aspects of Charles's life in detail ahead of his 70th birthday on November 14. His role in Meghan and Harry's royal wedding was among an array of topics under consideration.
"I asked him to, and I think he knew it was coming, and he immediately said, 'Yes, of course, I'll do whatever Meghan needs, and I'm here to support you,'" Harry recalled. "For him, that's a fantastic opportunity to step up and be that support. And, you know, he's our father, so of course he's gonna be there for us."
Harry also explained why he was later seen during the headline-dominating event saying "thank you, Pa" to Charles, adding: "You've gotta say thank you. Just because he's my father, that doesn't mean I can just sort of go, 'OK, that's all, I'll take it from here.' Err, no, that is what I wanted to say but erm… and I was very grateful for him to be able to do that."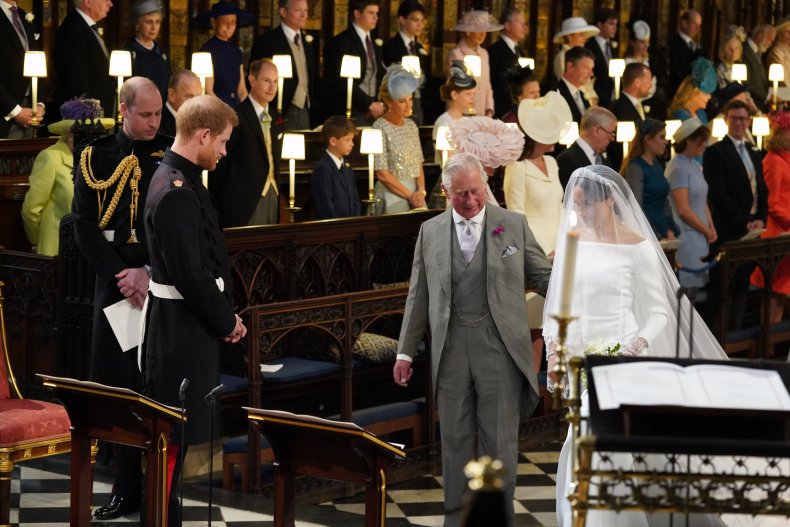 In May, the Suits alum's father informed TMZ he had suffered from an apparent heart attack days ahead of the wedding. He later said he had to undergo heart surgery.
"I'm ok. It will take a long time to heal. Staying in the hospital a few more days," Markle told TMZ. "Not allowed to get excited."
When Meghan married filmmaker Trevor Engelson in Jamaica in 2011, her father was allegedly absent from this ceremony as well. As fans caught wind of this August of this year, they were quick to slam him on social media for missing one of the most important occasions in his daughter's life.
Meghan is very close with mother Doria Ragland, but she's had a relatively rocky relationship with the rest of her family. Her half-sister, Samantha Markle, has dissed the newly minted Duchess of Sussex multiple times in the media. In October, she criticized Meghan's remarks about paying for her education at Northwestern University before a crowd of college students in Fiji.
"Our father paid for all of her education," Samantha tweeted from her private account. "This speech is not true."
Samantha continued, "Stop the enabling! Do not ever reward a lie it does not matter how fluffy it is! It is wrong and there is no force on the planet that will take this away from my father. She should inspire women with the truth and with gratitude! Roll model thankfullness and truth, not lies."