Prince Harry's 'Spare' Could See Animosity From Wider Royals at Coronation
Prince Harry and Meghan Markle could receive a mixed reaction from royal family members if they choose to attend the coronation of King Charles III in May, after the couple's bombshell media projects in which they revealed information about what goes on behind palace doors, a new episode of Newsweek's The Royal Report podcast has discussed.
It was confirmed earlier this month that the Duke and Duchess of Sussex had received email correspondence from King Charles' office about their attendance at the coronation, though it is understood that formal invitations for the ceremony have yet to be sent out to any prospective attendees.
A spokesperson for Harry and Meghan would not confirm whether the couple intended to travel to Britain for the May 6 ceremony at Westminster Abbey, though, as discussed by chief royal correspondent Jack Royston, on The Royal Report, there are a number of considerations that the couple may be keeping in mind before they do so.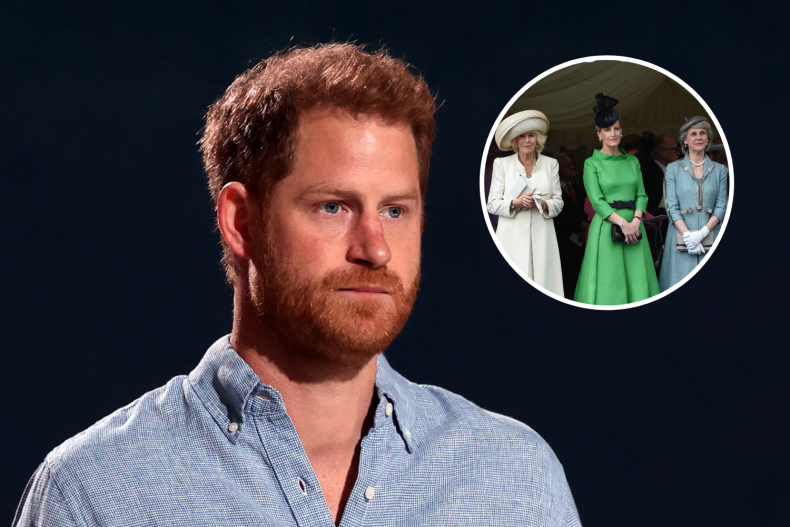 The last major pre-planned royal celebration to have taken place in Britain was the Platinum Jubilee weekend of Queen Elizabeth II in June 2022. Having given their bombshell interview to Oprah Winfrey a year before, there was speculation that the couple wouldn't attend but they ultimately did. The coronation, however, may be a different scenario.
"The Platinum Jubilee was a tough call, but also it was kind of a no brainer because you know it's a once in a 70 years moment celebrating the queen," Royston told podcast listeners. "Harry and Meghan have always said that they had no problem with the queen, you know, the rift was with other family members and they always were very vocal in celebrating the queen and her reign.
"So, it was always really probably a no brainer that they would go to that. However, when they did go, they did get booed at St Paul's Cathedral. They got cheered as well, sure, but they did also get booed."
While in Britain for the jubilee celebrations with their two children, Prince Archie, 3, and Princess Lilibet, 1, the couple attended only two events including the service of thanksgiving at St Paul's.
The service marked the first time the couple were seen together in public officially at a royal event since 2020, and following the revelations made in the Oprah interview and subsequent appearances, the couple faced low polling numbers among the British public. They received a mixed response from the crowd and were seated apart from the senior royals, the then-Prince Charles, Prince William and Kate Middleton.
"They might actually have that experience lurking in the back of their minds," Royston posed. "Plus, they've just said a whole load of new stuff, stuff about family members that they've never said before, this time with all the names thrown in there. They've said it about William. They've said it about Kate. They've said it about Camilla."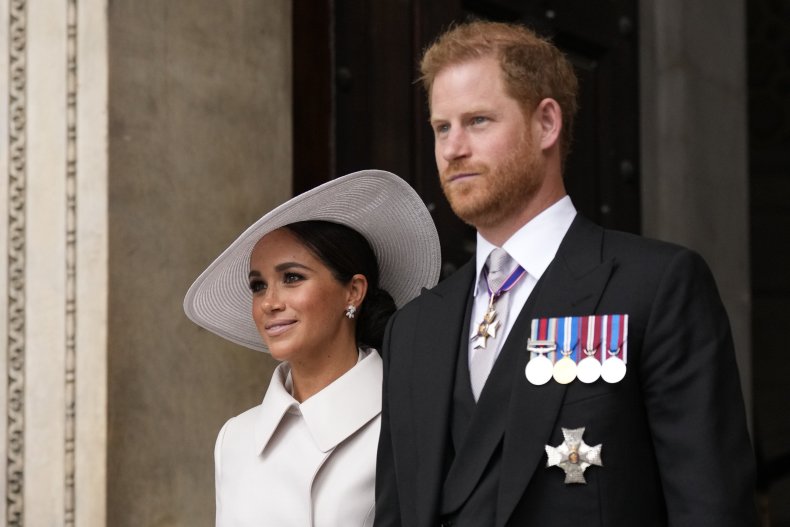 Since the jubilee, the couple released their six-part Netflix docuseries and Harry's memoir, Spare, with accompanying interviews to promote it.
Perhaps the most controversial of these from a royal family point of view was Spare, in which the prince appeared critical of his father's parenting style, as well as alleging that Queen Camilla leaked stories about him to boost her PR and listing a number of allegations against Prince William.
These, Royston offers, could have earned the Sussexes disapproval from wider royal family members who were not themselves mentioned.
"They might actually have some royals who are supportive of them, particularly Beatrice and Eugenie [daughters of Prince Andrew]," he explained.
"But also, the wider family, I'd be really interested to know where people like Zara Tindall, Peter Phillips, Prince Edward and Sophie, the Countess of Wessex where all of these family members come down, and it's entirely possible that there is animosity towards Harry for Spare that extends beyond the kind of core of the royals who get mentioned in it, i.e. Charles, Camilla, William, Kate."
Harry is known to have a close relationship with his younger cousins, Beatrice and Eugenie, forming a particular bond with Eugenie who is the only member of the royal family to have publicly visited him and Meghan at their California home.
The coronation service on May 6 will form part of a wider weekend of events to mark the occasion, the first held in Britain for 70 years. Harry and Meghan, as a son and daughter-in-law of the monarch would traditionally have played senior roles in the proceedings, however, as they are no longer working members of the monarchy, this could change for Charles' celebrations.
James Crawford-Smith is Newsweek's royal reporter based in London. You can find him on Twitter at @jrcrawfordsmith and read his stories on Newsweek's The Royals Facebook page.
Do you have a question about King Charles III, William and Kate, Meghan and Harry or their family that you would like our experienced royal correspondents to answer? Email royals@newsweek.com. We'd love to hear from you.