Prince Harry Would 'Stop' Netflix's 'The Crown' Before It Could Cover Him and Meghan Markle, Claims Biographer
Prince Harry once said he'd "stop" Netflix's The Crown before it could cover his personal life, including his relationship with Meghan Markle, a royal biographer has claimed.
Author Angela Levin made the claim on the U.K.'s BBC Breakfast program this week while talking about meeting Harry, 35, at Buckingham Palace for her book, Harry: Conversations with the Prince. Levin interviewed Harry for the biography released in 2018.
Levin said on the BBC program: "When I went to interview him in the palace, the first thing he said to me when he shook my hand was, 'Are you watching The Crown?'"
"And I hadn't been at the time," Levin continued, "I felt very embarrassed and I got it and he said, 'I'm going to make sure I stop it before they get to me.'"
While the recent drama surrounding Harry and Meghan's exit from the royal family would certainly make for compelling scenes in a future season of The Crown, the Duke of Sussex likely won't need to worry about the Netflix hit covering his eventful adult life from so-called party prince to devoted husband and father.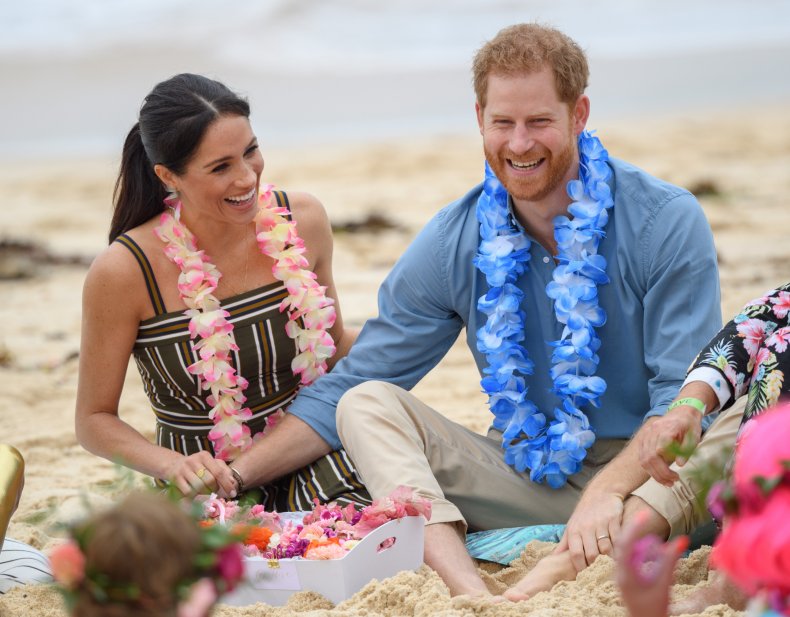 The most recent third season of The Crown, in which Olivia Colman took over the lead role as Queen Elizabeth II, covered the royal family up to 1977, marking the queen's silver jubilee—or 25th year on the throne.
Show creator Peter Morgan has previously discussed ending the show at a definitive point in time and his desire to allow at least 10 years to pass before dramatizing real-life events.
In November, Morgan told The Hollywood Reporter he has a specific moment in the queen's life in mind for the end of the series.
"You need at least a decade, in my view, to separate yourself from the events that you're writing about. Something has already happened that I think is the end," Morgan said, adding: "But you can't ever say what the end is because things change and the minute things change historically you begin to have to respond in some shape or form, even in your thinking. So I have an idea — but it's only an idea."
The Crown has already been renewed for a fourth season, which is currently in production, and Netflix chief content officer Ted Sarandos has previously suggested the show will last six seasons.
The fourth season will introduce Prince Harry's mother, Princess Diana, played by Emma Corrin, and depict her nuptials to Harry's father, Prince Charles (played by Josh O'Connor).
One show that Harry and Meghan will be depicted in is a new animated satire, The Prince, which was ordered to series by WarnerMedia's upcoming streaming service HBO Max on Tuesday. Pirates of the Caribbean star Orlando Bloom will voice Harry in the comedy.