Prince Harry Faces Calls to Leave Line of Succession Over Election Comments
Prince Harry faces calls to be removed from the line of succession over his U.S. election comments after President Donald Trump hit out at wife Meghan Markle.
The Duke and Duchess of Sussex recorded a video for the Time 100 list of the most influential people in the world in which they urged Americans to vote.
Comments about "hate speech" and peaceful protesters were interpreted as supportive of the Democrats, with one journalist telling the President at a White House briefing they had endorsed Joe Biden.
Trump said he was "not a fan" of Meghan and wished Harry luck, saying "he's gonna need it."
Now commentators in the U.K. are arguing the prince should be removed from the list of people in line to the throne, ensuring he can never be king.
Royal biographer and GMA contributor Robert Jobson told the Daily Mail: "Frankly, I think it would be better for Harry to withdraw, along with his son, from the line of succession to avoid further confusion.
"By saying they are HRHs and the Duke and Duchess, but not allowed to use the titles, just confuses the situation."
When Harry and Meghan quit royal duties they were allowed to keep their titles as long as they did not refer to themselves as his or her royal highness (HRH).
Prince Harry, like Prince Andrew, is known as "the spare" because he is the second born son, meaning he would only ever take the throne if there was no living first born child.
He is currently sixth in line and would be called upon as King if Queen Elizabeth II, his father Prince Charles, his brother Prince William and all William's three children died.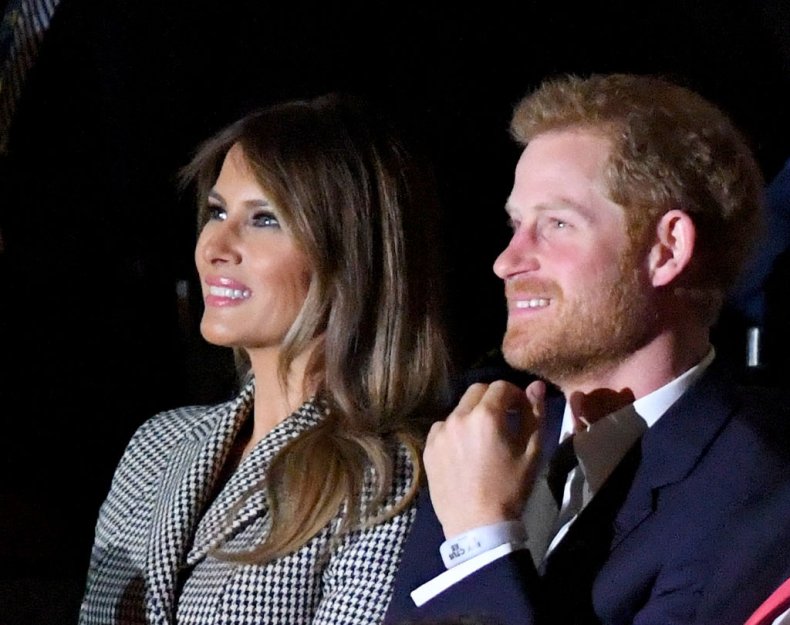 Former CNN host Piers Morgan speculated a terrorist attack might leave Britain needing Harry's services as Monarch.
He wrote for the Daily Mail online: "It's possible – albeit thankfully very unlikely – that he might one day be King.
"To spell out how this could happen in brutally simplistic hypothetical terms: if the Queen, Prince Charles, Prince William and William's three children are all killed in a terror attack, we automatically get King Harry.
"So, everything he does and says could carry enormous significance if he was one day the Monarch.
"Yet here he is, the queen's grandson, telling Americans to vote against President Trump – the man to whom the queen afforded an official state visit to the UK last year."
Many in Britain also defended Harry and Meghan, with some taking to Twitter to highlight the difference in Trump's stance on Ghislaine Maxwell who stands accused of grooming girls for sex with Jeffrey Epstein.
Professor Kate Williams, professor of history at the University of Reading, wrote on Twitter: "Trump on #Meghan - who raises money for charity and talks about importance of voting: 'I'm not a fan.'
"Trump on Ghislaine Maxwell - accused of sex trafficking of minors - 'I wish her well.'"
A Sussex source yesterday told Newsweek: "He's very much talking about making sure people retain decency online especially with regards to an election coming up.
"He's reflected on the tone of debate at such a febrile moment.
"It's a broadcast that was in line with Voter Registration Day which is something the duchess has previously spoken about.
"But he's not necessarily speaking about a candidate or a campaign so much as the build up to an election."
A Buckingham Palace spokesperson said: "The duke is not a working member of the Royal Family and any comments he makes are made in a personal capacity."