Prince Harry's decision to sue the U.K. government for removing his police protection while in Britain makes him "look like a child," a reputation expert told Newsweek.
The Duke of Sussex said he had been fighting since January 2020 to get his Metropolitan Police protection reinstated, offering to pay for the cost himself.
His legal representative said he filed for a "judicial review" of the Home Office decision believing it is currently too dangerous for him to return to his home country, in a statement on Sunday, January 16.
Eric Schiffer, chairman of Reputation Management Consultants, told Newsweek: "Harry has forgotten that he cut and run to America and decided to cash out the crown.
"With that comes a loss of title and accoutrements. He's been banking millions on the back of the royal aura.
"It's painfully deluded to think that he should somehow be able to benefit from his own decision to turn his back on Britain and his responsibilities.
"I think it sends a message that he is out of control and outrageously out of touch. He chose to leave. He chose to cut and run and capitalize on the Crown.
"There are responsibilities that flow from that in which to sue is a choice he can make but it makes him look like a child and a whiny one at that."
Prince Harry's U.S. protection team would need to be granted licenses by the Home Office to practice in Britain but, even then, would not be allowed to carry guns.
A police protection detail would also be able to arrange motorcycle "outriders," police officers who ride alongside a car to escort it through red lights and traffic jams so the motorcade does not need to stop.
Alex Bomberg, chief executive of Intelligent Protection International, which provides protection, including to royals from around the world, told Newsweek he believes Prince Harry may succeed in his lawsuit.
He said: "In America he has armed protection. He's footing the bill for that. Those guys cannot come over here and work. Even if they have licenses to, they cannot carry firearms.
"He needs that level of protection here. He's still a prince of the United Kingdom. He's not a private citizen.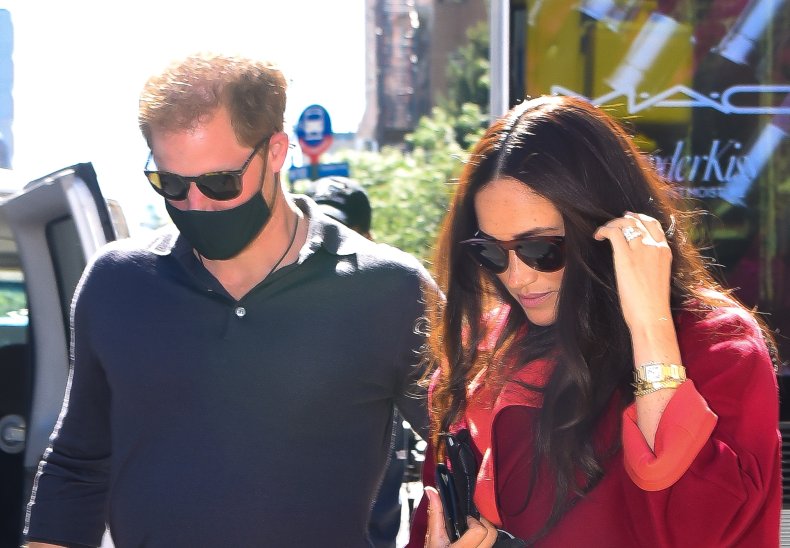 "He has just stepped back from royal duties. I think he has a chance because he's entitled to this security and he's offering to pay for it."
Bomberg said he believed Princess Diana would have survived the 1997 car crash that took her life if she had been protected by the Metropolitan Police rather than private security and that should serve as a warning in relation to her son.
He told Newsweek: "If he had full on security here with outriders etc, they would see him through traffic lights.
"He wouldn't be stuck in traffic. When you're being protected and you're on the move you're majorly at risk when you go static.
"That's why you see police officers waving members of the royal family through at junctions and stuff like that.
"The moment you take police protection away you take his ability to have outriders away. He is at risk. There's an ongoing level of threat to Prince Harry.
"He chose to serve in Afghanistan as a senior royal. He didn't have to do that. We have to remember what happened to Princess Diana. She had private security."
Diana died in the backseat of a car driven by Henri Paul, acting head of security at the Ritz hotel in Paris, where Diana and boyfriend Dodi Fayed had been that night.
A plan to outwit the paparazzi was drawn up in which her main security detail sped away in decoy cars while Paul sneaked the princess out of the hotel.
However, Paul had already clocked off for the night and gone to a bar for a drink when he was called back to be Diana and Dodi's driver.
A group of photographers who did not take the bait began to follow him and he lost control while over the limit as the vehicle entered the Pont de l'Alma underpass.
An inquest in 2008 ruled Princess Diana was unlawfully killed by a combination of the paparazzi who were in pursuit and Paul's driving.