Prince Harry's Charity Cleared of Acting Unlawfully but Faces Criticisms
Prince Harry and Prince William's charities have been cleared of acting unlawfully following a regulatory case by a U.K. watchdog.
The royal brothers' separate organizations were reported to the Charity Commission by anti-Monarchy campaigners last summer.
Pressure group Republic accused the charities of mismanaging close to £300,000 ($420,000).
The allegations related to £145,000 ($205,000) given by Prince William and Kate Middleton's Royal Foundation to Prince Harry and Meghan Markle's Sussex Royal Foundation in 2019.
A further £151,855 was given by the Royal Foundation to Sussex Royal and later transferred to Harry's eco-tourism venture, Travalyst.
Republic had claimed the trustees of the two royal charities had put the relationship between the brothers above the interests of the good causes they serve.
But the commission ruled on Tuesday that both charities had acted within the law.
However, its report reserved some criticism for Harry and Meghan's charity, renamed MWX Foundation, noting "almost half" its funds were spent on administrative and legal fees. It also found that "decisions on spending were not adequately documented."
In July 2020, trustees decided to wind up the MWX Foundation.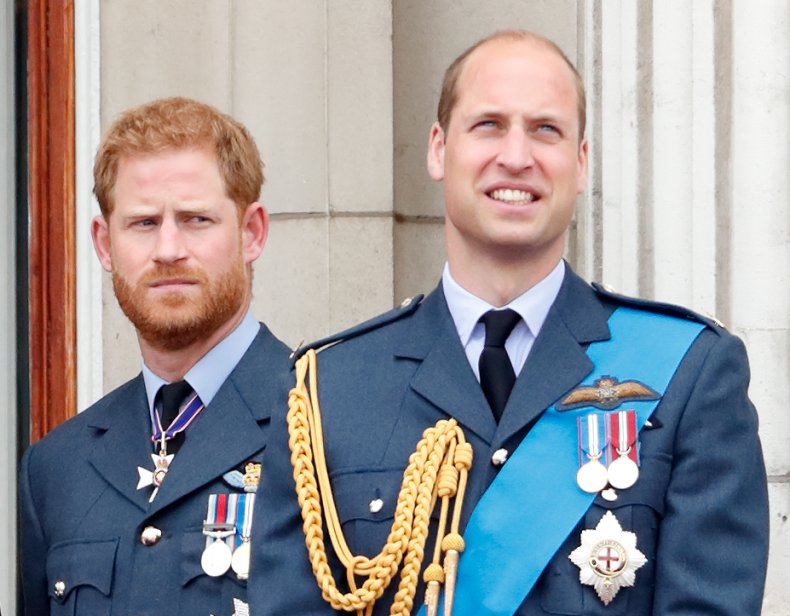 Helen Earner, director of regulatory services at the Charity Commission, said in a statement to Newsweek: "In this case we have found that the trustees complied with their duties under charity law, and the transfers of funds between different organisations were in keeping with the charities' governing documents, with conflicts of interest being appropriately managed.
"The MWX Foundation should, though, have done more to document its decisions, especially regarding the charity's expenditure on legal and administrative costs.
"We also note that a substantial proportion of funds went into setting up and then winding up a charity that was active for a relatively short period of time.
"Trustees cannot predict future events when establishing a new charity–circumstances can change after a charity has been set up.
"But all trustees, before setting up a charity, should think about the longer-term, and consider carefully whether a new charity is the best way of achieving the intended aims.
"This helps ensure that set up costs are offset by longer-term impact."
A spokesperson for Prince Harry and Meghan said: "We are pleased that the Charity Commission has confirmed what we knew from the start: that MWX Foundation, formerly Sussex Royal, complied fully with U.K. charity law in its handling and transferring of funds and grants.
"Today's update provides complete closure to this review and ultimately underscores both the legitimacy of the former charity and the baselessness of the claims against it."
Harry and Meghan created Sussex Royal after splitting from the Royal Foundation, which they had shared with Prince William and Kate Middleton.
The move came after the Sussexes split from Kensington Palace in 2019 in order to create their own private office, meaning the two households would no longer share staff.
William and Kate continue to do charity work through the Royal Foundation.
However, Sussex Royal had to close down not long after it was first created when Harry and Meghan split with royal duties.
The decision followed an agreement with Queen Elizabeth II that they would no longer use the word "royal" in their branding.
When the couple first moved to shut Sussex Royal, funds were transferred to Travalyst, an eco-tourism initiative set up by Prince Harry.
Sussex Royal was later renamed MWX Foundation.
The Charity Commission said today: "MWX Foundation received an unrestricted grant of £145,000 from the Royal Foundation to start up the charity in 2019.
"A further £151,855 was received from the Royal Foundation to deliver Travalyst's sustainable travel programme, which was transferred by MWX Foundation to Travalyst."
In its conclusion, the regulator highlighted the relatively high spending on legal and administrative costs involved in creating and winding up MWX Foundation and found that "decisions on spending were not adequately documented."
"The Commission noted that trustees took a decision to close this charity just 12 months after it was established, doing so during difficult and unexpected circumstances.
"It considers that the spending itself was not unreasonable given the unexpected events and unique circumstance which surrounded this charity and as such does not consider that further action is required.
"However, the Commission has found that decisions on spending were not adequately documented, limiting the ability of the trustees to demonstrate the reasons behind those decisions.
"The failure to properly record decisions does not represent best practice and is not in line with Charity Commission guidance."
Earner added: "The public expects charities to make a real positive difference for the people they help or the cause they pursue. Where concerns are raised with us, whatever the charity, it's right that we examine them and consider the issues carefully."