Prince Harry swerved answering a question about whether he misses Prince Charles and Prince William—despite expressing regret about not being able to see family during lockdown.
The Duke and Duchess of Sussex stopped in Britain to meet Queen Elizabeth II and Prince Charles on their way to the Invictus Games, which began in the Netherlands on Saturday, April 16.
Harry told NBC's Today show how it was great to see the monarch but had less to say when asked specifically about his father and brother.
Presenter Hoda Kotb asked whether he missed family at home in Britain, and Harry said he did.
"Yes, I think especially over the last two years for most people, have they not missed their families? Right? The inability to be able to get home and see them," he said.
However, he appeared to swerve when Hoda asked explicitly, "But do you miss your brother, your dad?"
"Look," he said. "I mean... at the moment, I'm here focused on these guys [at the Invictus Games] and these families and giving everything I can, 120% to them to make sure that they have the experience of a lifetime. That's my focus here.
Harry then pivoted to his life in California and his children, Archie and Lilibet.
"And when I leave here, I go back, and my focus is my family, who I miss massively. Of course I do. They're two little people."
A royal source told Newsweek the Prince of Wales loves both his sons and was pleased to see both Harry and Meghan and hear news of Archie and Lilibet during their recent U.K. meeting.
The recent visit was Meghan's first return to the U.K. since the couple's final royal duties in March 2020.
Harry triggered criticism in Britain after saying he wanted to make sure the queen was protected and surrounded by the right people.
The duke said: "Being with her [the queen], it was great. It was just so nice to see her. She's on great form.
"She's always got a great sense of humor with me and I'm just making sure that she's, you know, protected and got the right people around her."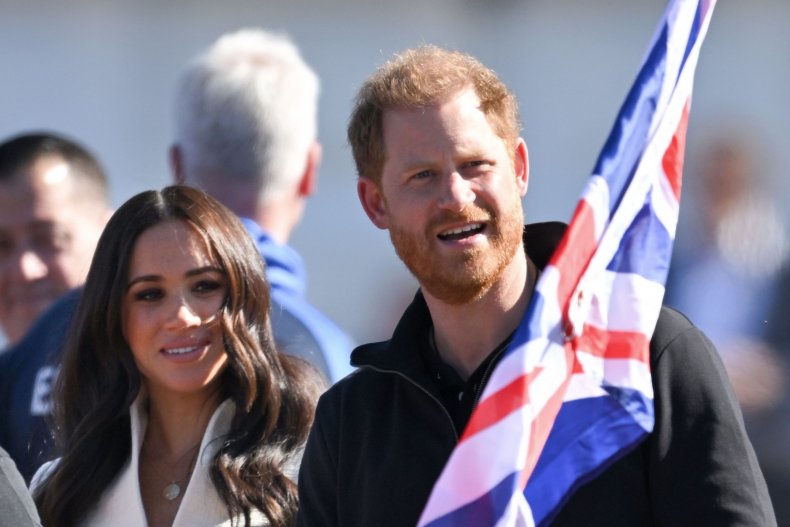 The prince added that he talks to the queen about subjects she cannot discuss with anyone else.
However, he also suggested he may not make the queen's Platinum Jubilee celebrations, marking 70 years on the throne, in June against the backdrop of a dispute over his police protection.
Harry is suing the U.K. government for removing his Metropolitan Police bodyguards on visits to Britain. A legal representative said in January he does not consider it safe to take his family to the U.K. in the meantime.
Asked whether he would make the jubilee, the duke told NBC: "I don't know yet. There's lots of things with security issues and everything else. This is what I'm trying to do, trying to make it possible that I can get my kids to meet her."
Update 4/20/22, 12:29 a.m. EDT: This article has been updated to include comment from a royal source on the Prince of Wales.
For more royal news and commentary check out Newsweek's The Royal Report podcast: