Prince Harry Thanks Charity Championed by Diana for Ukraine Support
Prince Harry has thanked members of the HALO Trust, the anti-landmine charity championed by Princess Diana during her 1997 visit to Angola, for their humanitarian support provided to civilians during the ongoing war in Ukraine.
The trust has been supported by Harry for many years, and in 2019 he visited Angola to see the continuing operation to clear landmines, more than 20 years after Diana's historic visit.
Speaking to trust members Olesia and Maryna about their work in Ukraine since the Russian invasion last month, Harry commended them for "saving lives everyday" and said: "I know that you're going to continue the work that is so desperately needed. For HALO, for your families, and your country."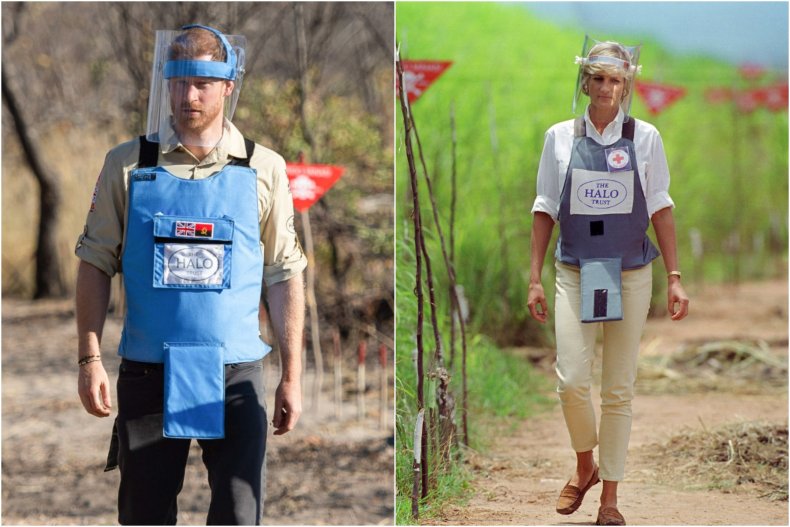 The HALO Trust has been active in Ukraine since 2016, helping to clear landmines and other remnants of war that pose a threat to the lives of civilians along the country's eastern border regions.
During his conversation, Harry asked "how can we help?... because there are so many people watching on feeling completely helpless"
Olesia told the prince that spreading awareness of safety messages is key: "The more people see them, the more people stay safe."
The HALO Trust currently has over 400 members working across Ukraine. Since 2014 there have been over 2,000 recorded cases of civilians suffering life-changing injuries or death as a result of landmines and other explosives.
The work of the trust hasn't stopped during Ukraine's invasion by Russian forces last month, with members teaching children in bomb shelters about explosives and safety and distributing medical aid.
Concern for Staff
Trust CEO, James Cowan, released a statement at the beginning of the conflict expressing his concern for his staff members on the ground in Ukraine.
It read: "The HALO Trust is deeply concerned by the escalation of hostilities in Ukraine. Our thoughts are with our 430 local staff and their families at this difficult time. We would remind all parties to the conflict that HALO is a neutral, humanitarian organisation that removes the deadly debris of war to prevent suffering and protect civilians. We have been making communities safe in eastern Ukraine since 2016."
Harry and Meghan Markle have been among the most vocal royal supporters of the Ukrainian people during the conflict with Russia. They were the first members of the British royal family to send an official statement, through their charity Archewell.
It read: "Prince Harry and Meghan, The Duke and Duchess of Sussex and all of us at Archewell stand with the people of Ukraine against this breach of international and humanitarian law and encourage the global community and its leaders to do the same."
Though this statement quickly drew criticism online, other members of the royal family followed suit, with Prince William and Kate Middleton sending a tweet to President Zelensky and his wife Olena for their official Twitter account.
Queen Elizabeth II has also made her stance on Ukraine known by making a "generous" donation to the Disasters Emergency Committee (DEC) Ukraine Humanitarian Appeal.
In a tweet thanking the Queen, the organization said: "Many thanks to Her Majesty The Queen for continuing to support the Disaster Emergency Committee and for making a generous donation to the DEC Ukraine Humanitarian Appeal."
To conclude his discussion with the HALO trust members in Ukraine, Harry offered a statement of thanks and encouragement. "Thank you for being so brave and so amazing" he said, "and well done... keep doing what you're doing, keep saving lives!"
This is not the first time that Harry has publicly thanked the trust's members. In 2020, the prince wrote a letter commending the organization for its support for communities during the pandemic. In his letter he said he was "hugely proud to be able to support such an extraordinary organization."
The HALO Trust is currently working to petition governments and lead clean up operations to ensure a "landmine free" future by 2025. Speaking in support of this aim at a 2017 Kensington Palace reception, Harry ended by paying tribute to his mother and her humanitarian mission that would see no more innocent lives ruined by landmines.
Introducing Malic and Žarko to the assembled crowd, two men injured by landmines as children whom Diana had met in 1997, Harry said:
"When my mother said goodbye to Žarko that August, just weeks before her untimely death, she told him he would not be forgotten. Please help me keep her word to Žarko and Malic, and other people like them throughout the world, who still need us to finish the job and rid the planet of landmines. Collectively we have the knowledge, skill, and resources to achieve it, so let's make future generations proud and finish what we started."