Prince Harry has paid tribute to Prince Philip and his grandfather's role in conservation on Earth Day.
Tributes flooded in for the Duke of Edinburgh following his death on April 9, after 73 years of marriage to Queen Elizabeth II.
However, his grandson has now chosen to highlight his work for the environment as the world uses Earth Day to focus on issues like climate change.
The Duke of Sussex, in his role as president of African Parks, said: "As we now begin to move towards an era of global recovery and regeneration, it's critical that we continue to look at the strengthening and protecting of biodiversity, not just as a value we hold—but as a responsibility that is vital to our way of life.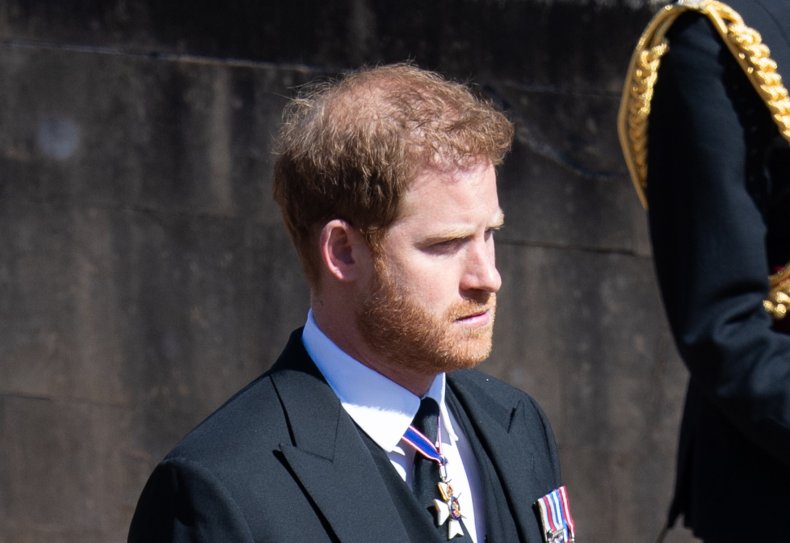 "On this Earth Day, I reflect on generations of conservation champions, including my late grandfather, and feel proud and energized to continue doing my part in this legacy.
"This year especially, I join the incredible African Parks team and communities around the world in shared dedication to our environment and collective wellbeing."
His comments come after the royals said their final goodbyes to Philip at his funeral on Saturday.
Some blinked away tears as they paid their final respects to the man the Queen famously called her "strength and stay."
However, the somber occasion was also an opportunity for Harry to rebuild bridges with brother Prince William after a long-running rift.
The Duke of Cambridge has made his own intervention for Earth Day, signing a joint letter to the editor of British newspaper The Times with other judges of climate initiative the Earthshot Prize.
It reads: "This Earth Day, as the Leaders Summit on Climate kicks off the countdown to November's COP26 climate conference in the UK, we must be inspired by the ingenuity and determination of the past year.
"We must transform our relationship with our planet, learning from those already living in harmony with nature and recognizing that we all have a part to play.
"As people worldwide queue for their vaccinations, now is the time to harness that spirit of invention and give the Earth a shot too."
Also on the judging panel are Shakira, Cate Blanchett, Sir David Attenborough, soccer star Dani Alves and Queen Rania of Jordan.
The queen expressed her sadness at the death of her husband during a 95th birthday message yesterday.
She said: "I have, on the occasion of my 95th birthday today, received many messages of good wishes, which I very much appreciate.
"While as a family we are in a period of great sadness, it has been a comfort to us all to see and to hear the tributes paid to my husband, from those within the United Kingdom, the Commonwealth and around the world.
"My family and I would like to thank you all for the support and kindness shown to us in recent days.
"We have been deeply touched, and continue to be reminded that Philip had such an extraordinary impact on countless people throughout his life."
The graphic below, provided by Statista, illustrates how some countries consume vastly more resources than others.