Prince Harry's U.K. Approval Rating Slides While King Charles' Holds Steady
Prince Harry's U.K. approval rating has taken a hit one month before his Netflix series is expected to drop and two months before the release of his memoir.
The popularity of royals including Harry and his father King Charles III spiked after Queen Elizabeth II's death in September as the nation grieved.
However, while Charles has largely held on to his improved rating, the Duke of Sussex has slipped back in the estimation of British adults, according to YouGov data.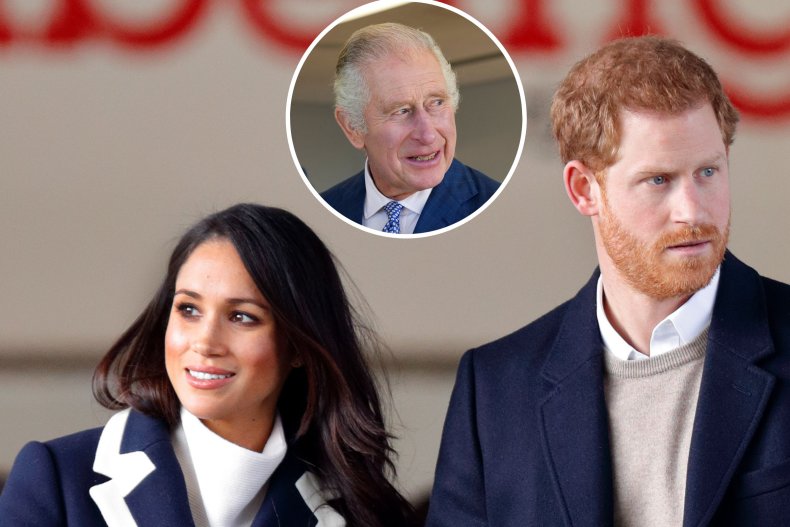 Shortly after the queen's death on September 8, Prince Harry was viewed positively by 45 percent of British adults and negatively by 46 percent, giving him a net rating of -1, in research conducted between September 21 and 22.
The figures were a big improvement on the YouGov report in May, when Harry had a net rating of -26, with 32 percent viewing him positively and 58 percent negatively.
However, a new set of ratings released on November 24 shows that 39 percent view the Duke of Sussex positively and 52 percent negatively, giving him a net rating of -13. This data was collected between November 9 and 10, in a survey of just over 1,700 adults across the U.K.
King Charles' figures are almost unchanged since September, with negative sentiment dropping 1 point to 24 percent and positive sentiment remaining at 67 percent. His net rating for November is +43.
Meghan Markle's net rating this month stands at -32. She is liked by 28 percent and disliked by 60 percent, the research found. In September, her net figure was -28.
Harry's dip in the U.K. ratings comes before his memoir Spare is expected to be published in January 2023.
The book will tell his life story, although little more is known about its content except that he will revisit the traumatic moment he was made to walk behind Princess Diana's coffin at her funeral in September 1997.
Publicity material for the book reads: "Spare takes readers immediately back to one of the most searing images of the twentieth century: two young boys, two princes, walking behind their mother's coffin as the world watched in sorrow—and horror.
"As Diana, Princess of Wales, was laid to rest, billions wondered what the princes must be thinking and feeling—and how their lives would play out from that point on. For Harry, this is his story at last."
Meanwhile, Harry and Meghan's Netflix documentary is also expected in December, but there has been no marketing of the show so far.
Meghan did, however, discuss the show in a recent Variety interview: "It's nice to be able to trust someone with our story—a seasoned director whose work I've long admired—even if it means it may not be the way we would have told it. But that's not why we're telling it. We're trusting our story to someone else, and that means it will go through their lens."
"It's interesting," she continued. "My husband has never worked in this industry before. For me, having worked on Suits, it's so amazing to be around so much creative energy and to see how people work together and share their own points of view. That's been really fun."
Do you have a question about King Charles III, William and Kate, Meghan and Harry or their family that you would like our experienced royal correspondents to answer? Email royals@newsweek.com. We'd love to hear from you.