How Prince Harry Can Keep His Promise to Veterans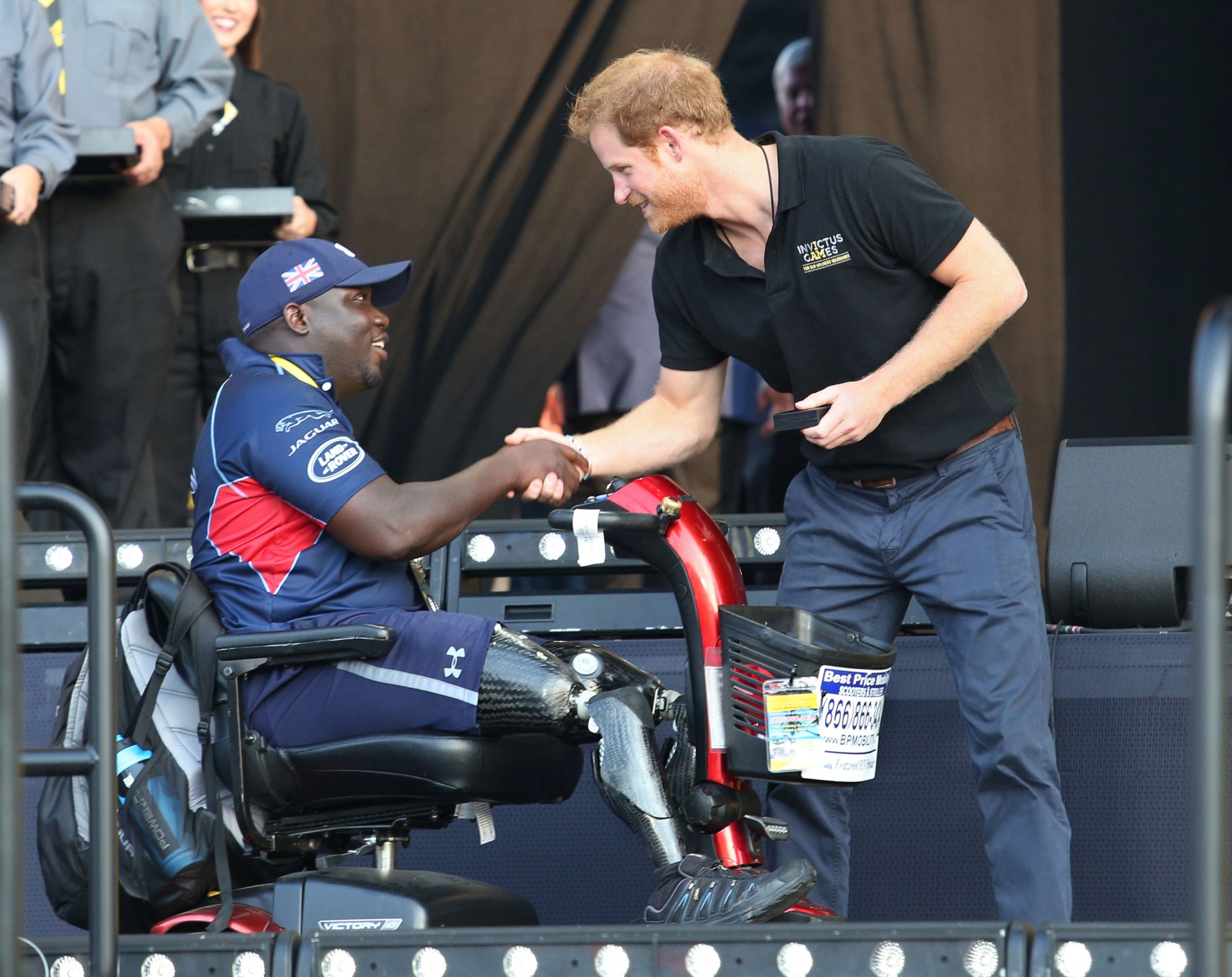 When Kelly Layden-Farrer flew to the Invictus Games in Orlando, Florida last month, she hoped the tournament Prince Harry created for wounded military personnel would mark a turning point in her battle with post-traumatic stress disorder (PTSD).
Four days after returning home to the English county of Wiltshire, the former sergeant in the British Army had to be admitted to a psychiatric ward. Though she had managed to compete in the shot put, discus, power-lifting and seated volleyball, the stress of the 14-nation event—with its helicopters and fireworks—had triggered a flashback to her worst day in Iraq.
Prince Harry, who served two tours in Afghanistan, has pledged to devote the rest of his life to supporting veterans suffering from psychological injury. In setting up the Invictus Games, first held in London in 2014, he has forged a unique platform to challenge the stigma around mental health that still prevents many personnel—and indeed civilians—from seeking help.
Though crucial, fighting stigma is only the first step. If the Prince wants to make good on his promise to British veterans, then he must turn his attention to the glaring lack of care for a relatively small but highly vulnerable sub-group: those, like Layden-Farrer, who suffer from the most complex cases of PTSD.
Newsweek subscription offers >
Britain's generations of accumulated experience in confronting the psychic cost of modern war make this failing even starker. On July 1, the country marks the centenary of the start of the cataclysmic Battle of The Somme, when cases of "shell shock" rose exponentially as battalions of volunteers were mown down in a walking-pace advance into German guns.
While the medical profession knows a lot more about combat trauma than it did in the trenches—where more than 300 soldiers were shot for desertion—the state's laggardly response to the deep psychic wounds of today's veterans has echoes of the Victorian-era attitude of denial that reigned among bulldog First World War generals.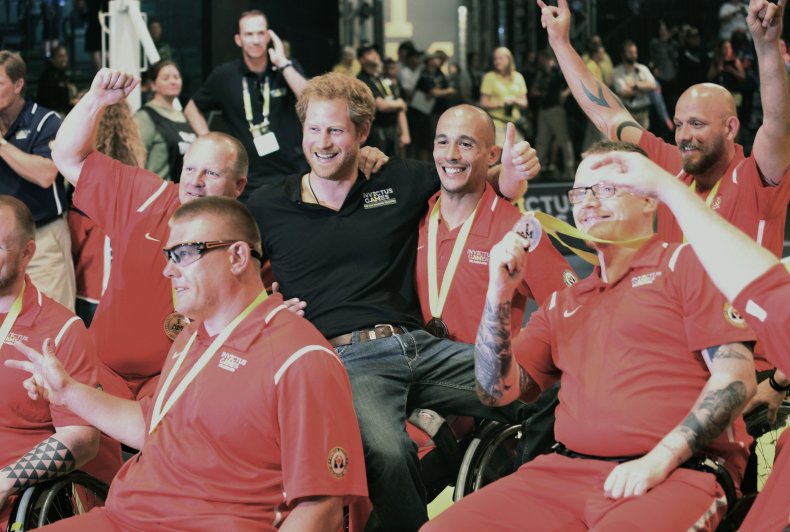 To understand the roots of the predicament facing 37-year-old Layden-Farrer and others like her, it helps to consider the ad hoc way in which veterans' services have evolved. In Britain, there is no equivalent of the hospitals and clinics for former military personnel run by the U.S. Department of Veterans Affairs. Instead, British service leavers must rely on a maze of provisions cobbled together by the state-funded National Health Service and hundreds of military charities, large and small. Competition for funds is fierce and coordination poor, with veterans often repeatedly referred from one service to the next, like ball bearings bouncing around a pinball machine.
Newsweek subscription offers >
For those in the grip of overwhelming flashbacks or at immediate risk of self-harm, the best they can often hope for is an emergency admission into the type of NHS ward that mostly caters to people suffering from disorders such as schizophrenia, psychosis or substance abuse. Once assigned a bed, they will be heavily medicated—a strategy of 'cope-and-dope' as one Northern Ireland veteran calls it—until they feel calm enough to go home. At least, that is, until the cycle begins again.
Though these psychiatric wards are designed to serve primarily as places of safety, and the staff are often excellent, they do not always make hyper-vigilant former soldiers feel very safe. Layden-Farrer describes how a fellow patient once burst into her room pretending to be a terrorist bomb-maker.
"It's the noise—even though you have your own room, you've got somebody banging, or shouting abuse at you," says Layden-Farrer, who was discharged after almost 14 years in the army due to her PTSD in September, 2015. "When you're in crisis you need a cool, calm place and somewhere where you can speak to somebody who's a specialist in PTSD."
Finding such specialists is not always easy in Britain, where genuine expertise in safely treating severe trauma is rare. To try to fill the gap, the NHS has contracted Combat Stress, the biggest veterans' mental health charity, to provide therapy—but only for those who are deemed stable enough to attend its residential programs (which run for either two or six weeks). Veterans in need of emergency in-patient care often end up shuttling between ever-more despairing families, far-flung psychiatric wards and—in some cases—police cells or prison, without ever finding the help they need to heal.
The problem is compounded by the lack of suitable provision for the many ex-forces who try to blot out nightmares and flashbacks with alcohol or drugs. Opening the Invictus Games in Orlando, Prince Harry rightly urged the crowd to cheer competitors who had overcome depression, anxiety or PTSD as heartily as those who had lost limbs. He should also have mentioned addictions—by far the most prevalent mental health problem among British veterans, but one that that has been treated largely as an afterthought.
The NHS and some MPs and think tanks have become more engaged with these issues of late, and the state's armed forces Covenant Fund has made some judicious grants to military charities. If the government is serious about closing the gaps, however, then David Cameron, the prime minister, should appoint a veterans' tsar in the Cabinet Office with the clout to coordinate across departments and accelerate nascent efforts by the NHS to streamline services. Britain's medical establishment, for its part, could inject a much-needed sense of urgency into the task of validating a number of promising new trauma treatments informed by the latest insights from neuroscience.
To treat the most ingrained cases of PTSD, the state will need to create a number of specialised clinics that can offer the kind of holistic, months-long care that can sometimes lead to remarkable transformations—even for patients who have felt trapped by their symptoms for decades. These could serve as centers of excellence not just for veterans, but the many civilian survivors of disaster, rape or abuse who also lack support.
There is no doubt that the Invictus Games has changed the lives of many of the contestants, helping them redefine their relationship with their injuries and discover a new appetite for the future. But it would be easy for viewers in Britain to mistakenly conclude from their inspiring stories that the rest of the country's veterans must be receiving adequate support.
By doing more to highlight the reality, Prince Harry, without overstepping constitutional limits, could ensure the games do not inadvertently provide a fig leaf for the state's failings, but instead serve as a spur for genuine reform.
Matthew Green is a freelance journalist based in London. His new book, Aftershock: Fighting War, Surviving Trauma and Finding Peace (Portobello, 2015), documents the struggles of British veterans with PTSD.
How Prince Harry Can Keep His Promise to Veterans | Opinion