Prince Harry's Late VE Day Tribute to World War II Veterans After Queen Elizabeth II's Special Broadcast
Prince Harry will today tell an inspiring story of World War II bravery in a post VE Day tribute to a veterans' club.
The Duke of Sussex was asked to record a film for VE Day by Britain's The One Show, which airs on BBC Two tonight at 7 p.m. (2 p.m. ET).
He chose to highlight the group of Allied pilots known as the Guinea Pig Club, whose burns injuries were so brutal they allowed themselves to be subjected to experimental surgery.
The pioneering work of Sir Archibald McIndoe not only saved lives but established new plastic surgery techniques still in use today.
The prince recorded a video chat with relatives of two club members, Sandy Saunders and Jack Perry.
The footage comes after Queen Elizabeth II stirred the nations' hearts with a VE Day message on Friday night in which she said "our streets are not empty; they are filled with the love and the care that we have for each other."
In a video for the RAF Benevolent Fund in 2016, Saunders told how they were called The Guinea Pig club because "we regarded ourselves as experimental animals."
This is not the first time Harry has sought to highlight the work of the club as he wrote a foreword for the book Guinea Pig Club: Archibald McIndoe and the RAF in World War II.
In it, he said: "The story of The Guinea Pig Club is one of incredible resilience courage innovation and companionship.
"The members of the club and supporting medical staff became pioneers for science and rehabilitation.
"They helped change modern medicine and recovery for the military and beyond, saving and protecting the lives of countless men and women."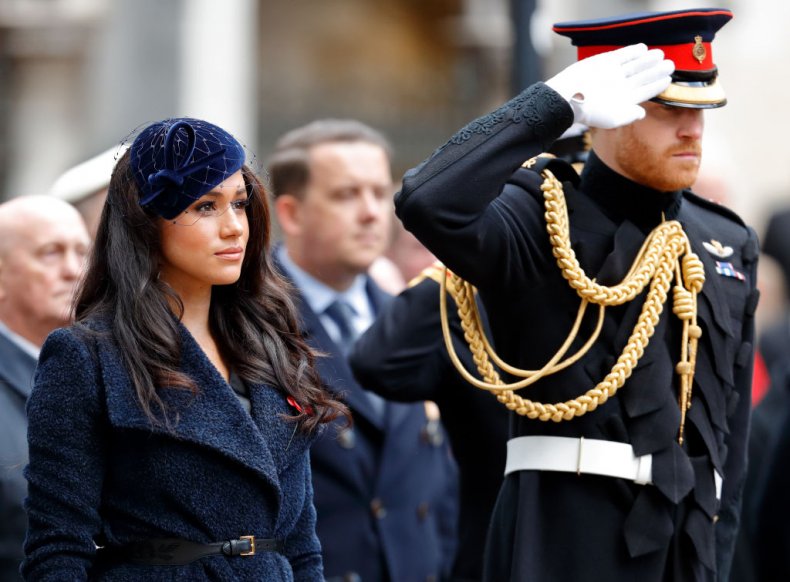 Burns treatment was in its infancy during World War II but downed pilots created a demand for lifesaving surgery.
The club was started in 1941 as a social group among McIndoe's many patients and continued until 2017.
Harry, who once met Saunders in person, also spoke to veterans David Wiseman and Dave Henson who set up the CASEVAC Club, a modern day successor.
A friend of the prince told Newsweek: "The Duke was asked by the One Show to highlight some veterans as part of the programme's coverage around VE Day, and chose to speak about The Guinea Pig Club, and its modern-day equivalent, the CASEVAC Club."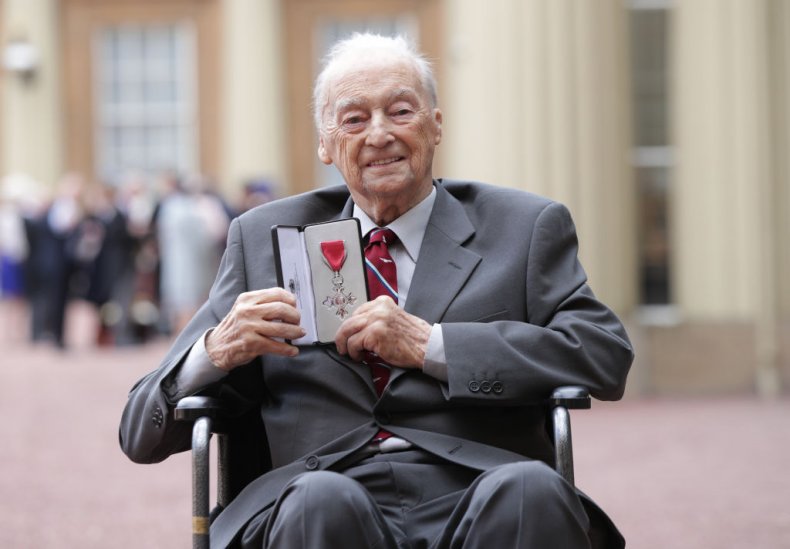 The friend added: "The Duke joined a Zoom call on Tuesday last week to speak with Maggie Wilson, widow of former GPC (Guinea Pig Club) member Sandy Saunders who The Duke met, and Andy Perry, son of former GPC member Jack Perry.
"Also on the call were David Wiseman and Dave Henson, both founding members of the CASEVAC Club and veterans who The Duke has worked with on many projects including the Invictus Games."
The queen's VE Day speech was timed to match her father King George VI's on May 8, 1945, the day the Nazi surrender was accepted by the Allies.
She said: "Today it may seem hard that we cannot mark this special anniversary as we would wish.
"Instead we remember from our homes and our doorsteps.
"But our streets are not empty; they are filled with the love and the care that we have for each other.
"And when I look at our country today, and see what we are willing to do to protect and support one another, I say with pride that we are still a nation those brave soldiers, sailors and airmen would recognize and admire."