Prince Harry's Lawyers to Speak on Story That Left Veterans 'Susceptible to Suicide'
Prince Harry's lawyers are expected to give a court statement about a now settled libel claim against the same newspaper Meghan Markle is suing for privacy.
The Duke of Sussex's legal team said a Mail on Sunday story accusing him of turning his back on the Royal Marines would have damaged his ability to help forces personnel and veterans.
A court filing went as far as to suggest this would leave the military community "more susceptible to suicide" without his help accessing mental health services.
Sources told Newsweek in early January the case had been settled last year when the newspaper printed an apology to Harry and announced a donation to the Invictus Games Foundation.
Now a judge has granted Harry's lawyers permission to read an agreed statement in open court, which may shed more light on the settlement.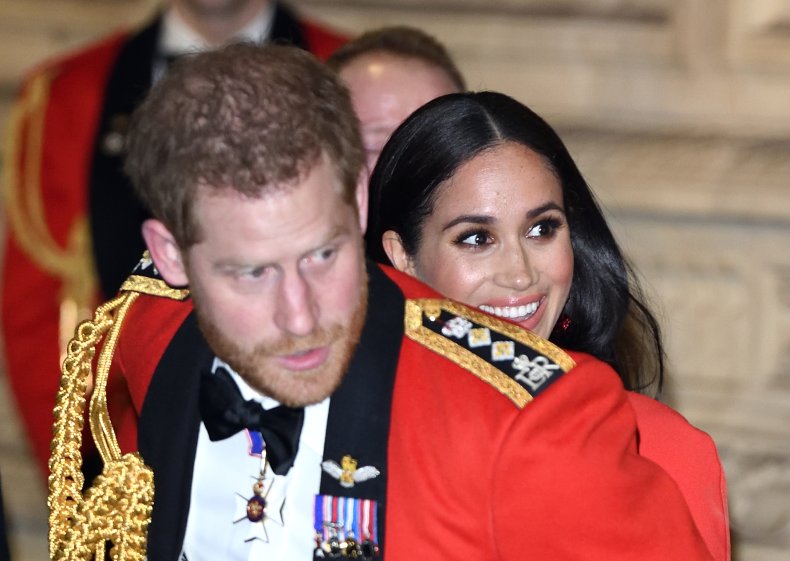 A court filing reads: "A hearing is to be fixed before [Judge Matthew Nicklin] in the week commencing February 1, 2021, with a time estimate of up to two hours."
It adds that the newspaper's lawyers have not said whether they object to draft wording of the statement but that the two sides are expected to work together to resolve any issues.
It reads: "The above directions will either lead to an agreed [statement in open court] being read at the hearing that is to be fixed or any remaining dispute as to its terms being resolved."
The Mail on Sunday is the same newspaper Meghan is suing for privacy and copyright over a letter she sent her father in the summer after her wedding.
The duchess has applied to win that case without a trial and is likely to hear the outcome within a couple of weeks, the High Court in London heard last week.
The Mail on Sunday's story about the prince claimed he turned his back on the Royal Marines after quitting royal duties for a new life in America.
Harry had been Captain General of the Commandos while a senior working member of the royal family but was forced to give up the appointment when he stepped down.
A previous court filing by Harry's lawyers reads: "[Prince Harry's] sincere ambition is to continue to help current and former military personnel by using his reputation and the platform he has as a result of his military service.
"This role substantially depends upon [Prince Harry] using his reputation to help such causes by attracting public support for them.
"The publication of the allegations complained of will seriously hamper his ability to do so and therefore have an adverse effect upon the people he is seeking to help.
"[Prince Harry] has, in particular, used his reputation to support and encourage current and former military personnel to seek help for mental health problems.
"The publications complained of will diminish [Prince Harry's] credibility in the eyes of such personnel and therefore make them less likely to seek the help being offered.
"[Prince Harry] reasonably fears that this will in turn have devastating effects upon such individuals, including leaving them more susceptible to suicide."
A correction published by the newspaper last year read: "An article on 25 October 2020 reported that Prince Harry had been accused by a top general of turning his back on the Royal Marines since withdrawing from his military roles in March and that, in an apparent snub to the Armed Forces, he had failed to reply to a letter from Lord Dannatt, a former Chief of the General Staff.
"We now understand that Harry has been in contact in a private capacity with individuals in the military including in the Royal Marines to offer informal support since March and that whilst he did not initially receive the letter from Lord Dannatt referred to in the article due to administrative issues he has since replied on becoming aware of it.
"We apologize to Prince Harry and have made a donation to the Invictus Games Foundation."