Prince Harry's Time in U.S. Now His Longest Outside Britain in Royal Exit Milestone
Prince Harry's time in America is now his longest outside Britain in a new milestone in the story of his exit from the royal family.
The Duke of Sussex announced he was stepping back as a senior working royal in January, performing his final royal engagement on March 9 during the Commonwealth Day service at Westminster Abbey.
The exact date they left the U.K. was never announced officially, though biography Finding Freedom suggests Harry stayed another three days before flying to Canada on March 12.
By March 26, People reported Meghan Markle and her husband were "now settled in the U.S.." having left their previous base on Vancouver Island.
Harry initially planned to return to Britain in June for Trooping the Color, Queen Elizabeth II's birthday parade, however the event, and his visit did not go ahead due to the coronavirus pandemic.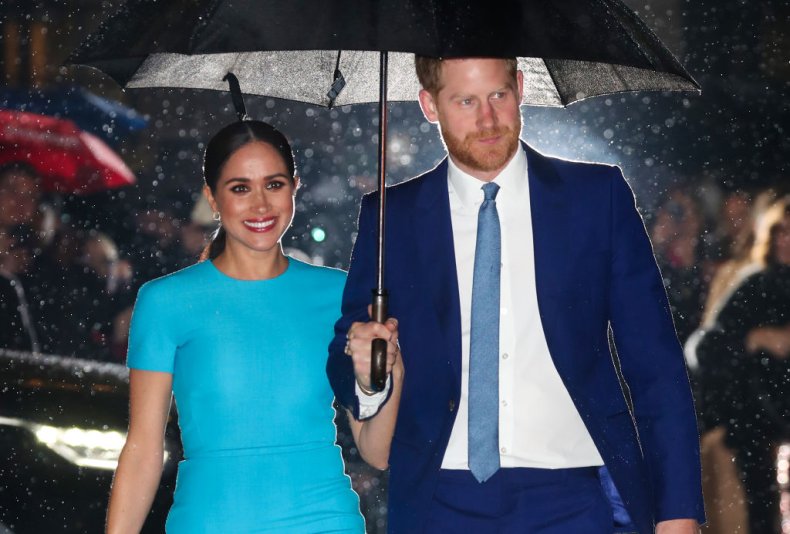 He has not left America since arrival, meaning Harry has been out of Britain at least 263 days, or 37 weeks and four days, taken from March 26.
If Finding Freedom's date is accurate, that adds an extra 14 days to the tally.
The duke's previous longest stint off British soil was during his year abroad in Australia and Africa, when he was away from September 23, 2003, to June 10, 2004—262 days, or a little over 37 weeks.
Year Abroad
Like many U.K. teenagers, Prince Harry opted for a gap year after completing his A-level exams at the end of his school career at the exclusive Eton College.
He flew out to Australia on September 23 and worked on a sheep farm in Southern Queensland for three months.
Quoted in the Daily Telegraph at the time, Harry's then spokeswoman, Colleen Harris, said: "He will be working as a jackaroo, mustering cattle on horseback and will be paid the going rate.
"Hopefully [the media] will leave him alone so he can get on with it and learn about farming and agriculture here in Australia, which he is very keen to do."
The 19-year-old later flew on to Southern Africa where in January 2004 he visited an orphanage for children with AIDS, in Lesotho.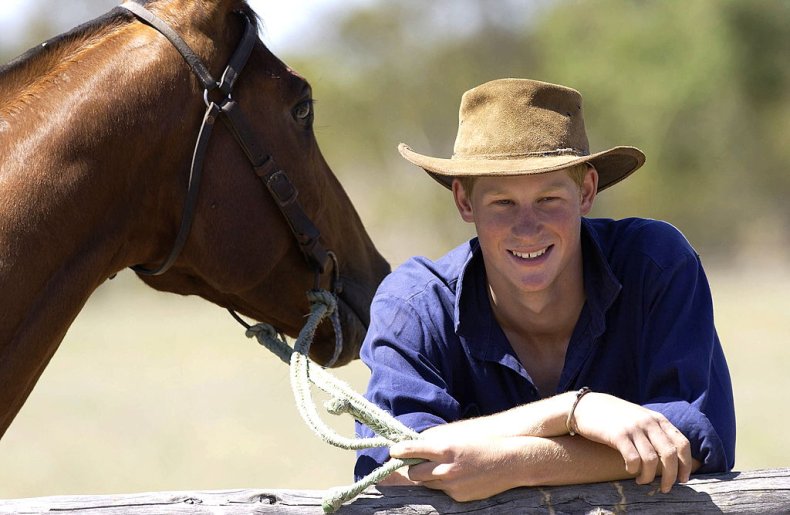 There, he worked alongside charities and NGOs to build a clinic and road bridge, also learning about the toll poverty and the virus took on the community.
Press reports at the time noted he was walking in his mother's footsteps following her famous work to support AIDS patients.
He also heard heartbreaking stories of child victims of sexual abuse.
Harry flew home to Britain so that he could attend the funeral of Frances Shand Kydd, Princess Diana's mother and his maternal grandmother, in Oban, Scotland.
Military Service
Prince Harry also spent long periods abroad during his military service, which saw him do two tours of Afghanistan.
During the first, he spent ten weeks in Helmand Province with the Ministry of Defence confirming his active service on February 28, 2008.
A Clarence House statement at the time read: "Prince Harry is very proud to serve his country on operations alongside his fellow soldiers and to do the job he has been trained for."
The prince then had a four-month tour on the frontline as an Apache pilot based at Camp Bastion from September 2012 to January 2013.
Quoted on The Independent, he said during the tour: "Take a life to save a life. That's what we revolve around, I suppose.
"If there's people trying to do bad stuff to our guys, then we'll take them out of the game, I suppose."
Time in America
Prince Harry's time in America has also been dramatic in a very different way, as the couple rode out revelations from a bombshell biography.
Finding Freedom claimed the prince thought his brother, Prince William, was a "snob" and feared racism not only within the media but among palace staff.
Meghan has been fighting a messy privacy and copyright case against U.K. tabloid the Mail on Sunday, which has seen claims she cooperated with the book.
The duke and duchess celebrated baby Archie's first birthday and bought their first house together, in Montecito, Santa Barbara.
Meghan also revealed she suffered a miscarriage in July during a recent essay for the New York Times titled "The Losses We Share."
Harry and Meghan had expected to return to Britain for the New Year so Meghan could self isolate in time for the start of her court case against the Mail on Sunday.
However, that has now been put back until fall 2021 for a reason kept confidential by the High Court, in London.
Harry's next trip home may therefore be as late as the summer when he is expected to attend the unveiling of a statue to his mother, which he has been working on with Prince William.
The memorial will be installed in the Sunken Garden at Kensington Palace in time for the opening on July 1.
He may also wish to attend Trooping the Color in June, if it goes ahead as normal and travel restrictions permit.