Prince Louis Birthday Photo Shows Rainbow of Hope He Painted With Mother Kate Middleton
Prince Louis has painted a rainbow offering hope amid coronavirus in new pictures released to mark his second birthday by mum Kate Middleton.
Catherine, Duchess of Cambridge, 38, took the photos of her son with his hands covered in colourful paint as her youngest prepares to turn two in lockdown today.
The happy toddler holds his hands up to the camera and to his cheeks as he smiles broadly in a blue and white checked shirt in the images.
Kate shared the rainbow handprint he made during a craft session this month as part of a trend for children across Britain during the pandemic.
The family have been isolating at their Norfolk retreat, Anmer Hall, where they have been having video calls with family.
There will likely be more of those today for Louis' birthday, with Prince Charles and Camilla as well as Kate's parents Michael and Carole Middleton among other family.
Clarence House yesterday posted a happy birthday message to the young prince on behalf of Prince Charles, 71, saying: "A very Happy Birthday to Prince Louis, who turns two today.
"The young Prince enjoys a hug from his Grandfather, The Prince of Wales."
Prince Harry, Meghan Markle and their son Archie video-called Queen Elizabeth II on her birthday this week and may want to do the same for Louis.
The Duke and Duchess of Cambridge recently revealed calls with the children can get chaotic.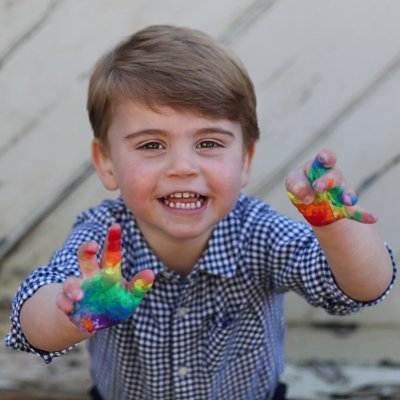 Kate told the BBC: "It gets a bit hectic, I'm not going to lie, with a 2-year-old you have to take the phone away.
"It's quite hectic for them all to say the right thing at the right time without pressing the wrong buttons. But it's great and it's nice to keep in touch with everybody."
Prince William, 37, said Louis in particular likes to reach out to touch the screen. He said: "For some reason he sees the red button and he always wants to press the red button."
Like many parents, Kate has been using craft to keep the children entertained while they are stuck at home.
Across the country children have been making rainbows to put in their front windows as a way to spread hope among people walking past in the street outside.
And Prince Louis' contribution echoes the words of Queen Elizabeth II in her stirring special coronavirus broadcast to the nation.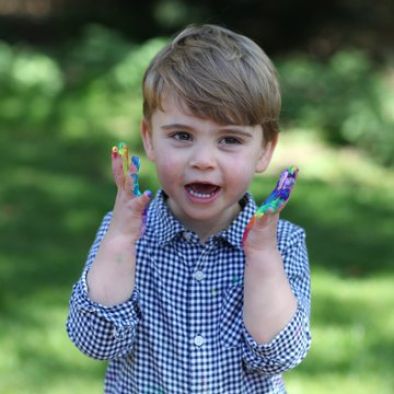 Elizabeth said: "The moments when the United Kingdom has come together to applaud its care and essential workers will be remembered as an expression of our national spirit; and its symbol will be the rainbows drawn by children."
Kate and Prince William have previously posted footage of their children supporting "clap for carers," where people across the U.K. lean out of their windows and applaud each Thursday night at 8 p.m.
It is not clear whether the family will take part today.
The duchess recently told the BBC she has been home schooling her children while coronavirus keeps Prince George, 6, and Princess Charlotte, 4, out of school.
She said: "It's just having that bit of structure, actually. It's great, there are so many great tips online and fun activities that you can do with the children so it hasn't been all hardcore."
She added: "We don't tell the children we've actually kept going through the holidays. I feel very mean."
A spokesperson for Kensington Palace said: "The Duke and Duchess of Cambridge are very pleased to share five new photographs ahead of Prince Louis' second birthday tomorrow. The photographs were taken earlier this month by The Duchess."
This article was updated to include additional images.