Prince Louis Christening: Godparents, Dress, Cake and Everything Else You Need to Know
Britain's Prince Louis, son of Prince William and Kate Middleton—the Duke and Duchess of Cambridge—will be christened today in a private ceremony in London.
The 11-week-old prince, whose full name is Louis Arthur Charles, was born on April 23 and is fifth in line to the British throne. He will be christened in the Chapel Royal of the St. James's Palace in central London, close to Buckingham Palace, the BBC said.
Neither Queen Elizabeth II nor her husband Prince Philip will attend the ceremony. Buckingham Palace said this decision was taken by the Queen, William and Kate "some time ago" and is not due to health reasons.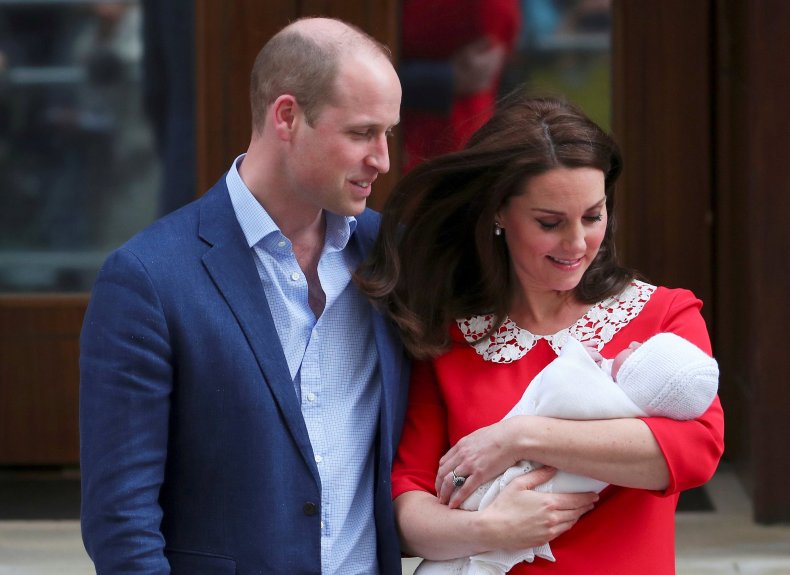 The 40-minute ceremony will be conducted by the Archbishop of Canterbury, the Most Reverend Justin Welby, who was also involved in the wedding of Prince Harry and Meghan Markle in May. The event will be the first time that William, Kate and their three children have all been seen in public together.
Prince Louis will wear the same christening gown used for the ceremonies of his 5-year-old brother George and 3-year-old sister Charlotte, Buckingham Palace said. The gown is a replica of the one made for Queen Victoria's first daughter, also named Victoria, in 1841.
The garment—made of "fine Honiton lace lined with white satin"—was also worn for all subsequent royal christenings, including that of the Queen, her children and seven of her grandchildren. The original is now too delicate to be worn, so a copy has been made by the Queen's dresser Angela Kelly. The first to wear the replica was the youngest of the Queen's eight grandchildren, James Viscount Severn, in 2008.
The prince will be baptized in the Lily Font, a silver font ordered by Queen Victoria and Prince Albert for the baptism of their daughter Victoria in 1841. As is tradition, the holy water used in the ceremony will be drawn from the River Jordan.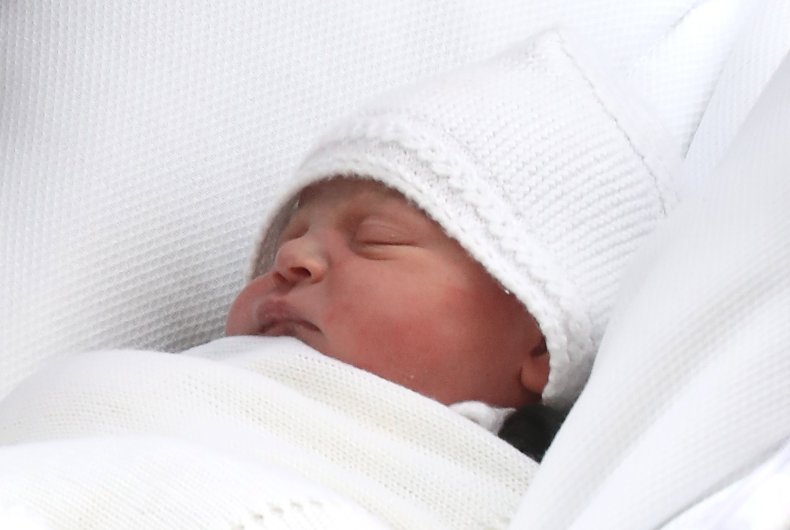 The Duke and Duchess have asked six close friends and family members to become Louis' godparents. The three godmothers are Hannah Gillingham—one of Kate's school friends—cousin Lucy Middleton and Laura Meade, wife of Prince William's friend James Meade, who is Princess Charlotte's godfather.
Louis' three godfathers will be family friend Nicholas Van Cutsem, William's school friend Harry Aubrey-Fletcher and Guy Pelly, a well-known high society nightclub founder who has been close to William and brother Harry for many years.
Prince Charles and his wife Camilla will be in attendance alongside Carole and Michael Middleton. Other guests will include Prince Harry, Meghan Markle, Pippa Middleton and James Middleton. Once the ceremony is complete, guests will attend a private reception at nearby Clarence House where they will be served cake taken from a tier of William and Kate's wedding cake. The mammoth desert was made from 17 individual fruit cakes and had eight tiers.
Prince Louis Christening: Godparents, Dress, Cake and Everything Else You Need to Know | World